Freeview signals: too much of a good thing is bad for you

Brian Butterworth published on UK Free TV
Most people will experience nothing but simplicity and joy with the digital switchover - the process that turns off the old five high power analogue signals, and the existing six low power digital services and replaces them with six new high power Freeview multiplexes.

For those with problems, there are generally three issues.


Eliminating other possible problems first
The first is that very, very old equipment will not function with the digital signals split into 6,817 sub-signals, as it was only designed to work with 1,705 sub-signals. This is known as the "8k
mode
issue" - see
TVs and boxes that do not support the 8k
It is also common that people do not clear out the old
channel list
(by selecting "first time installation" retune, "Factory Reset" or "Shipping Condition") before doing an "autoscan" for the available broadcast frequencies, and this results in everything from missing
channels
to no subtitles, programme guide, wrong channel numbers and no text services. If you can't find how to do it see either
Freeview Retune - list of manuals
or do it this way:
My Freeview box has no EPG, is blank, has no sound or the channel line up is wrong
.
A third problem is caused by having signals from more than one
transmitter
- see
Digital Region Overlap
.
The final very common issue is "too much
signal
".
Transmitters have much more digital power after switchover
At most transmitters, the digital signals after switchover are considerably more powerful than before. This was because when the analogue and digital services ran together, the digital services were kept low to prevent appearing as snowy
interference
on television sets using analogue
reception
.
Here is an example, from
Sutton Coldfield
, of how the signals change at switchover:

4,000kW of analogue signals are turned off, and the digital services increase in total power from 48kW to 1,200kW - that is an increase of 25 times in numerical terms, also know as +14dB. (The reduction of -7dB from the analogue strength is intended - the digital services require less power to cover the same number of homes).
This large increase in power should cause no effect for most people. A stronger signal does not increase the
picture
quality
(you need
Freeview HD
for that), sound levels - the only effect should be that more homes that are further away from the transmitter
mast
can receive a stable digital signal.
High gain aerials and signal boosters
However, many people have been tempted into buying one both high
gain
aerials and signal boosters.

High-gain aerials were very suitable for places where the Freeview signal before switchover was very weak indeed, but if you have one of these and you are located closer to the transmitter, you will probably now have a signal overload.
Generally speaking, signal
booster
devices are never
really
much use for Freeview reception, and much of the time they actually amplify the interference more than they do the signal, causing reception to get worse, not better.
How to tell if you have too much signal
There are almost as many ways for a Freeview box to display the "signal strength" and "signal quality" as there are types of Freeview box. Here are some of them: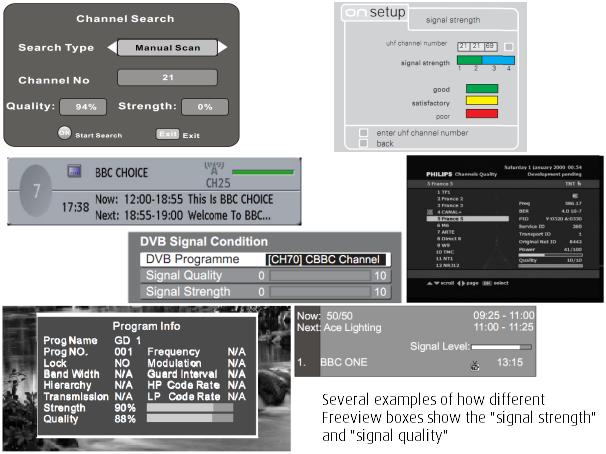 Speaking generally, there will be two indicators:
One is
signal strength
- this shows the power level of the signal entering the Freeview box. Often "0" is the lowest and "10" the highest, but sometimes it can be a percentage, sometimes coloured boxes and so on.
The signal strength should be around 75% - more than this indicates too much signal.
The other measure is the
signal quality
and this is much more important to high-quality Freeview viewing. Any measures that increase this to the maximum will provide for uninterrupted viewing, lower values will result in "bit errors" that cause the picture to freeze and the sound to mute out.
One problem with over powerful signals is the overload can sometimes show as a low signal because the receiver circuitry will enter a "blown fuse" state to protect itself.
How to deal with too much signal
First, if you have a booster or
amplifier
- remove it from your system. Don't just unplug the power, as this will result in
no signal
getting though the device.
If you can't just disconnect the
output
cable
and connect it to the input cable, you might need a coax female-female coupler to connect two male connectors together.

If you don't have a booster or amplifier, you might have to fit an attenuator onto the cable. They come in two types, either a "single attenuator", around five pounds, or a variable attenuator, for around ten pounds. The variable sort has a knob that can be turned to select the required level of signal dampening.
Comments
Monday, 19 August 2013

Kieren: The Dolgellau transmitter broadcasts PSB channels only, so you may be receiving all that are available. See here for the full list:

DTG :: DTT Services by Multiplex

Your aerial should be vertically polarised. If it isn't then it may still work but may give less strength because it is at right angles to the signal.

For the Dolgellau transmitter the aerial used for the former analogue will be suitable.

Judging by the Digital UK predictor you don't have any chance of receiving the COM channels.

Dave Lindsay's 5,724 posts
K
Kieren
12:15 PM
Dolgellau

Thaks for the quick reply Dave

Your 100% right, I only get the PSB Channels not the COM ones. Wish I had known that before getting BT.

So Im not sure if this is the right place but is there any way to get the COM channels of the same set up ?

Kieren

Kieren's 2 posts
Kieren's:
map
K's Freeview map
terrain
K's terrain plot
waves
K's frequency data
K's Freeview Detailed Coverage

Kieren: The COM channels aren't available from all transmitters. The licensees are allowed to decide where they wish to broadcast from and so they do so from the transmitters which will give them most viewers for least cost. See:

Londonderry (Northern Ireland) Freeview Light transmitter | ukfree.tv - 11 years of independent, free digital TV advice

I am not familiar with BT's offering with respect to what you can get streamed over the broadband connection. I do know that the two BT Sport channels are carried on one of the COM multiplexes so you won't be able to receive them over the air. I'm not sure whether BT will provide them over your broadband connection.

Dave Lindsay's 5,724 posts

Kieren, et al:
BT tell me that if you have the DSL internet service from BT Internet and at a speed above 5.6 Mbps then you should be able to view BT Sports.
As I only get 2.5 Mbps I am unable to confirm whether this is true nor what the performance is like. Clearly having a fibre-based internet service will give faster broadband speeds and hence better viewing via IPTV but the roll out of fibre is still somewhat limited across the country, especially in non-urban locations, and many towns are not yet equipped and some are at last 'taking orders'. At a price premium of course!

MikeP's 3,056 posts
Thursday, 22 August 2013

MikeP: From what I have been told, it's not a question of the line speed alone, but a question of the infrastructure supporting IPTV.

The BT Infinity product has a new "back end" which has "edge servers" that can supply IPTV.

I'm in a very urban location and there is no sign of BT Infinity here.

Briantist's 38,908 posts

Hi Biantist:
I'm a BT Internet ADSL customer and they tried to sell me the BT Sports package but when they looked at the speed provided by their line feeding my very rural home they admitted it needed to be at least 5.6 Mbps (we're lucky to get 2.5!) with no mention of any infrastructure requirements. I can only go by what they tell me. Clearly, we won't be getting FTTC (nor FTTH/P) anytime soon, it's only just reached the main town 17 miles away!
Personally, I would not have taken the package anyway as we are not fans of almost all the sports they are showing, especially commercial football.

MikeP's 3,056 posts

Briantist:

Please see How to get BT Sport with BT | Help | BT.com Help which is on the BT Sports website. The secoond question down asks if you can get BT Sport if you don't live in a fibre area and the third option states:

With BT broadband

All BT Broadband customers can watch online at btsport.com and download the app to watch on their smartphone and tablet, at no extra charge.

That appears to be suggesting that ADSL customers with BT Internet (as oppposed to BT Infinity) can indeed get BT Sport.

It also states:
On the BT Sport App or on btsport.com

You can watch the action on your PC or Mac, or on your smartphone or tablet using the BT Sport App. You need a BT ID to access the BT Sport App and watch online. If you don't have a BT ID yet, you can sign up to My BT now.

That also suggests that BT Sport can be viewed without having to have BT Infinity. I suspect that the actual throughput speed (as opposed to the sync speed) needs to be adequate to provide a jitter-free experience.

MikeP's 3,056 posts
Friday, 23 August 2013

Good afternoon,
Living just 7 miles from Stockland Hill mast in east Devon I would presume that we are in a"strong reception area". yet having had to move the aerial from our chimney to a mast mounted just above eaves height, we seem to have lost some Freeview channels. Bough a meter and got maximum reception indicated, still am only getting 67 FV channels. Its seems that if we get ITV strong then BBC is weak. We have a happy medium, but ITV4 has completely disappeared, despite several retunes. grateful comments and guidance, do I need to have a class 1 aerial for example?

Stewart's 1 post
Stewart's:
map
S's Freeview map
terrain
S's terrain plot
waves
S's frequency data
S's Freeview Detailed Coverage
Tuesday, 22 October 2013

Hi,
I have a Logik TV with inbuilt freeview/DTV. The aerial was plugged into the back of it directly from the wall and although all the channels were there, the signal on some of the channels would be weak and the picture and sound would be effected.
Therefore I have bought a one for all signal amplifier. Having plugged it in, I have re-tuned the TV but instead of having improved signal, I have lost lots of the channels!
After trawling the internet, I can't find any reason why this would happen.
Any help or suggestions would be really appreciated!

Richard's 2 posts

Richard: Although an over powerful signal can indeed cause problems, its impossible to assess as to whether or not this is likely to apply in your situation unless a post code is supplied.

jb38's 7,179 posts
Select more comments
Your comment please