Sudbury Arqiva multiplex B changes 16 November - retune required

Brian Butterworth published on UK Free TV
After 6am 16th November 2011, viewers in Suffolk and Essex who receive the full Freeview service from the Sudbury transmitter will need to do a full retune of their Freeview boxes - you must perform a "first time installation" retune (sometimes "Factory Reset" or "Shipping Condition") to ensure you can watch the all the available Freeview channels on the correct channel numbers.

The ArqB multiplex is moving from C50 to C63 for seven months. There will be no changes to the power level or transmission mode parameters of the service. C50 is required for the ArqB at the Tacolneston transmitter digital switchover next wednesday.

Sudbury not see the commercial multiplexes operating at their final power levels until 27th June 2012. On this date SDN will move to C58, ArqA to C60 and ArqB to C56. Until this time some viewers on the edges of the service area for the transmitter will be unable to receive the commercial services.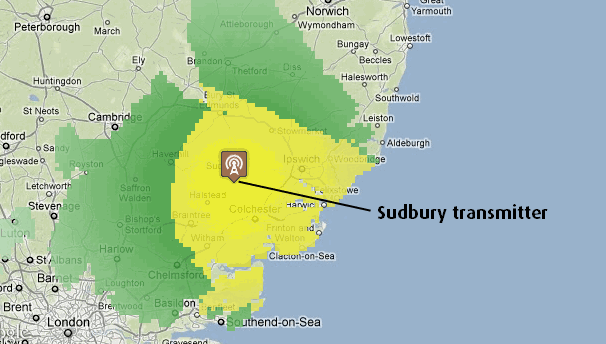 Comments
Friday, 6 January 2012

Forgive me if I'm being a bit thick (not too unusual! LOL), but hasn't a lot of the hassle been with Digital UK effectively saying that after the second retune in 2011 (not the Nov one) everything will be fine. They then without (appearing) to tell anyone went and changed the channel allocations for ArqB making it unavailable for lots of people who thought it was all working and over with..... And, again without making it well known, have no intention of changing the channel for ArqB back to near where it was until June 2012

George's 9 posts

channel 4 told me that they are aware of problems with film4 but cannot do anything as digital uk have control



colin's 9 posts

I spoke to a person from digital uk on the phone & they know of the problem but sorry the say you have got to wait

colin's 9 posts
Friday, 13 January 2012
N
Norm De Plume
1:43 AM
Stowmarket

Philip - as a single-post-spleen-venter, you probably won't ever come back, but if you do there is a splendid irony in you complaining on a technical website about geeks being rampant. Anyway, if you had asked more nicely and actually given some useful information, some of the geeks on here would probably have given you some helpful, free, voluntary support to make the best of your existing system.

By the way, your losing access to Film4 was as a result of the marketers and the finance departments: the geeks were just told to make it happen or they'd be sacked. You probably didn't find out about it in time because of middle management failures which were then covered up by the PR and advertising departments. If there was another financially-approved way for you to have Film4 and for Dover to not be affected, the geeks would have made it happen.

So, in summary, "Stuff the consumer" may be the motto of Freeview, but that's despite the efforts of the technical teams.

Norm De Plume's 36 posts
Norm's:
map
N's Freeview map
terrain
N's terrain plot
waves
N's frequency data
N's Freeview Detailed Coverage

Norm De Plume: Indeed. Have you seen the 8% of Freeview marketing that promotes the fact that 8% of the population will only get the "Freeview Light" service? I bet not.

Dave Lindsay's 5,724 posts
Sunday, 15 January 2012

Norm De Plume: Very much agree.

If the "suits" had just been honest about what needed to, for valid technical reasons, be done we may not have been overly happy but we would have accepted it and been understanding. Instead by, for what ever reason, trying to make things look easier and simpler than reality they have made the people who have to make it happen look like fools.

The real shame is that given more control (or should that be less interference from the "suits"), the technical teams could have it working wonders....

George's 9 posts
Tuesday, 17 January 2012

Jus' like that !

Notified on-screen that new channels were available this evening , I did the necessary and was delighted to see the return of FILM 4 and YESTERDAY to my viewing options.
Thanks to all who have commented and offered advise since I moaned about my loss in the middle of November 2011 .

Paul's 3 posts
Paul's:
map
P's Freeview map
terrain
P's terrain plot
waves
P's frequency data
P's Freeview Detailed Coverage

No change in Chelmsford alas....

George's 9 posts
Wednesday, 18 January 2012

Dave Lindsay: To be fair, look at any Freeview promotional material and it clearly says "All channels are subject to coverage and may be changed from time to time. Aerial upgrade may be required."

Briantist's 38,908 posts
Thursday, 19 January 2012

The first flicker of life from channels 12, 15, and 24 this evening in Chelmsford! Must still be on very low power as lots of freezing and blocking - but at least they're back.....for the moment!

George's 9 posts
Select more comments
Your comment please