Sudbury Arqiva multiplex B changes 16 November - retune required

Brian Butterworth published on UK Free TV
After 6am 16th November 2011, viewers in Suffolk and Essex who receive the full Freeview service from the Sudbury transmitter will need to do a full retune of their Freeview boxes - you must perform a "first time installation" retune (sometimes "Factory Reset" or "Shipping Condition") to ensure you can watch the all the available Freeview channels on the correct channel numbers.

The ArqB multiplex is moving from C50 to C63 for seven months. There will be no changes to the power level or transmission mode parameters of the service. C50 is required for the ArqB at the Tacolneston transmitter digital switchover next wednesday.

Sudbury not see the commercial multiplexes operating at their final power levels until 27th June 2012. On this date SDN will move to C58, ArqA to C60 and ArqB to C56. Until this time some viewers on the edges of the service area for the transmitter will be unable to receive the commercial services.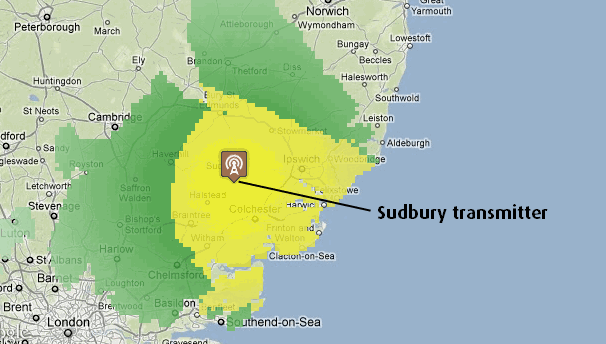 Comments
Saturday, 3 December 2011

Ed Hogbin: If you are referring to the reception problem many are experiencing with Sudbury's COM5 & 6 then I can tell you that a bigger and so called better aerial will not really help the situation, as its mainly caused by the massive differential in power between the main multiplexes and the two commercial ones.

Many people that cannot pick up these COM multiplexes are receiving a massively powerful signal from the main transmitters to the extent that in some cases it must be on the verges of overloading the tuner in whatever they are using, the problem there being that the average tuner cannot cope with this type of situation because its input circuitry gets desensitized by overly strong signals, this killing off any chances of it picking up much weaker signals such as from the very low powered COM muxes.

The situation "might" (dependant on tuner) have been slightly better if the high powered mux channels had been in the low to mid 20's and the two commercial ones had been up in the latter 60's, (or vice-versa) as the desensitizing effect wears off the further away you get from a strong signal, but of course it wasn't possible to do this.


jb38's 7,179 posts

Ed Hogbin: Also meant to say, that with you being located at only 5 miles away from Sudbury you will (or should) be receiving a massively high powered signal making the situation worse, and so I wondered if you have tried carrying out a factory re-set followed by an auto-tune "but" whilst using a set top aerial connected to your set, the aerial of course having to be of the simple type. (non amplified!)

Whilst using the same aerial (set top) you could also try carrying out a factory re-set but "not" followed by an auto-tune, and instead manually tuning in the muxes required, these being (ArqA) Ch54 - (ArqB) Ch50, if by any chance you did get results then use the "add channels" facility to recover the main muxes.

However should you feel inclined to experiment you could purchase a variable attenuator rated as high as you can find (about 20dB) and try that in line with your main aerial starting with it turned to maximum attenuation, this simulating being further away from the transmitter, the previously mentioned tests being carried out again with the attenuator in line.

If though it made no difference then try repeating the process with the attenuator turned half way, but if that still fails then there isn't really any more you can do, because success when using this type of action is also very much dependant on how good the design of a devices tuner is, that being a stumbling block with lots of equipment!

jb38's 7,179 posts
K
Kevin Porter
5:46 PM
Dudley

Sound problems on various channels from Sutton Coldfield, Mainly Dave, Pick TV, etc. Other channels BBC, ITV CH4 & CH5 appear to be working.
Sound appears to be modulated.
This appears at two locations with in the coverage area.
Is there a problem with Sutton Coldfield
MUX c (ARQA) ??

Kevin Porter's 3 posts
Kevin's:
map
K's Freeview map
terrain
K's terrain plot
waves
K's frequency data
K's Freeview Detailed Coverage
Sunday, 4 December 2011

What's really irritating is that I got all channels perfectly until mid November. Thanks JB for all your suggestion. It's muliplexes that carry Film 4 and Yesterday that are now missing and I understand these are now running at a low power level so I assume that low power is the problem ather than overloading.

I just don't see why we have to wait until next summer to get the channels back. My wife is the main one moaning about it so any suggestions gratefully received. As I said the aerial is old and has about 16 single elements rather than the crossed type and as I said it worked fine before.

Ed Hogbin's 5 posts

Ed Hogbin: Well I fully understand your frustration, including everyone else's that's affected by this problem, but I found a posting made by a person a few days ago extremely interesting, insomuch that these two multiplexes that's proving to be so elusive to pick up at relatively close distances to the transmitter were actually being received perfectly OK by the poster until recently, them now having disappeared being the basis of the query being made.

The aspect of this which particularly interested me being that the poster was located at 24 miles away from the transmitter, this somewhat giving credence to my suspicion that its the receiving equipments tuner being desensitized by the massively high powered main multiplexes that's causing the problem, as being an RF engineer myself I know this can happen, as although transmitters of vastly differing powers can operate relatively OK together, this does not necessarily apply in the case of receivers that's picking (or trying ) to pick them up, especially in the case of tuners with wideband inputs such as used by TV's etc.

Only experimentation can help to resolve the problem, as in situations such as this a hit and miss element exists.

jb38's 7,179 posts

jb38: How do tuners get desensitised?

Is this desensitisation which occurs during the automatic tuning scan? And having "seen" a high-level signal it takes time for it to re-adjust?

Dave Lindsay's 5,724 posts

Dave Lindsay: All tuners have an element of automatic gain control built into their circuitry to reduce the input sensitivity in the presence of a strong signal, its a form of overload protection but which has its limits, and when these limits are exceeded thats when instability starts to take over resulting in all sorts of random problems.

jb38's 7,179 posts
Tuesday, 6 December 2011

[Solved] Peeps following this thread will have seen I'm in the middle of Sudbury and lost ArqB at the Tacolneston switchover the same as many thousands of others, on one of my aerials - the outdoor chimney-mounted wideband.

It made no difference using a booster or an attenuator which made me think the signal is just too weak to be useful, the best I could get was 34% signal strength with 10% quality.

The other loft-mounted Maplin 43 element wideband was always fine with it's mast-head amp and 6-way booster.

So, I replaced the chimney aerial with another Maplin 43 element one, also in the loft. Tried with just connecting the new PF100 cable but still had problems. Connected the laptop with TSReaderLite and an Hauppauge HVR-900 USB DVB-T stick in the loft and got excellent signal on channel 63.

The reality of this was that the signal is actually very good at the aerial, but is total carp at 20 yards! Ordered another mast-head amp (variable 15-27dB) from Ebay for £6.59 delivered, attached it to the new aerial, enabled antenna power on the Humax 9200T and all muxes are now 80-90% signal strength and 100% quality. This was with the amp set to mid-strength - its working well so I'm not going back into the loft again to lower or fiddle with it!

So, if you're struggling to get Yesterday, Film4, ITV4, Viva or others on ArqB I'd suggest you try a mast-head amp.


Aaron's 11 posts
Aaron's:
map
A's Freeview map
terrain
A's terrain plot
waves
A's frequency data
A's Freeview Detailed Coverage

You really shouldn't need a mast head amp if you live in Sudbury. Anyway, with some different atmospheric conditions I am now picking up Channel 63 with Film4 and Yesterday + the others with my old roof top aerial.

It is true that tuners have automatic gain control, so you are more likely to pick up the weak signal if you do a manual tune on chanel 63.

I did email DigitalUK and they suggested the maual retune, but by then I had the channels back anyway.

Ed Hogbin's 5 posts
Wednesday, 7 December 2011

Ed Hogbin: I *know* I shouldn't need one being this close to the mast but the reality is, after this latest stupid idea to put a low-power mux on a high frequency, I've had to do it to get my channels back without having to wait until nearly July.

Manual tuning of 63 made no difference, as I said previously, signal strength in the 30% range and quality up to 10% if I was lucky. Now I have 80% strength and 100% quality.

With your atmospheric conditions it means it will probably be hit-and-miss for you actually receiving the channels on 63 until next year. I'd rather not take the chance, ensure I have the channels and disable the amp when they finish scr3wing around with things.

Aaron's 11 posts
Aaron's:
map
A's Freeview map
terrain
A's terrain plot
waves
A's frequency data
A's Freeview Detailed Coverage
Select more comments
Your comment please