Sudbury Arqiva multiplex B changes 16 November - retune required

Brian Butterworth published on UK Free TV
After 6am 16th November 2011, viewers in Suffolk and Essex who receive the full Freeview service from the Sudbury transmitter will need to do a full retune of their Freeview boxes - you must perform a "first time installation" retune (sometimes "Factory Reset" or "Shipping Condition") to ensure you can watch the all the available Freeview channels on the correct channel numbers.

The ArqB multiplex is moving from C50 to C63 for seven months. There will be no changes to the power level or transmission mode parameters of the service. C50 is required for the ArqB at the Tacolneston transmitter digital switchover next wednesday.

Sudbury not see the commercial multiplexes operating at their final power levels until 27th June 2012. On this date SDN will move to C58, ArqA to C60 and ArqB to C56. Until this time some viewers on the edges of the service area for the transmitter will be unable to receive the commercial services.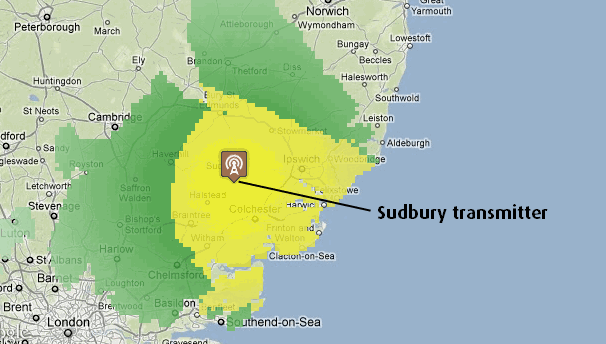 Comments
Thursday, 17 November 2011

Until the retune I had the full range of channels albeit somewhat low levels of signal on some. I live in CM2, like other posters here, I've lost Film4,ITV4, etc, etc.

Should I consider getting someone up the chimney and pointing the antenna elsewhere? Most of the rest of my street do seem to be pointing toward the North (Sudbury) but by no means all of them.

steve's 1 post

I live six miles from the Sudbury mast I havew also lost Yesterday,ITV4 and all the other that you have all mentioned I have a CO10 postcode, getting fed up with the whole system.

Jack's 1 post

digital tv uk not aware lol.whos running it stevie wonder :(

john's 10 posts

I have and feel it right to let Digital TV know of the problems. E-mail sent to them complaining. Don't suppose it will do much good!!!!

Brian's 2 posts

I'm near Felixstowe with a new wideband aerial installed last June. Had all Freeview channels until 17th. Now Echostar FTA101+ is struggling (signal strength 5 cf 9 on BBCA) with Arqiva B mux. Technika STBHDIS2010 and BT Vision don't get any of the channles on Arqiva B mux.

Strangely the digitaluk.co.uk post code predictor trade page says 4 and 80 for Served and Marginal respectively for Mux A but 79 and 81 for Mux B. Ie it is saying that my Mux B reception will be better than Mux A. But my A is fine but B is not.

Something is not right somewhere .

drgeoff's 22 posts

all this tech stuff is getting on my nerves,if you had the programs before the 16th you should still have them now,some how sudbury has f...... up,and we want our stations back now ,end of story

john's 10 posts

Have posted a message on their Facebook page
( Update Your Browser | Facebook )
and sent an email to the local press here in Ipswich asking them to investigate : mind you, they always ignore my emails about Freeview reception because they believe every lie that comes out of Digital UK's mouths! (IP29XY)

Dale's 78 posts

nice one dale

john's 10 posts

I live near Chelmsford and after the (latest?!)retune carried out today on 17/11/2011 have also found Film4, Yesterday and ITV4 to be missing?

Have read the above comments and have found them to be more constructive and insightful than talking to an operative on the freeview number.

Was even told to buy (another) new aerial if I couldnt wait till next June!

I have found this whole process to be bureacratic, frustrating and less than professionaly carried out.

Its been going on for months now...........
still no end in site

in my opinion very poorly executed.

thats better, its off my chest now!

Billyboy's 1 post
F
Frank Smith
4:20 PM
Haverhill

since 2002 I've received all the free-view channels available using my 30 yr old class b aerial until 16 novenber
The engineers moved the multiplex from 50 to 62 taking it out of the range of many house holds this is good news for the aerial riggers as their work will boom in these lean times
Although this work is funded from the license fee they couldn't give a stuff for the great unwashed (us)
If you want to watch all available programmes get your wallet out

Frank Smith's 8 posts
Frank's:
map
F's Freeview map
terrain
F's terrain plot
waves
F's frequency data
F's Freeview Detailed Coverage
Select more comments
Your comment please