Are you really watching free TV in high definition?

Brian Butterworth published on UK Free TV
You need to ask yourself a series of questions if you want to be sure you are taking advantage of the free HD TV channels.

Given that, in the current week, ITV 1 HD gets only 2.6% of total viewing, compared to 36.5% to the channel in standard definition, and that BBC HD gets 1.2% of total viewing compares 26% for comparable channel BBC TWO, it seems that many people are not taking advantage of the improved pictures and sound that can easily be enjoyed.

So, you have to ask yourself five questions:


Q1 Do you have a high definition television set?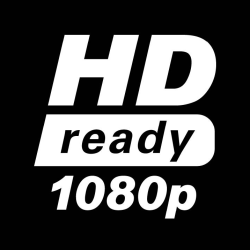 You need to check that your television is actually high definition. Almost all HDTVs are flat screen, but it does not follow that all flat screen televisions are high definition.
The best two clues to look for are the "
HD Ready
" or "Full HD Ready" logos, and also that the television set has HDMI connectors.
If you have the manual for your television set, it may describe HD as "720 line" or "1080 line". If these are not mentioned, you don't have HD and you will need a new television set.
See also
What does "Full HD Ready" actually mean? - ukfree.tv - independent free digital TV advice
Q2 Does your HDTV have built in Freeview HD or Freesat HD?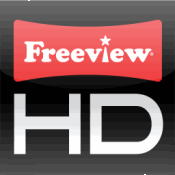 Most HD televisions sold in the UK are "HD Ready", which means that they are capable of showing high definition pictures, but only from an external box.
Some, more expensive, TV sets have
Freeview HD
or
Freesat
HD built in.
If your TV set has the Freeview HD logo, it can receive what are known as "DVB-T2" transmissions, which means you get HD direct from the TV
aerial
connection. If this is the case, see Q4. If the set is "HD Ready with Freeview" it means you can't.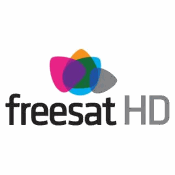 Some high end sets have Freesat HD built in, where you can watch the free high definition channels from
satellite
. For this to work you will have to use the satellite connection on the set. Remember that set will also have standard definition Freeview, so pictures from the normal TV aerial will not be in high definition.
Q3 If your HDTV doesn't have built-in reception - do you have a Freeview HD or Freesat HD box and the correct cables?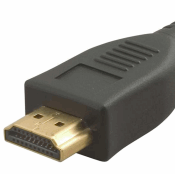 If you have an HD Ready television, you can connect it to an external set-top box to receive either Freeview HD or Freesat HD.
You must make sure that you connect the box to the television set using an HDMI
cable
. If you use a
SCART
lead you won't have HD.
Q4 Do you remember to switch to the HD versions of BBC One, ITV 1 or Channel 4
You do not automatically get to watch BBC One, ITV 1 (or STV) or
Channel 4
in HD.
You must select the special channel numbers for these
services
, as the usual channel numbers (1, 3, 4 and 8 on Freeview, 101, 103, 104 on satellite) will only show in standard definition.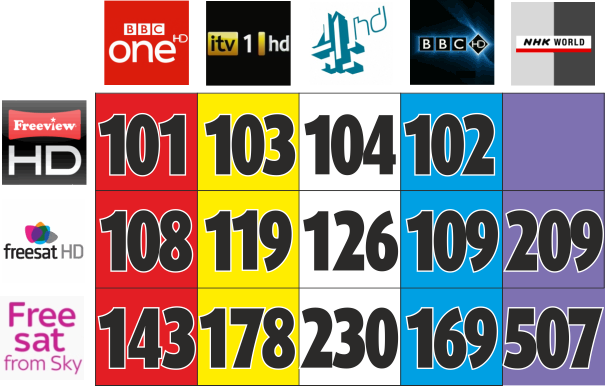 On Freeview HD, 50 must be selected for
BBC One HD
, 51 for ITV1 HD (or
STV HD
), 52 for
Channel 4 HD
(not in
Wales
), 53 for
S4C HD
(Wales only) and 54 for BBC HD.
On Freesat HD, you must choose 108 for BBC One HD, 109 for BBC HD, 119 for ITV 1 HD (or STV HD), 126 for Channel 4 HD and
NHK World
HD is on 209.
On
Sky
HD, you have to choose 140 for Channel 4 HD, 143 for BBC One HD, 169 for BBC HD, 178 for ITV 1 HD.
Q5 Is the HD channel actually showing an HD programme?
Only the BBC HD channel has a HD-only schedule. On BBC One HD, ITV 1 HD and Channel 4 HD non-HD programmes are shown "upscaled" to HD resolutions and look better than the pictures on the SD version of the channel.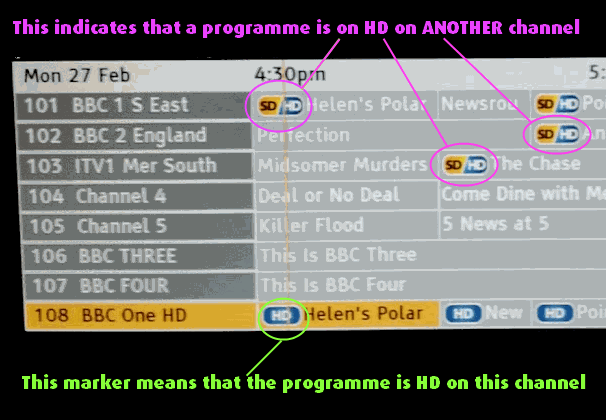 Check in the EPG (usually the INFO or GUIDE button on the remote) to see if the programme that is being shown has an HD marker in the listings.
Comments
Monday, 31 December 2012

Tony Hill: The available HD channels are identical on Freesat and Freesat-from-Sky. It is really only worth buying Freesat equipment if a PVR is required, otherwise staying with what you already have is a no-cost option. When funds are not limited I would personally opt for a generic satellite receiver that supports Diseqc and use a dish fitted with a second LNB in order to receive some real alternative to a multitude of shopping channels!

KMJ,Derby's 1,811 posts
Wednesday, 2 January 2013
T
Tony Hill
12:11 PM
Dorchester

KMJ, Derby: As I understand it -please correct me if this is not so - if you drop down to Freesat-from-Sky, even if you have a Sky HD box, you will only be able to receive SD. So, if you do want HD, you will need a Freesat HD box.

I would not recommend a generic HD receiver for most people as there is no Freesat EPG nor ability, with a PVR, to record from the EPG.

I personally have a Freeview SD PVR and, on one (Sky-type dish)a Freesat HD PVR and on a second motorised dish, a Technomate SD receiver, so can sample (most) offerings - apart from Sky, of course.



Tony Hill's 65 posts
Tony's:
map
T's Freeview map
terrain
T's terrain plot
waves
T's frequency data
T's Freeview Detailed Coverage

Whether we embrace HD or not, it is here to stay.It s the format that all the creative industries are using and investing in longterm.It does have a few technical downsides but with all technology, especially electronic,where's there's gain, there'll be some loss, but the loss you get is far outweighed by the gains of the the format. like with all new technology, we get use to the old and some find the transition to new technology a nuisance and to some an un-necessary burden on thir pockets.

KEVIN GARDINER's 68 posts

Tony Hill: According to my understanding you can receive Sky HD channels without a subscription being in force but are limited to that indicated below.

Free to view "without" a Sky card being used. (none inserted into slot)

BBC1 HD - BBC HD - NHK World HD
-------------------------------------

Free to view "with" a Sky basic viewing card.

BBC1 HD - BBC HD - ITV1 HD (England and Wales only) Ch4 HD - Ch5 HD - NHK
World HD.


jb38's 7,179 posts
Thursday, 3 January 2013
T
Tony Hill
6:05 PM
Dorchester

KMJ (Derby) and jb38 and Susan:

Yes, you are right and I (not a "Sky person") am wrong: "Freesat-from-Sky" does provide HD viewing (with a Sky-HD box, of course). I'm not sure if that has always been the case but - looking at Sky's Terms & Conditions - it is the case now. Perhaps Sky have improved their "Freesat" offering to counter competition from "freesat" and "Freeview".

So, Susan in Oldham, should proceed with her plan and user her old Sky box - unless she wants a PVR (who doesn't?) for programme recording.

Tony Hill's 65 posts
Tony's:
map
T's Freeview map
terrain
T's terrain plot
waves
T's frequency data
T's Freeview Detailed Coverage
Sunday, 6 January 2013

I`ve un-subscribed from SKY package but still retain the SKY+ box.Then I bought an LG 42LW550T LED HD 1080p,3D Smart TV with FREEVIEW HD. I`ve connected an HDMI lead between the screen and the SKY+ box which is then connected to a DVR via a scart lead.Ok..so I`ve still got the SKY menu and a few channels to work on.I want to use the tv to it`s full potential so if I start autu-tuning it would this complicate things when still connected to the SKY box and does the card have to be removed ?

David Sorley's 2 posts

David Sorley: The Sky box and its card has nothing to do with Freeview on the TV and so they should not affect the tuning process.

Assuming that the DVR is a Freeview one, then the aerial lead should be fed into it and out and into the TV. If you feed output of the Sky box to other rooms via the aerial lead, then the Sky box will need to be daisy-chained as well.

Dave Lindsay's 5,724 posts
D
David Sorley
10:53 PM
Anstruther

Thanks for your prompt response Davie Lindsay.Further to your question of the DVR type, I can`t see any FREEVIEW logo.It`s a Toshiba RD-88DTKB model bought in 01/09.
I can see this a `shot in the dark`.Any help gratefully received.Thanks


David Sorley's 2 posts
David's:
map
D's Freeview map
terrain
D's terrain plot
waves
D's frequency data
D's Freeview Detailed Coverage
Monday, 7 January 2013

David Sorley: Freeview logos are placed on those devices which it has approved as being compliant with the way in which Freeview works. This doesn't necessarily mean that those which don't have a Freeview logo aren't compliant.

When I said "assuming that the DVR is a Freeview one" I meant one which receives Freeview which is as opposed to a Freesat one.

I found this machine was on sale (when it was available) from places such as Asda, Play.com and Amazon.co.uk. This suggests that it is intended for the UK market. Have you never used it with Freeview?

Dave Lindsay's 5,724 posts
Select more comments
Your comment please