How do I know if the 4G broadband will overload my Freeview?

Brian Butterworth published on UK Free TV
Back in June 2011, we looked at how Ofcom moves to protect Freeview interference from 4G mobile .

Since then, the television Digital Switchover has been finished and 4th generation (4G) mobile broadband services - also known as Long Term Evoluition (LTE) have launched all over the world, including a service from Everything Everywhere (EE) in the UK.

To understand why and how these 4G broadband services will cause problems during 2013, you need to take into consideration a number of technical factors.


Understanding the radio spectrum
The
Radio spectrum
is the name given to the frequencies of the electromagnetic spectrum that can be usefully used to transmit radio, television and data services.
The top bar on the diagram below (or
download
) shows a selection of the services used in the UK, with old-fashioned long-wave radio, then medium-wave radio, though FM radio, the digital
DAB
radio services up to those used for television broadcasting. (See
here
for a
really
complex chart).

The highest frequencies on the diagram, the "ultra high frequencies" (or UHF) band is shown enlarged as the lower purple bar. In this range we can see TV "
channels
C21
to
C60
" (blue), second- and third- generation mobile phones (
2G
orange, 3G pink) and the location for the 4G services.
It is important to note that some of the 2G capacity in the "1800MHz" range has already been converted to 4G operation by Everything Everywhere (EE). The other two yellow boxes show the "
800MHz
" (to the left) "2.6GHz" (on the right).
For the purpose of
Freeview
reception
, only the
800MHz range
need be considered. The other two ranges will not cause Freeview problems.
Protecting Freeview receivers against overload
As we have seen already -
Freeview signals: too much of a good thing is bad for you
- Freeview boxes are designed to protect themselves against signal overloads. When they do this they close down and people often incorrectly
diagnose
the problem as being "
no signal
" when there is too much.
The problem that has to be solved as the 4G services launch, is that the new mobile broadband signals can cause overloads onto the frequencies that are being used for Freeview.

One particular problem is that a very common type of Freeview signal decoder, a
superheterodyne receivers
are sensitive to signals being present nine channels (72MHz) away.
In addition to overloads, 4G may also cause Signal-
Interference
Noise Ratio degradation, where reception breaks down because the
receiver
can no longer decode the digital information in the transmission.
Knowing who will win the 4G auction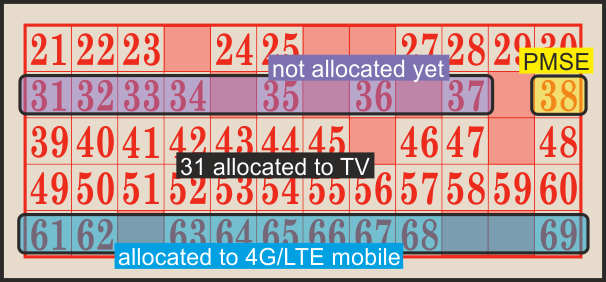 Until the
4G auction
takes place, no one will know which company has the right to use the 800MHz channels for mobile devices. The following companies have qualified to
bid
:
Everything Everywhere Limited (UK)
HKT (UK) Company Limited (a subsidiary of PCCW Limited)
Hutchison 3G UK Limited
MLL Telecom Ltd
Niche Spectrum Ventures Limited (a subsidiary of BT Group plc)
Telefonica UK Limited
Vodafone Limited
Viewing high power television and using low power mobiles
Using the
'Sitefinder' Mobile Phone Base Station Database
you can compare the locations of existing mobile phone "masts" with those used for
Freeview Transmitters
. Here is an example from Brighton and Hove, where a medium-sized single
mast
(
Whitehawk Hill
) can cover a whole city, but where hundreds of mobile phone base-stations cover a many smaller-by-comparison areas.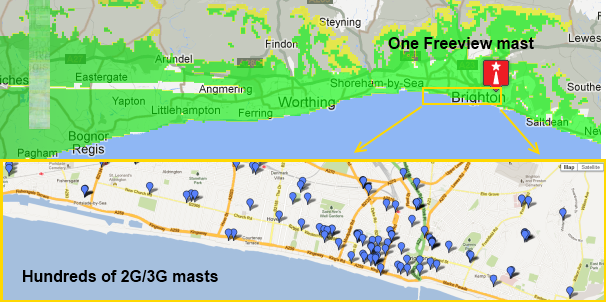 This illustrates two points. Firstly, that Freeview broadcasts are high powered and one-to-many - mobile devices are low
power
and peer-to-peer. The mast your TV signal comes from may be miles, sometimes tens or miles away, for your mobile perhaps only meters away.
The second point is that if an existing 2G/3G mobile supplier wins a 800MHz 4G slot, they will wish to use their existing "phone mast" locations (especially the 900MHz ones) as this would be most economical for them. Until the action winners emerge, and then plan their
network
, only
idle
speculation about possible interference can be made.
Using the TV frequencies for 4G masts and phones
Research (see
here
) shows that a 4G mast in relative close proximity, or a mobile 4G handset closer than a meter to an unfiltered Freeview box will cause overloading on many tested devices. The following diagram shows the relationship between the 4G use and the old TV channel designations.
Those
Freeview transmitters
that use channels above
C52
are most likely to have receivers that get overloaded by the use of 4G signals in the 800MHz area. FDD is
Frequency-division duplexing
- the transmitter and receiver operate at different carrier frequencies.
Interpreting the aerial and mast locations
Once the proposed mast locations for 4G services are known, it will then be possible to predict which homes will need to fit the special filters in areas
where Freeview uses the higher channel numbers (the C52 to C60 range)
.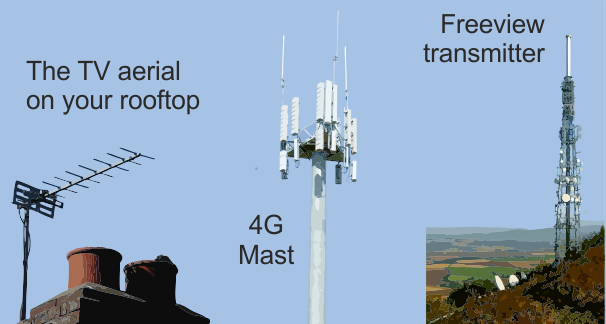 If you then have a rooftop
aerial
without a signal
amplifier
, to get an overload you will need the 4G mast to be in the line-of-sight between your Freeview transmitter and the aerial, or possibly "directly behind" the aerial.
If you then have a rooftop aerial and an amplifier, or perhaps have lower-grade cables, you are likely to need to protect from a 4G overload if the phone mast is close to your rooftop aerial.
Finding transmitters that use the higher range frequencies
Some powerful transmitters and many relays use the high frequencies:
Sudbury
,
Oxford
,
Belmont
,
Winter Hill
,
Tacolneston
,
Pontop Pike
,
Mendip
,
Emley Moor
,
Clermont Carn
,
Truskmore
and
Maghera
.
Click below to find out the transmitters in with high
frequency
allocations:
Protecting Freeview boxes and sets, cables, amplifiers from 4G devices
Again in areas where Freeview uses the higher channel numbers (C52 and above) you may have to protect your Freeview devices from signals from a 4G handset (such as mobile phone, tablet, or USB "dongle").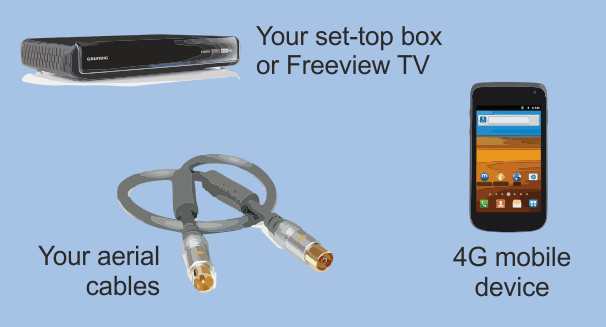 This may, once again, require the fitting of a special filter, or the upgrading of the "fly leads" used to connect your aerial to the set top box or TV. This may be a particular problem if you have used an indoor aerial or signal amplifier.
Comments
Wednesday, 13 February 2013
S
Steve e Boy
10:51 AM
Corby

Hi, just looking at how the 4G interference potential can affect those people who use caravans. Currently there are several different aerials fitted to caravans, Directional as per the Status 550 and numerous Omni-directional aerials. Going forward would you recommend Directional rather than Omni-directional? What about the coax cable running through the caravan, would this need to be replaced if poor quality cable has been installed by the manufacturer?

Steve e Boy's 3 posts
Steve's:
map
S's Freeview map
terrain
S's terrain plot
waves
S's frequency data
S's Freeview Detailed Coverage

Steve e Boy: A directional aerial focuses signal in one direction. The "gain" is simply that with respect to an omni-directional antenna (or a, theoretical, isotropic antenna [dBi], but let's not go there). Gain is at the expense of "loss" in other directions.

So it is not the case that an omni-directional aerial is better, per se.

However, all TV signals come from one transmitting station and therefore one direction. Hence it is good practice to use a directional aerial as your aerial will be less sensitive. As a caravan goes to different locations, signal levels can vary.

See here for information:

TV Aerials for Boats and Caravans

The aerial shown in that link is a Blake DML26WB (other suppliers are available) and it is especially suited to touring for a number of reasons. Firstly, it is a log periodic which has roughly the same level of gain across all frequencies (yagis aren't as good on lower frequencies/channels). The elements are flat which should make them more rugged; most other logs have round elements. It has a bracket that allows it to be set on an incline which might help in some situations.

Use double-screened cable with a pure copper core (not clad copper) and copper foil with copper braiding such as Webro WF100.

Also have a variable amplifier to hand. This won't always be needed, but it may be useful in some locations.

It would also be useful to have a filter to protect against interference from 4G base stations which will come on the air in the next quarter. This might as well be fitted permanently and before any amplifier.


Your original question pertained to potential 800MHz 4G interference, but this depends on a variety of factors including where the 4G signal is coming from, how sensitive your aerial is in that direction and how strong the TV signal is to how strong the 4G signal is. The way to protect yourself is to install a filter and use good screened cable.

Dave Lindsay's 5,724 posts

Steve e Boy: I've had a look at the Status 550 aerial, you mention:

The NEW Status 550 Directional TV / Radio Antenna System | Status Antennas

It's a log, so that's good. However, a few things spring to mind:

The frequency range is given in the instructions as FM (88 to 108MHz), DAB (175 to 230MHz) and UHF (470 to 860MHz). So, as perhaps is to be expected, the 800MHz band that is to be used for 4G is part of its spec and will need filtering.

The fact that the aerial is designed to pick up FM, DAB and TV means that these frequencies are passed down the aerial lead (before being split within the amp). This could affect the type of filter you can use.

The filter needs fitting before the amplifier as the 4G signal can have an adverse effect on it. However, if you fit a filter that only allows through the frequencies for TV, it will prevent FM and DAB signals being passed.

As an example, see here:

UHF Bandpass filters, amplifiers for terrestrial TV

The filter seen in the photograph is a SAC AE5100 which says on its body that its pass-band (that is the frequencies it lets through) is 470 to 790 MHz. Obviously that will inhibit FM and DAB.

I'm not a professional, so don't know whether such filters are available that will pass FM, DAB, UHF TV (21 to 60) whilst blocking 800MHz 4G (UHF channels 61 to 69). If there is, then it will allow the aerial to be used for FM and DAB whilst being protected against potential interference from future 4G.

It may be worth contacting the manufacturer to see what it intends to do. Maybe it will produce a filter.

---

The more 4G phones come into service the more the possibility of interference from them in close proximity to your receiver. The thing is that you won't know what is the cause if it is outside and it will be intermittent.

Ideally, aerial amplifiers should have 800MHz filters built-in, but this will be down to the manufacturers.

Dave Lindsay's 5,724 posts

Surely this means lots of homes will be without TV? I live in a conservation area and we are not allowed to install satellite dishes. Cable TV isn't available in my street either. I would have thought there are a lot of people in this situation - so if any of them are affected what will the solution be?

James's 9 posts

James: How many conservation areas is there a dense spread of population which would require a number of mobile base stations to cover them?

How many conservation areas allow installation of odious mobile phone masts?

Dave Lindsay's 5,724 posts

James: There are ways of getting around conservation area problems where satellite dishes are concerned if a residents garden has any positions where its possible to obtain an unobstructed view of the S/SE Skyline whilst preferably (but not essentially!) not being visible to a passing roadway.

Should a spot be found in their garden that meets the positioning requirements then there is absolutely nothing to stop them using a portable satellite reception dish kit of the type used by most caravanners, as the dish is mounted on a small tripod and with its total height being only about 4 feet or so above ground level, the dish being simplicity to align compared to a normal wall mounted type as its LNB is fitted with coloured alignment LED's which eliminates the necessity to use a meter, a friend of mine in the next village which is also a conservation area having used one of these kits for nearly two years now without so much as a whisper from anyone in authority or otherwise, as its not actually classed as an installation by it being a completely free standing structure of a portable nature.


jb38's 7,179 posts
Monday, 18 February 2013

Hi, do you know when the 4G service is due to start from the Bexley Hill (Midhurst) site? The situation here is about as bad as it can get as the same mast will be used for Freeview and 4G. The highest channel used by Freeview there is 58 so there will be 2 'guard' channels between that and the 4G signal but the very nature of GSM signals i.e. pulsed is likely to cause splatter.

Smiffy's 1 post

Smiffy: Just to clarify from the article.

1) No-one knows when the services will start as the auction has not finished;

2) The 4G services are not located on the TV transmitter masts

3) 4G isn't GSM, it's LTE.

Briantist's 38,906 posts

... also see Midhurst (West Sussex, England) full-Freeview transmitter | ukfree.tv - 10 years of independent, free digital TV advice

"When 800MHz 4G mobile broadband services start there will be 5 multiplexes in C52-C60 range: C59: COM5 C55: PSB1 C58: PSB3 C56: PSB2 C54: COM4 "

Briantist's 38,906 posts
Wednesday, 20 February 2013

I live in the WN6 postcode and receive my Freeview from Winter Hill.
I have suddenly started having really bad problems with CHANNELS 55 and 61
There is bad pixellation and intermittent loss of sound.
When I check Signal Strength/Quality I find the Strength is OK (around 80%) but Quality varies from 40% to 90%.
I have tried everything I can think of with no success.
Any help re Channels 55/61 most welcome
Thank you
Regards
Edward

Edward Felstead's 1 post
Select more comments
Your comment please