Mendip, Bristol and relay transmitters - retune require on 27th March 2013

Brian Butterworth published on UK Free TV
At 6am on 27th March 2013, several multiplexes will change their transmission frequencies.

Notably the main transmitters will make changes. This includes the Mendip transmitter, where the BBCA multiplex (including 1 BBC One West, 2 BBC Two England, 7 BBC Three, 9 BBC Four, 70 CBBC Channel, 71 CBeebies, 80 BBC News, 81 BBC Parliament) will move from C61 to C49.

Also changing is Bristol Kings Weston where the D3+4 multiplex (3 ITV (West), 4 Channel 4 South ads, 5 Channel 5 Part Network ads, 6 ITV 2, 13 Channel 4+1 South ads, 14 More 4, 28 E4, 33 ITV +1 (West)) will move from C50 to C40, and Bristol Ilchester Crescent where ArqivaB (15 Film 4, 18 4Music, 19 Yesterday, 21 VIVA, 24 ITV 4, 41 Sky Sports 1 (not free), 42 Sky Sports 2 (not free), 47 4seven, 83 Al Jazeera English, 85 Russia Today English,) moves from C49 to C39+.

See below for a full list of transmission masts that will make changes.

When you now rescan, you MUST do a "first time installation" or "factory reset" scan, not an "add channels". Do the procedure you did on September 30th 2009. If you can't recall what this was, please see List of manuals for Freeview retune, or try the generic clear and rescan procedure.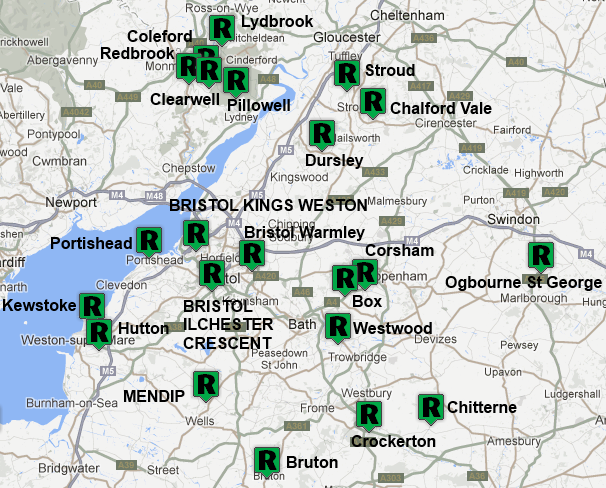 Bampton: PSB1 C49 to C39
Box: PSB2 C50 to C40
Bristol Ilchester Crescent: COM6 C49 to C39+
Bristol Kings Weston: COM6 C60 to C60- PSB2 C50 to C40
Bristol Warmley: PSB3 C49 to C39
Bruton: PSB2 C50 to C40
Chalford Vale: PSB3 C50 to C40
Chilfrome: PSB2 C50 to C40
Chitterne: PSB2 C50 to C40
Clearwell: PSB2 C62- to C50
Coleford: PSB2 C49 to C39
Corsham: PSB1 C50 to C40 PSB1 C50 to C40 5W to 8W
Countisbury: PSB2 C62- to C50
Crewkerne: PSB2 C50 to C40
Crockerton: PSB3 C50 to C40
Culm Valley: PSB2 C49 to C39
Dursley: PSB2 C50 to C40
Hutton: PSB2 C62- to C50
Kewstoke: PSB2 C50 to C40
Kilve: PSB2 C62- to C50
Lydbrook: PSB2 C50 to C40
Mendip: PSB1 C61 to C49
Monksilver: PSB1 C50 to C40
Ogbourne St George: PSB2 C50 to C40
Pillowell: PSB2 C50 to C40 PSB2 C50 to C40
Portishead: PSB2 C62- to C50
Redbrook: PSB3 C49 to C39
Stroud: PSB1 C50 to C40
Washford: PSB2 C62- to C50
Westwood: PSB2 C50 to C40
Woodcombe: PSB2 C62- to C50

Now changing on 5th June 2013

Beaminster: PSB1 C62- to C50 3.8W to 15W PSB2 3.8W to 15W PSB3 3.8W to 15W
Beer: PSB1 C62- to C50 3W to 4.8W PSB2 3W to 4.8W PSB3 3W to 4.8W
Bincombe Hill: PSB1 C62- to C50
Crediton: PSB3 C50 to C40
Dawlish: PSB1 C62- to C48 PSB2 C59 to C52
Pennsylvania: PSB2 C61 to C56
Preston: PSB1 C61 to C52
Rampisham: PSB3 C50 to C40
Comments
Wednesday, 27 March 2013

MENDIP BBC SD Channnels.
Chan 49 now active with BBC SD channels.
Owing to the proximity of Wenvoe TX, many Boxes /TVs will install the wrong region for BBC1 with a complete reset. Try to add manually just Ch 49, this will avoid the problem.

Jeff's 2 posts

Wouldn't the Bath relay still need some sort of adjustment to allow for PSB1 moving from UHF 61 to UHF 49? From what I understand of the way it works, until now it must have picked up PSB1 from Mendip on UHF 61 for rebroadcasting to Bath on UHF 25. If nothing is done, surely it'll now just relay a blank signal on UHF 25. Therefore, wouldn't the engineers need to adjust the Bath relay to rebroadcast UHF 49 instead of 61 on UHF 25?

Nicholas Willmott's 80 posts

Nicholas Willmott: Yes.

Dave Lindsay's 5,724 posts

Martin Boulton: I assume that you are receiving from the Blackwell transmitter.

This transmitter has not changed any of its broadcast channels and therefore a retune is not required.

However, because it is a relay of Mendip, it will itself need retuning to the new channel from Mendip. Because there are a lot of relays of Mendip, it will take time for engineers to visit them all. According to Digital UK, Backwell is among a number of relays that are expected to be back on "after 11am".

Dave Lindsay's 5,724 posts

Vanessa: You should attempt a full retune now. At 02:24 Mendip was probably off-air.

The balconies I can see on Fremantle Road are facing away from Mendip. Bristol Montpelier may be available (at 35 degrees), but this only carried PSB channels (which are BBC TV and radio, ITV, ITV HD, ITV1+1, ITV2, Channel 4, Channel 4 HD, Channel 4+1, More4, E4, Channel 5).

Dave Lindsay's 5,724 posts

In Bristol, I just did a manual scan of channel 49 and my channel list is all present and correct now.

"you MUST do a first time installation or factory reset" -umm no, thanks to the information here, that was not necessary.

Starfish's 1 post

Dave Lindsay: Are Backwell and Wraxall the same? I did need to retune because I lost all my channels. However, my Panasonic picks up BBC West as well as Wales but has allocated it to 804 and Wales to 1. My Toshiba only picks up Wales and when I try to manually add Channel 49, I get no signal.

Martin Boulton's 3 posts

Martin Boulton: I should assume so. Refer to:

Maps | ukfree.tv - 10 years of independent, free digital TV advice

Backwell is the only transmitter near to Wraxall.

C49 is the frequency of the signal from Mendip rather than from Backwell.

The signal from Mendip isn't that good in the general area which is why the Backwell relay transmitter was installed.

If you happen to live in a spot where reception of Mendip is possible (with a suitably installed aerial) then you may be able to receive the full complement of Freeview channels from it. If not then an aerial on Wenvoe (the transmitter near Cardiff) and one on Backwell will give you West programming and the Commercial (COM) channels that Backwell doesn't carry.

Dave Lindsay's 5,724 posts

We live in Box,Corsham and of today, 27 March we have lost all our BBC Channels.
Could you please let me know how I can retune
these stations.

Thankyou

A.R. Etheridge's 1 post

A.R. Etheridge: Try a retune now.

There is a Digital UK newsletter which gives the expected time that retune can be carried out for Box to be "after 3pm".

Dave Lindsay's 5,724 posts
Select more comments
Your comment please