Mendip, Bristol and relay transmitters - retune require on 27th March 2013

Brian Butterworth published on UK Free TV
At 6am on 27th March 2013, several multiplexes will change their transmission frequencies.

Notably the main transmitters will make changes. This includes the Mendip transmitter, where the BBCA multiplex (including 1 BBC One West, 2 BBC Two England, 7 BBC Three, 9 BBC Four, 70 CBBC Channel, 71 CBeebies, 80 BBC News, 81 BBC Parliament) will move from C61 to C49.

Also changing is Bristol Kings Weston where the D3+4 multiplex (3 ITV (West), 4 Channel 4 South ads, 5 Channel 5 Part Network ads, 6 ITV 2, 13 Channel 4+1 South ads, 14 More 4, 28 E4, 33 ITV +1 (West)) will move from C50 to C40, and Bristol Ilchester Crescent where ArqivaB (15 Film 4, 18 4Music, 19 Yesterday, 21 VIVA, 24 ITV 4, 41 Sky Sports 1 (not free), 42 Sky Sports 2 (not free), 47 4seven, 83 Al Jazeera English, 85 Russia Today English,) moves from C49 to C39+.

See below for a full list of transmission masts that will make changes.

When you now rescan, you MUST do a "first time installation" or "factory reset" scan, not an "add channels". Do the procedure you did on September 30th 2009. If you can't recall what this was, please see List of manuals for Freeview retune, or try the generic clear and rescan procedure.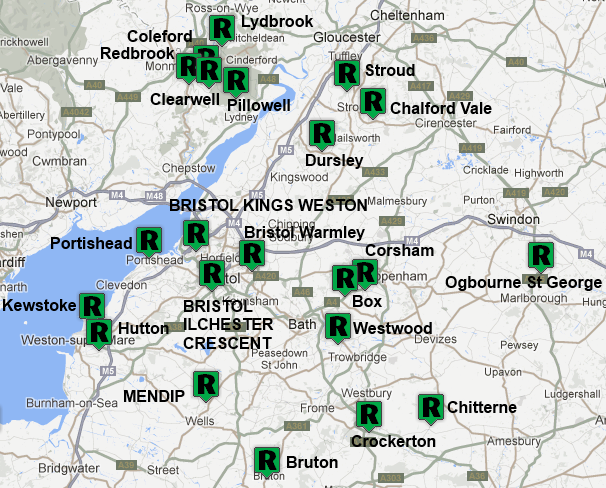 Bampton: PSB1 C49 to C39
Box: PSB2 C50 to C40
Bristol Ilchester Crescent: COM6 C49 to C39+
Bristol Kings Weston: COM6 C60 to C60- PSB2 C50 to C40
Bristol Warmley: PSB3 C49 to C39
Bruton: PSB2 C50 to C40
Chalford Vale: PSB3 C50 to C40
Chilfrome: PSB2 C50 to C40
Chitterne: PSB2 C50 to C40
Clearwell: PSB2 C62- to C50
Coleford: PSB2 C49 to C39
Corsham: PSB1 C50 to C40 PSB1 C50 to C40 5W to 8W
Countisbury: PSB2 C62- to C50
Crewkerne: PSB2 C50 to C40
Crockerton: PSB3 C50 to C40
Culm Valley: PSB2 C49 to C39
Dursley: PSB2 C50 to C40
Hutton: PSB2 C62- to C50
Kewstoke: PSB2 C50 to C40
Kilve: PSB2 C62- to C50
Lydbrook: PSB2 C50 to C40
Mendip: PSB1 C61 to C49
Monksilver: PSB1 C50 to C40
Ogbourne St George: PSB2 C50 to C40
Pillowell: PSB2 C50 to C40 PSB2 C50 to C40
Portishead: PSB2 C62- to C50
Redbrook: PSB3 C49 to C39
Stroud: PSB1 C50 to C40
Washford: PSB2 C62- to C50
Westwood: PSB2 C50 to C40
Woodcombe: PSB2 C62- to C50

Now changing on 5th June 2013

Beaminster: PSB1 C62- to C50 3.8W to 15W PSB2 3.8W to 15W PSB3 3.8W to 15W
Beer: PSB1 C62- to C50 3W to 4.8W PSB2 3W to 4.8W PSB3 3W to 4.8W
Bincombe Hill: PSB1 C62- to C50
Crediton: PSB3 C50 to C40
Dawlish: PSB1 C62- to C48 PSB2 C59 to C52
Pennsylvania: PSB2 C61 to C56
Preston: PSB1 C61 to C52
Rampisham: PSB3 C50 to C40
Comments
Friday, 29 March 2013

It's been reported ,the Cotswolds town we live in has been lucky only high reaches being able get Mendip the rest Randwick and some areas unable to get any DTT it may be case of using the Relay instead of Mendip for BBC channels now. Still the whole area is poor that's why there are so many relays here!

Mark's 9 posts
P
Pauline Dunmore
11:14 AM
Templecombe

I have completely lost BBC1 and BB2 after 27 March. Have retuned many times and retuned tv to factory settings + aerial but still no joy from the Mendip transmittor. My postcode is BA8 0AX (Templecombe, Somerset). Any suggestions gratefully received.

Pauline Dunmore's 1 post
Pauline's:
map
P's Freeview map
terrain
P's terrain plot
waves
P's frequency data
P's Freeview Detailed Coverage

Pauline Dunmore: Try a manual tune on UHF channel 49. Having entered or select 49, don't press the button to scan (may be "OK" or something similar) but wait to see if it gives an indication of strength and quality on that channel. Once you have a strength/quality reading (if it gives such a thing) then go ahead and scan.

Is your Mendip aerial combined (into the single cable) with a second one on another transmitter as this might be an issue?

Dave Lindsay's 5,724 posts

Melksham, Wiltshire, we seem to have lost our BBC local news - BBC Points West, after the retune all I can get is BBC Spotlight, I don't live in Devon, Somerset or Cornwall, once again we all seem to be experiencing re-tune problems. Before when this happened I was able to do a manual tune but now there seems to be no indication of the alternative frequency to tune to. Briantist - help us!

Adrian's 8 posts

Adrian: You are probably getting Stockland Hill, which is roughly on the same bearing as Mendip.

Because Stockland uses low channels and Mendip high ones, just unplug the aerial for the first 50% of the scan.

Dave Lindsay's 5,724 posts

Thank you for your response Dave, however I have manually tuned to Ch49 for BBC so as to be sure that I am receiving from Mendip, sadly still no 'BBC Points West'. Stockland hill BBC channel is CH26.

Adrian's 8 posts

Hello

My Mother has a TV from Accoustic Solutions. I re-tuned her TV on 27th March and have found that the BBC1, BBC2 and some other channels are breaking up. The screen display is I guess "pixilating". Is this a likely fault with the TV or something to do with the signal?

Hope to hear from you soon.

Philip's 1 post
Saturday, 30 March 2013

hi
i am in bristol.
i have lost all bbc channels + some others 5* 5 usa and itv 3
i notice that works were carried out 3 days ago.
i have retuned and no reappearance of missing channels yet

can you help?

Fiona's 7 posts

Help since retune itv1 channel 4 and 5 are all pixalating and breaking up I have tried unplugging aerial for 50% of scan but made no difference signal strength is poor on all 3.
I am sure I am using the mendips aerial and live in Sherborne dt96px.
Any suggestions ?

Simon's 1 post

Simon: "If" you actually do reside in Sherborne as such then Stockland Hill is indicated as providing better reception to that from Mendip, the latter's ArqA mux (Pick TV / Dave etc) indicating poor.

Should though you reside in Thornford (as per Post.C) then Mendip has the edge over Stockland Hill, and with a good signal level being expected from across all six muxes.

If indeed you do reside in the latter area then you might be picking up the Stockland Hill transmitter, and so as you have already tried the removing the aerial etc procedure then manual tuning is the only answer "after" having cleared the list of anything stored.

Mendips muxes being : 49 - 54 - 58(HD) - 48 - 56 - 52

However should you already have these channels stored then the only way of verifying if the problem is confined to your system or not is by making an enquiry with a neighbour, as I noticed that quite a few complaints have been made about reception from Mendip.


jb38's 7,179 posts
Select more comments
Your comment please