Mendip, Bristol and relay transmitters - retune require on 27th March 2013

Brian Butterworth published on UK Free TV
At 6am on 27th March 2013, several multiplexes will change their transmission frequencies.

Notably the main transmitters will make changes. This includes the Mendip transmitter, where the BBCA multiplex (including 1 BBC One West, 2 BBC Two England, 7 BBC Three, 9 BBC Four, 70 CBBC Channel, 71 CBeebies, 80 BBC News, 81 BBC Parliament) will move from C61 to C49.

Also changing is Bristol Kings Weston where the D3+4 multiplex (3 ITV (West), 4 Channel 4 South ads, 5 Channel 5 Part Network ads, 6 ITV 2, 13 Channel 4+1 South ads, 14 More 4, 28 E4, 33 ITV +1 (West)) will move from C50 to C40, and Bristol Ilchester Crescent where ArqivaB (15 Film 4, 18 4Music, 19 Yesterday, 21 VIVA, 24 ITV 4, 41 Sky Sports 1 (not free), 42 Sky Sports 2 (not free), 47 4seven, 83 Al Jazeera English, 85 Russia Today English,) moves from C49 to C39+.

See below for a full list of transmission masts that will make changes.

When you now rescan, you MUST do a "first time installation" or "factory reset" scan, not an "add channels". Do the procedure you did on September 30th 2009. If you can't recall what this was, please see List of manuals for Freeview retune, or try the generic clear and rescan procedure.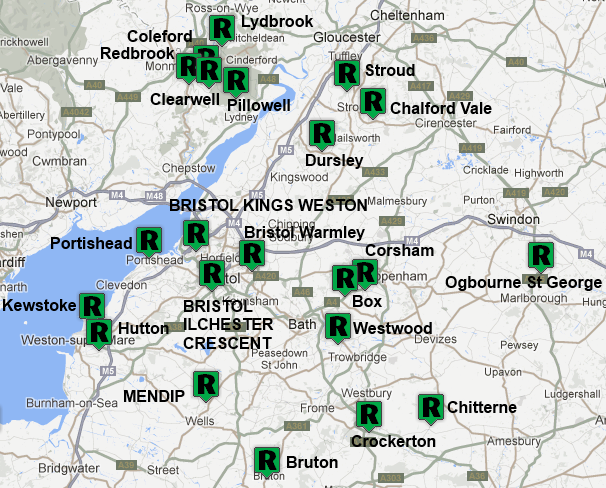 Bampton: PSB1 C49 to C39
Box: PSB2 C50 to C40
Bristol Ilchester Crescent: COM6 C49 to C39+
Bristol Kings Weston: COM6 C60 to C60- PSB2 C50 to C40
Bristol Warmley: PSB3 C49 to C39
Bruton: PSB2 C50 to C40
Chalford Vale: PSB3 C50 to C40
Chilfrome: PSB2 C50 to C40
Chitterne: PSB2 C50 to C40
Clearwell: PSB2 C62- to C50
Coleford: PSB2 C49 to C39
Corsham: PSB1 C50 to C40 PSB1 C50 to C40 5W to 8W
Countisbury: PSB2 C62- to C50
Crewkerne: PSB2 C50 to C40
Crockerton: PSB3 C50 to C40
Culm Valley: PSB2 C49 to C39
Dursley: PSB2 C50 to C40
Hutton: PSB2 C62- to C50
Kewstoke: PSB2 C50 to C40
Kilve: PSB2 C62- to C50
Lydbrook: PSB2 C50 to C40
Mendip: PSB1 C61 to C49
Monksilver: PSB1 C50 to C40
Ogbourne St George: PSB2 C50 to C40
Pillowell: PSB2 C50 to C40 PSB2 C50 to C40
Portishead: PSB2 C62- to C50
Redbrook: PSB3 C49 to C39
Stroud: PSB1 C50 to C40
Washford: PSB2 C62- to C50
Westwood: PSB2 C50 to C40
Woodcombe: PSB2 C62- to C50

Now changing on 5th June 2013

Beaminster: PSB1 C62- to C50 3.8W to 15W PSB2 3.8W to 15W PSB3 3.8W to 15W
Beer: PSB1 C62- to C50 3W to 4.8W PSB2 3W to 4.8W PSB3 3W to 4.8W
Bincombe Hill: PSB1 C62- to C50
Crediton: PSB3 C50 to C40
Dawlish: PSB1 C62- to C48 PSB2 C59 to C52
Pennsylvania: PSB2 C61 to C56
Preston: PSB1 C61 to C52
Rampisham: PSB3 C50 to C40
Comments
Wednesday, 3 April 2013

Thanks. I'll make sure I have a willing volunteer watching the screen while I move the aerial!

Andy's 7 posts

Andy: Yes, but I would make sure that whoever you choose is the type of person capable of giving an "instant" response to that seen, as unfortunately many dont!, although if you adopt a slow motion approach to anything done then that helps compensate for the inevitable delay in feedback.

Although the best of all methods is by temporarily taking a small bedroom type Freeview TV (should a person have one!) into the loft and coupling it directly onto the aerial, as this method is by far the most reliable way of doing things, albeit of course I fully appreciate that this is just simply not always possible to arrange in most households.

jb38's 7,179 posts
Thursday, 4 April 2013
E
Ed Brown
9:02 AM
Westbury

Scott: I made an earlier report really area of BA13 4HP. The situation for this location remains unchanged in that whereas previously all BBC channels were received now none are.
Considering the amount of similar reports made here and the claims that transmitter/relay sites are all working correctly then only one conclusion is possible:
The change of transmitting frequency must mean that the new frequency is less able to overcome attenuation caused by obstacles and or (most likely both) is less able to refract.
This being the most likely cause of failed reception in many areas, it could only be overcome by either increasing transmission power or adding additional relays.

Ed Brown's 3 posts
Ed's:
map
E's Freeview map
terrain
E's terrain plot
waves
E's frequency data
E's Freeview Detailed Coverage

Don't understand why my post was prefixed "Scott:" please ignore that bit.

Ed Brown's 3 posts

jb38: may try taking the humax and a small portable into the loft. One question: when I am moving the aerial, where is it best to stand/ crouch? I assume directly behind the aerial is the best place (so as not to block the signal)?

Andy's 7 posts
Andy's:
map
A's Freeview map
terrain
A's terrain plot
waves
A's frequency data
A's Freeview Detailed Coverage

All the BBC channels have been missing since the retune in March. Have retuned everyday since with no luck! Got a new tv today and still no BBC! How and When is this going to be sorted?!

Jo's 1 post

Andy: If its possible to stand at the side or the rear then that's perfectly OK but not at the front for obvious reasons, although if you leave the Humax on its signal check screen where you (or whoever) can see the strength and quality being indicated on the TV, then its easy to determine if any inter-reaction is liable to take place between the aerial and you, because should you move your hand in a critical area this will cause severe fluctuations to be seen in signal "quality" thus indicating where to avoid.

Although in general terms, aerials should always be held on the very rear and NOT in front of the reflector should it have one, e.g: "not" a log periodic type.


jb38's 7,179 posts

Jo; Although its assumed that you may well be referring to reception from the Mendip transmitter, but though no one can really offer advice without having knowledge of your location (post code or one from nearby: e.g: a post office) plus info on the aerial you are using, this meaning: communal / indoors / loft or roof mounted.

jb38's 7,179 posts
Friday, 5 April 2013

Right. I have just spent about 4 hours in the loft and running up and down the stairs and I now have all channels working and correct!

When we moved into the house, there was a hub installed but no aerial and none of the aerial cables were attached to the hub. So I bought an aerial and fitted it in the loft, and then connected cables to the hub until the tv worked. Job done. Or so I thought...

For some reason (which could be linked to the retune - I think the signal is slightly weaker) on the 27th March we lost BBC.

So today I took a freeview box into the loft and connected it directly to the aerial. Signal on C49: 90% strength and very good quality. I rewired all the plugs but still downstairs the signal was weak with no quality. So my conclusion was that there was a problem with the cable between the loft and the lounge.

I then realised that in the lounge there are two outlets, one for each type of aerial plug, and that each plug had a separate cable. I rewired the plug on the tv so that it could use the alternative cable and guess what, BBC (and all other channels) is back!

So I have found a solution. I did wonder whether the problem was that I had NEVER actually connected the correct cable and that the weak signal (which became weaker on the retune) was being picked up from the unconnected cable.... but when I tried connected another cable in the loft, bizarrely that output had BBC but NOT some of the other channels. I've decided to leave well alone. We have all channels and I am now happy!

Thanks for all your help!

Andy's 7 posts
Saturday, 6 April 2013

Andy: Pleased to hear your good news with regards to having been successful in solving your problem, thanks also for having provided the highly detailed update on the work carried out, the content of once again proving that the only way of solving some types of problems is by "on-site" diagnosis followed by the subsequent testing / verification of same, something which I feel really applies to a number of complaints seen made.

jb38's 7,179 posts
Select more comments
Your comment please