Mendip, Bristol and relay transmitters - retune require on 27th March 2013

Brian Butterworth published on UK Free TV
At 6am on 27th March 2013, several multiplexes will change their transmission frequencies.

Notably the main transmitters will make changes. This includes the Mendip transmitter, where the BBCA multiplex (including 1 BBC One West, 2 BBC Two England, 7 BBC Three, 9 BBC Four, 70 CBBC Channel, 71 CBeebies, 80 BBC News, 81 BBC Parliament) will move from C61 to C49.

Also changing is Bristol Kings Weston where the D3+4 multiplex (3 ITV (West), 4 Channel 4 South ads, 5 Channel 5 Part Network ads, 6 ITV 2, 13 Channel 4+1 South ads, 14 More 4, 28 E4, 33 ITV +1 (West)) will move from C50 to C40, and Bristol Ilchester Crescent where ArqivaB (15 Film 4, 18 4Music, 19 Yesterday, 21 VIVA, 24 ITV 4, 41 Sky Sports 1 (not free), 42 Sky Sports 2 (not free), 47 4seven, 83 Al Jazeera English, 85 Russia Today English,) moves from C49 to C39+.

See below for a full list of transmission masts that will make changes.

When you now rescan, you MUST do a "first time installation" or "factory reset" scan, not an "add channels". Do the procedure you did on September 30th 2009. If you can't recall what this was, please see List of manuals for Freeview retune, or try the generic clear and rescan procedure.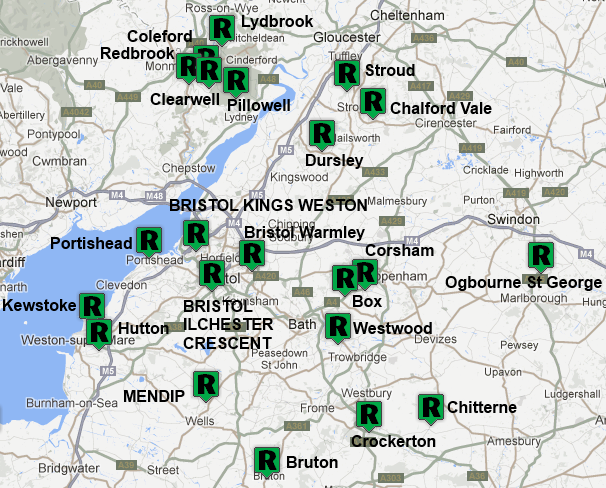 Bampton: PSB1 C49 to C39
Box: PSB2 C50 to C40
Bristol Ilchester Crescent: COM6 C49 to C39+
Bristol Kings Weston: COM6 C60 to C60- PSB2 C50 to C40
Bristol Warmley: PSB3 C49 to C39
Bruton: PSB2 C50 to C40
Chalford Vale: PSB3 C50 to C40
Chilfrome: PSB2 C50 to C40
Chitterne: PSB2 C50 to C40
Clearwell: PSB2 C62- to C50
Coleford: PSB2 C49 to C39
Corsham: PSB1 C50 to C40 PSB1 C50 to C40 5W to 8W
Countisbury: PSB2 C62- to C50
Crewkerne: PSB2 C50 to C40
Crockerton: PSB3 C50 to C40
Culm Valley: PSB2 C49 to C39
Dursley: PSB2 C50 to C40
Hutton: PSB2 C62- to C50
Kewstoke: PSB2 C50 to C40
Kilve: PSB2 C62- to C50
Lydbrook: PSB2 C50 to C40
Mendip: PSB1 C61 to C49
Monksilver: PSB1 C50 to C40
Ogbourne St George: PSB2 C50 to C40
Pillowell: PSB2 C50 to C40 PSB2 C50 to C40
Portishead: PSB2 C62- to C50
Redbrook: PSB3 C49 to C39
Stroud: PSB1 C50 to C40
Washford: PSB2 C62- to C50
Westwood: PSB2 C50 to C40
Woodcombe: PSB2 C62- to C50

Now changing on 5th June 2013

Beaminster: PSB1 C62- to C50 3.8W to 15W PSB2 3.8W to 15W PSB3 3.8W to 15W
Beer: PSB1 C62- to C50 3W to 4.8W PSB2 3W to 4.8W PSB3 3W to 4.8W
Bincombe Hill: PSB1 C62- to C50
Crediton: PSB3 C50 to C40
Dawlish: PSB1 C62- to C48 PSB2 C59 to C52
Pennsylvania: PSB2 C61 to C56
Preston: PSB1 C61 to C52
Rampisham: PSB3 C50 to C40
Comments
Tuesday, 2 April 2013

Fiona: Since Wednesday, there have been quite a few reports on this site for poor or non-existant reception of the BBC services on C49, and some of difficulty with C48 also. There are quite a few (not all) of these on the south-west side of the transmitter.

Obviously we can't say whether this is or isn't due to an issue with the transmitter.

There are some viewers who may find that their aerials need adjustment:

- those using a communal aerial system

- those with a Mendip aerial which is combined (into the same feed/downlead cable) with another aerial which points to another transmitter

If one of the above applies then it could be the cause of your difficulty. If so then I can elaborate further as to the reason, if you wish.


Out of interest, how was C48 prior to Wednesday? Do you know if it went poorer following these changes?

Failing the above, BBC Engineering's number is 0370 010 0123 (or at least it was at one time).

The BBC is only responsible for, and only reports on, its transmitters. It is not likely to be interested in poor COM4 (ITV3 etc) signal on C48. However, perhaps if there is a fault, then there is a common cause and so if the BBC one is fixed, so too will that of COM4.

Understandably, the broadcasters are likely to receive calls from people with reception issues, but it is not broadcasters' responsibilites to fix viewers' aerials. However, "if" this issue is one which is caused by a fault at the transmitter, it is clearly the broadcasters which need to know and rectify it.

Dave Lindsay's 5,724 posts

I am unable to get BBC on C49 from the Mendip transmitter. I am near Langport. All other channels working fine (and all including BBC were fine before 27 March) Neither Humax PVR nor Samsung TV can pick up the signals (Humax says signal very poor on C49). Have tried full resets, auto retunes and manual retunes of both.

Spoke to AT800.TV who are responsible for making sure everyone can get TV after the switchover to accomodate 4G mobile and they refused to help because it is apparently nothing to do with them (errr... the signal was moved to accommodate 4G - how is it not anything to do with them??). They gave me the number of the Radio and TV investigation service.

I have been trying all day (several hours in a queue) to get through to the radio and television investigation service which (according to its hold message) deals with problems with BBC signals. Their Number is 03709016789. Has anyone been able to use this number with any success? Were they able to help when you got through, or even acknowledge that there is a problem? The fact I have been queueing so long suggests there may be a lot of people with problems!

Andy's 7 posts

Andy: As you are using a Humax PVR then what are the actual levels (percentage) being indicated for both the strength and quality? also is the quality observed to be jumping up and down or is it low but reasonably stable?

Advice dependant on reply.

jb38's 7,179 posts

Andy: at800 deal with mitigation of interference of 800Mhz 4G signals.

The BBC services changed frequency to clear the way for 4G services. at800 is not responsible for carrying out that change, nor for rectifying any issues.

Dave Lindsay's 5,724 posts

dave:
thank you...
itv 3 was fine before... it is not there at all now..
bbc was strong before and not there at all now
when i check signal on 48 and 49 they are v weak and v low to 0 quality.
i do not share an aerial, and as far as i am aware it points at mendip (towards dundry from here(bs8 on top of hill with clearview )).
itv and channel 4 strong
thanks

Fiona's 7 posts

Andy: Meant also to say, that as you dont actually appear to have BBC1 stored go into your Humax's tuning menu / manual tune and enter Mux Ch49 but do NOT press search, because the level its being received at should be indicated when you enter Ch49, although it will be at a lower level to what is required to resolve a picture.

jb38's 7,179 posts

jb38: I dont have the exact details in front of me but from memory:

The first bar (strength) was at about 10%
The second bar (quality) was at 10% or 0% (it changed from time to time).

On the other channels the results were much higher (quality around 100% from what I recall).

Andy's 7 posts

Fiona: Keep checking the postings on this site. If it rights itself, let us know.

Whilst BBC has changed channel, and could therefore be different, C48 is the same and if comparing the before and after is different, this suggests that there has been some change.

There are others using Mendip, including Andy, who are having the same difficulty since Wednesday.

Dave Lindsay's 5,724 posts

dave:
thank you!
i will let you know if there is any change
fiona

Fiona's 7 posts
R
Richard Tonkin
7:02 PM
Caldicot

I just wondered whether people suffering lack of Mendip BBC channels all have two aerials (Mendip and possibly Wenvoe) diplexed together (and in my case also going through a distribution system) or are people with a normal system (one aerial into one TV, no amplifiers etc) also suffering?

I phoned the given BBC number 03700100123 earlier today and the reaction was 'what problem? we don't know of any problems'. So how is this going to get resolved? Perhaps a twitter campaign is needed, that sometimes works so I'm told. I'm not a twitterer myself so I'm not the man to lead it.

Richard Tonkin's 6 posts
Richard's:
map
R's Freeview map
terrain
R's terrain plot
waves
R's frequency data
R's Freeview Detailed Coverage
Select more comments
Your comment please