Mendip, Bristol and relay transmitters - retune require on 27th March 2013

Brian Butterworth published on UK Free TV
At 6am on 27th March 2013, several multiplexes will change their transmission frequencies.

Notably the main transmitters will make changes. This includes the Mendip transmitter, where the BBCA multiplex (including 1 BBC One West, 2 BBC Two England, 7 BBC Three, 9 BBC Four, 70 CBBC Channel, 71 CBeebies, 80 BBC News, 81 BBC Parliament) will move from C61 to C49.

Also changing is Bristol Kings Weston where the D3+4 multiplex (3 ITV (West), 4 Channel 4 South ads, 5 Channel 5 Part Network ads, 6 ITV 2, 13 Channel 4+1 South ads, 14 More 4, 28 E4, 33 ITV +1 (West)) will move from C50 to C40, and Bristol Ilchester Crescent where ArqivaB (15 Film 4, 18 4Music, 19 Yesterday, 21 VIVA, 24 ITV 4, 41 Sky Sports 1 (not free), 42 Sky Sports 2 (not free), 47 4seven, 83 Al Jazeera English, 85 Russia Today English,) moves from C49 to C39+.

See below for a full list of transmission masts that will make changes.

When you now rescan, you MUST do a "first time installation" or "factory reset" scan, not an "add channels". Do the procedure you did on September 30th 2009. If you can't recall what this was, please see List of manuals for Freeview retune, or try the generic clear and rescan procedure.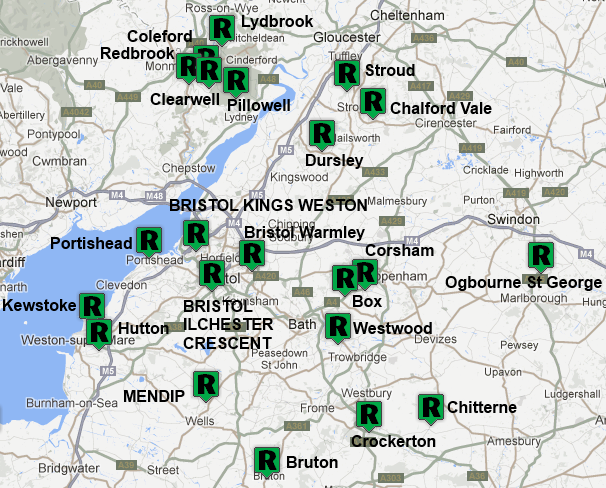 Bampton: PSB1 C49 to C39
Box: PSB2 C50 to C40
Bristol Ilchester Crescent: COM6 C49 to C39+
Bristol Kings Weston: COM6 C60 to C60- PSB2 C50 to C40
Bristol Warmley: PSB3 C49 to C39
Bruton: PSB2 C50 to C40
Chalford Vale: PSB3 C50 to C40
Chilfrome: PSB2 C50 to C40
Chitterne: PSB2 C50 to C40
Clearwell: PSB2 C62- to C50
Coleford: PSB2 C49 to C39
Corsham: PSB1 C50 to C40 PSB1 C50 to C40 5W to 8W
Countisbury: PSB2 C62- to C50
Crewkerne: PSB2 C50 to C40
Crockerton: PSB3 C50 to C40
Culm Valley: PSB2 C49 to C39
Dursley: PSB2 C50 to C40
Hutton: PSB2 C62- to C50
Kewstoke: PSB2 C50 to C40
Kilve: PSB2 C62- to C50
Lydbrook: PSB2 C50 to C40
Mendip: PSB1 C61 to C49
Monksilver: PSB1 C50 to C40
Ogbourne St George: PSB2 C50 to C40
Pillowell: PSB2 C50 to C40 PSB2 C50 to C40
Portishead: PSB2 C62- to C50
Redbrook: PSB3 C49 to C39
Stroud: PSB1 C50 to C40
Washford: PSB2 C62- to C50
Westwood: PSB2 C50 to C40
Woodcombe: PSB2 C62- to C50

Now changing on 5th June 2013

Beaminster: PSB1 C62- to C50 3.8W to 15W PSB2 3.8W to 15W PSB3 3.8W to 15W
Beer: PSB1 C62- to C50 3W to 4.8W PSB2 3W to 4.8W PSB3 3W to 4.8W
Bincombe Hill: PSB1 C62- to C50
Crediton: PSB3 C50 to C40
Dawlish: PSB1 C62- to C48 PSB2 C59 to C52
Pennsylvania: PSB2 C61 to C56
Preston: PSB1 C61 to C52
Rampisham: PSB3 C50 to C40
Comments
Saturday, 30 March 2013
R
Richard Tonkin
8:53 PM
Caldicot

I have tried several retunes since 27th March but still get no BBC channels from Mendip although the ITV ones are there loud and clear. My postcode is NP26 5PF (near Chepstow) but for several years I have been able to receive from both Wenvoe (1 plus) and Mendip (800 plus) with no problems at all. My system combines the Wenvoe and Mendip aerials (so this may be the problem) and as far as I can remember (it's in the spidery loft) go through an amplifier into a distribution system although this could be bypassed as I only have one outlet in the lounge. I don't see why the ITV programs should be received from Mendip but not the BBC ones.

I have searched the BBC site in vain (no help at all) and wondered if they are even aware of the problems people are having and planning to do anything to rectify it in the near future. Are there any associated problems with the Mendip mast?

Richard Tonkin's 6 posts
Richard's:
map
R's Freeview map
terrain
R's terrain plot
waves
R's frequency data
R's Freeview Detailed Coverage

Richard Tonkin: To be quite honest about the situation, anyone complaining about problems after having carried out a retune would under normal circumstances be suspected as having made some form of error during the process, but considering the number of people complaining of reception problems (especially BBC) from Mendip since the retune strongly suggests that something is amiss at the station irrespective of what the R/T transmitter fault reporting site might indicate, and I say this as an engineer myself.

That said, engineering notices were published regarding the service from Mendip and associated relay's being liable to interruption as from last Monday 25th March.

jb38's 7,179 posts
Sunday, 31 March 2013

Richard Tonkin: Further to that said, even although nothing has been picked up during an auto-scan the signal will likely be there but at a level under that necessary to resolve a picture, and so for purposes of checking on exactly what this might be you should go into your TV's "manual tune" menu and enter mux Ch49 (Mendips BBC) but do NOT press search or scan, because on most equipment the level that the signal is being received at will be indicated and it would be interesting to know how this compares to a similar check being made on Mendips ITV mux Ch54 which you have reported as being perfectly OK.






jb38's 7,179 posts
R
Richard Tonkin
6:46 PM
Caldicot

jb38: Here are the figures you requested plus the Wenvoe equivalents for comparison. They were obtained using my Humax PVR 9200T because I find it gives more useful information than does my Sony Bravia TV.
Ch49 Mendip Strength 45%, Quality 10%. No stations were found.
Ch54 ITV1 Mendip Strength 58%, Quality 100%.
Ch41 BBC1 Wenvoe Strength 74%, Quality 100%.
Ch44 ITV1 Wenvoe Strength 61%, Quality 100%.
When I tried to use the TV although I could set the channel to 49 it started searching upwards and I couldn't find a way to prevent this happening, hence the Humax data.

Richard Tonkin's 6 posts
Richard's:
map
R's Freeview map
terrain
R's terrain plot
waves
R's frequency data
R's Freeview Detailed Coverage

I live in Bristol (Downend area), and Ch's 48 and 49 on a manual search show signal as 'none'. So there are no BBC channels at all, whereas I previously received all of them. Does this mean that there are ongoing problems with the Mendip transmitter? Anyone have any idea what's going on? All other channels being received ok.

Pete's 1 post

Richard Tonkin: Many thanks for the update re the signal strength readings obtained from both stations, as Mendips Ch49 is indicated at about what would be expected considering the numbers of complaints I have seen made about poor reception or indeed none at all, although your indications from Wenvoe are considerably higher than I would have expected considering that its being received at only around 10 degrees or so away from the aerials null spot (90 degrees from a signal) if directed towards Mendip and so you must be in a reasonably good spot for reception.

By the way the 9200T (one of my Humax's being a 9200T) is an excellent box to use for test purposes as its readings are much more in line to that obtained from a proper signal strength meter, albeit the latter's indications being in dB's, but though as far as Ch39 is concerned, if all was OK at the station then the indications should be roughly on par with ITV, and so it will be interesting to see what's going to happen in the next day or so because aerial boosters are not of any help either in situations where the quality is low compared to the strength, even although they nearly always do if the other way around.

Just for info purposes, Mendip @ 26 miles / 165 degrees, Wenvoe @ 24 miles / 246 degrees.

jb38's 7,179 posts
R
Richard Tonkin
9:47 PM
Caldicot

jb38: I have two separate arials, one each for Mendip and Wenvoe. They are at approximately 90 deg to each other which bears out your comment about the null spot. (I think I mentioned two aerials in my original post.) The Mendip aerial looks to me to be a high gain one whereas the Wenvoe one is a normal one. The signals are combined on the mast (in a diplexer?) and then go through a powered amplifier into a powered distribution system in the loft. As I said earlier, it has worked satisfactorily for years, only occasionally giving problems under extreme atmospheric conditions when one of the channels (usually Mendip) suffers from pixelation. This is fairly rare.

Richard Tonkin's 6 posts
Richard's:
map
R's Freeview map
terrain
R's terrain plot
waves
R's frequency data
R's Freeview Detailed Coverage

Pete: As a matter of interest, did you receive the SDN mux on C48 prior to the frequency change for the BBC channels on Wednesday 27th March 2013?

KMJ,Derby's 1,811 posts

Richard Tonkin: The diplexer possibly allows C53 to C69 to pass at full strength from the Mendip aerial and C21 to C51 from the Wenvoe aerial. This would result in the Wenvoe aerial receiving C49, possibly badly due to its orientation added to any leakage of the signal on the Mendip aerial depending on how efficient the diplexer is at blocking frequencies out of its intended range. At this stage, due to the large number of viewers who are having problems with reception of C49, it is not possible to say whether the Mendip signal itself is also suspect.

KMJ,Derby's 1,811 posts

hi there i live in stratton on the fosse neither me or my neihbours can recieve bbc1 bbc2 and all the other channels that every body is complaining about does this mean we do not have to pay for a tv liceance if we cant recieve these channels please some one sort the problem,

w palmer's 2 posts
Select more comments
Your comment please