Expecting 4G interference? Tests now show that you have a one in 300 chance

Brian Butterworth published on UK Free TV
Looking back the the original posting, Ofcom moves to protect Freeview interference from 4G mobile, we can see the Ofcom suggested that:

Of the 16.3 million UK homes with a standard (unamplified, unshared) Freeview reception, 110,000 (0.67%) would be effected.

Of the 5.2 million homes using communal aerials systems, 550,000 (10.6%) will have problems.

Of the 5.6 million homes using amplified Freeview reception, 100,000 (1.8%) will experience problems.

Today, at800 have published the results of the tests in London, Brighton and Hove and York - at800 updates estimate of likely impact of 4G at 800 MHz on Freeview:

"Following tests conducted across the country, at800, the organisation responsible for protecting Freeview when 4G at 800 MHz is rolled out across the UK, has provided a new estimate of the likely scale of the impact. If national rollout reflects the results seen during its tests, at800 expects no more than 90,000 households, with Freeview as their primary TV service, to experience disruption caused by 4G at 800 MHz. Whatever the level of disruption, at800 is ready to restore Freeview to viewers.





at800 has now sent postcards to households in London and the surrounding areas in preparation for the activation of 4G at 800 MHz masts over the coming weeks and months. at800 is also sending postcards to other areas of the UK ahead of masts switching on. at800's mailing does not mean that 4G services will be available to consumers. For information about the availability of 4G services, people should contact their mobile operators.

In London, in particular, Freeview received from the Crystal Palace transmitter is unlikely to be affected by mast activation because of the strong terrestrial television signal and its relatively large frequency separation from 4G at 800 MHz. However, at800 is sending postcards and running a publicity campaign to ensure anyone who does experience new disruption to their Freeview service knows how to get in touch."

So with 26.50 million TV households in the UK (see Monthly universe summary - BARB) 90,000 represents 0.340% of them - that's a ONE IN THREE HUNDRED chance.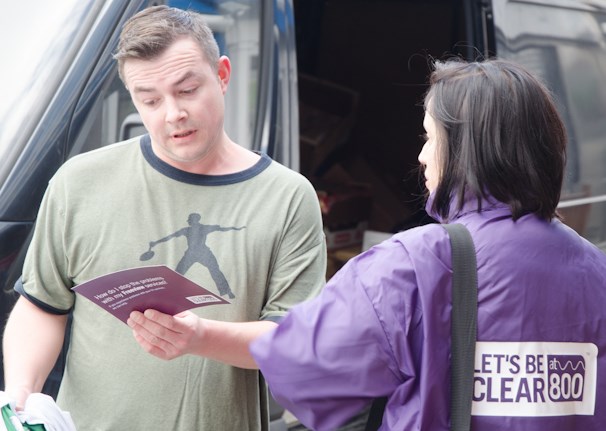 It seems that you are most likely to need a filter if:

a) you are a long way from a high power Freeview transmitter; and

b) you are very close to a 4G mobile phone mast; and

c) you are using a booster.

That's good news for Freeview viewers.



If you have had a postcode from at800 - see Received a postcard from at800?
Comments
Thursday, 6 June 2013

Bless the newspapers and their "experts"... Millions of households could lose television signal as 4G network is switched on | Mail Online

Briantist's 38,908 posts

Briantist: Thanks for that, the best rated Daily Mail comments are always a good for a laugh! (or more likely, reducing your IQ)

"They should NEVER have switched off analogue! The minute they did that, and converted everything to digital... It can only get worse...! My family and I were happy with 5 channels!" Karen LL, England

Michael's 358 posts

Michael: Perhaps I should market a Freeview box that only shows the first five channels?

Briantist's 38,908 posts
Friday, 7 June 2013

Briantist- Is there a chance, if a dwelling has Freeview + Sky playback, will the Sky analogue picture be in danger of interfearance if it is set to frq 68/ 847 ?

Ian from notts's 253 posts

Ian from notts: C60-C68 are no longer allocated to television, so they should not be used.

From the allocations shown above, C68 will be overloaded by an outgoing 4G (ie, not voice) use from a O2 or Vodafone handset - when the services launch.

Briantist's 38,908 posts
B
Barbara Hill (please do not put on websi
9:38 PM
Aylesford

My home receives Freeview signals from the Bluebell Hill transmitter. A 4G company (EE - which is supposed to be using the 1800 band) started up in the Medway area on May 29th. Since that date our Freeview reception has been almost completely knocked out. This is true for people some distance from me and my near neighbours as well. The 1800 band is not supposed to affect Freeview, but it appears it does. EE have not warned us, contacted us or offered filters. I am escalating a complaint to EE.

Barbara Hill (please do not put on websi's 3 posts
Barbara's:
map
B's Freeview map
terrain
B's terrain plot
waves
B's frequency data
B's Freeview Detailed Coverage
M
Michael
9:48 PM
Aylesford

Barbara Hill (your name is on the website now): If the 1800MHz band affected Freeview, you and the rest of the country would have noticed it when 3G was introduced years ago.

I'm curious as to how you know for sure that EE started up 4G in your area, given EE have operated in various city and urban areas for months in the 1800MHz band?

EE don't offer you filters, because they aren't responsible for them. If you are really that bothered, get in touch with at800.

Michael's 358 posts
Michael's:
map
M's Freeview map
terrain
M's terrain plot
waves
M's frequency data
M's Freeview Detailed Coverage

Barbara Hill (please do not put on websi: Your postcode resolves to a block of flats which makes me think that you are using a communal aerial system.

If you are using a communal aerial system and your neighbours in the building are also affect then it is down to whatever party is responsible for the aerial system to rectify it. Even if this were an issue where a filter is required, which I strongly think it isn't, the filter should be fitted within the aerial system rather than a filter in each flat.

So all told it is down to the party responsible for the aerial system. If I were you I'd get in touch with them rather than moaning to EE.

Dave Lindsay's 5,724 posts
Saturday, 8 June 2013

Michael of Aylesford

The start of EE 4G in Medway, on 29th May, was reported online in local newspapers.

Dave Lindsay - residents understand the situation concerning communal aerials and that a filter is fitted centrally if required. 'The party responsible' is already aware of the issues.

It is regrettable that you consider contact with EE is considered 'moaning.' I am sure you would be concerned if your own TV reception had been knocked out at the same time as 4G service had commenced in your area.






Anonymous's 3 posts

Anonymous: As pointed out before, EE's current 4G service is at 1800MHz, and does not impact on Freeview at all, ever.

EE can't launch an 800MHz service until at800 give the operators the "all clear".

Briantist's 38,908 posts
Select more comments
Your comment please