The end is near for analogue radio... Part 4, the local radio to do list

Brian Butterworth published on UK Free TV
As we saw from part one, radio started out as a regional services. From this national networks were added. Then from 1969 onwards, local radio was added.

However, running a network of local radio stations, all with their own output, staff, presenter and news has always stretched the budget of individual stations a little bit thin.

This is as true for BBC stations, which share a small proportion, 4.6% of the TV Licence (£114.7m on content, £9.9m on distribution, £27.9 on infrastructure, making £152.5m), as it is for local commercial stations that fund themselves from adverts.



DAB local radio
Almost all of the country does now have a local radio
DAB
service - see
List of all DAB multiplexes
, but there are still some on the "to do very soon" list.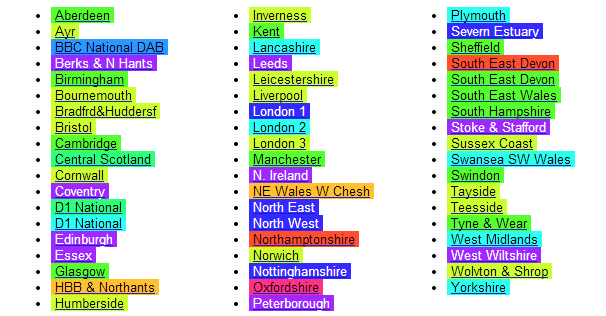 The "missing" services cover 5,583,000 people, which is about 9% of the UK population.
These are:
Cumbria
- 408,000 people
Derbyshire
- 652,000 people, Now
Digital
(East Midlands) Limited
Gloucestershire
- 498,000 people, MuxCo (Gioucestershire) Limited
Hereford and Worcester
- 501,000 people, MuxCo (South Midlands) Limited
Lincolnshire
- 550,000 people, MuxCo Lincolnshire Limited
Mid and West Wales
377,000 people, MuxCo
Wales
Limited
North Yorkshire
- 531,000 people, MuxCo North Yorkshire Limited
Somerset
- 444,000 people, MuxCo Somerset Limited
Suffolk
- 541,000 people
Surrey
about 1.085 million people, MuxCo Surrey and North Sussex Limited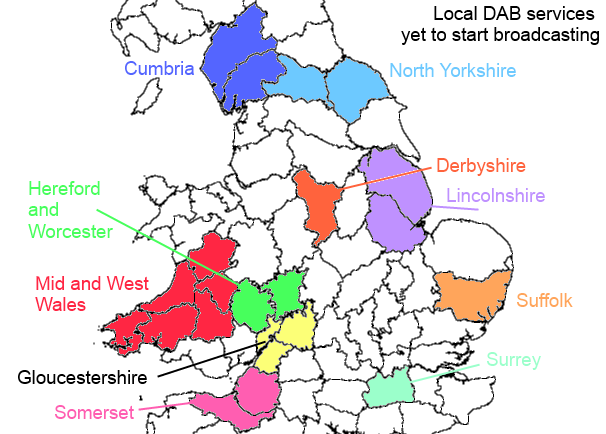 Why can't we have local radio on Freeview?
The
Freeview
service is provided on six
Multiplexes
. Like the DAB multiplexes, these services provide a large number of
channels
together on a single broadcast.
The three "commercial" multiplexes operate a UK wide service, and are therefore unsuitable for local radio. One of the "public service" multiplexes is for high definition TV services only.
This leaves the BBC and Digital 3+4 multiplexes. However, even though these services are "regional", they each cover many "local radio" areas. It would therefore be impracticable to add so many local stations to either
multiplex
.
However,
Local television on Freeview
is coming. These services are designed to provide a
local TV
service to specific local areas. It may be possible for each of these multiplexes to have local radio added to them.
Why can't we have BBC local radio on Freesat or Sky?
The additional cost for the BBC to add the 39 local radio stations not on digital
satellite
(BC
London
94.9 is already there) to the
four DVB-S mode transponders
would probably be marginal.
However, the BBC does have to currently pay
Sky
a large fee to add channels to the Sky EPG, so this would be perhaps unreasonably expensive (see
Government to stop Sky charging public service broadcasters for "retransmission"
).
And whist the BBC owns
Freesat
, it would probably not be worth the bother of up linking 39 radio streams if Sky viewers could not also benefit.
See also
BBC - Annual Report 2012/13 - Expenditure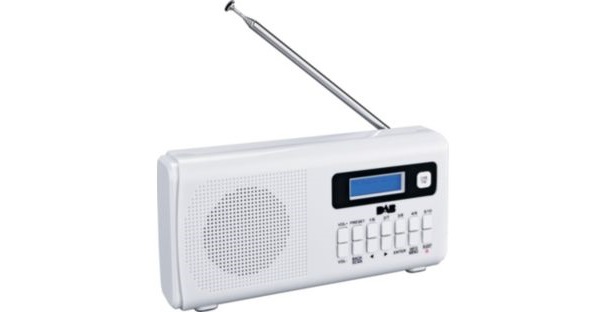 Comments
Monday, 30 September 2013

So what can the BBC do with DAB. Eventually DAB will have to be switched off. How and when is the difficult question. Most DAB recievers have FM and so can still be used. The big question is to whether or not we need to replace FM or just use the internet. One option is to switch to DAB+ but this is still not realy fit for purpose. At the moment I think the best radio system is DRM+ but it would be difficult to sell another system when DAB has been such a big failure. DRM+ can be introduced alongside FM and DAB which is probably the best solution. DAB and eventually FM could then be switched off when and if the listening figures on DAB or FM droped to a very small level e.g less than 10%.


Trevor Harris's 367 posts

Trevor Harris: dab isn't a big failure I go to lots of peoples houses and see at least 20% of people have a dab radio normaly in there kitchen , we have two and one of our main reasons for choosing our car was it had dab as standard and there are more manufactures putting in dab as standard or a cost option, love listing to five live clear and crisp.

mazbar's 384 posts

Trevor Harris:

There is not going to be a switch off of DAB because the BBC are not going to accept a situation where the only method of listening to BBC 6 Music, 1 Xtra, 5 Live Sports Extra & Radio 4 Extra on the move is by paying a mobile phone or broadband company. That cannot happen, it's a breach of the BBC's universal availability requirements. The BBC may migrate to DAB+ but only when enough sets are available. One thing is for sure, switching to DAB+ right now in the UK isn't going to increase take up of digital radio.

You appear to have an obsession with DRM+ but no other European country is using it (apart from tests, which seem to have gone on forever).

William Rogers is always available for a quote at times like this, but his radio stations account for fewer than 10% of commercial radio listening, and yet his voice seems to be the loudest on occasions like this. Why is that I wonder? Where are the quotes from Global & Bauer, whose stations make up the vast majority of commercial radio listening? Where is the quote from Helen Boaden?

The Radio Today commenters are not typical of the general public - they almost certainly don't listen to BBC local radio (which will benefit from the closure of regional multiplexes by improved coverage). How many over-65s do you get on internet forums? How many people in Newcastle want to listen to London's Biggest Conversation anyway?

One more country (Denmark) has declared that it's planning to replace FM with DAB+ at the end of the decade. Also RAI in Italy has extended its DAB+ broadcasts across the country. It isn't looking good for DRM+ in Europe.

Mark's 181 posts

Are there any DRM+ radios available ?

Otherwise, forget it. This'll go the same way a DRM whose tests went on for 10 years or more.

At least with DAB, and now DAB+ there are cheap affordable radios on the high street. Pure have DAB+ radios for less than £50 now, so DAB+ could be introduced on a phased basis. .

As I have repeatedly said, why manufacturers in the UK are still selling DAB only radios is beyond me. Ofcom really should be publicizing the fact that you need a DAB+ compatible receiver.

This really is the key to new technology i.e. having affordable receivers available on the high street. There's no point in spending huge amounts of money developing new radio technology if no one can listen to it.

DAB+ really does need to come to the UK sooner rather than later..

PJH's 240 posts

DRM really should have replaced A.M on medium wave, but where are the cheap affordable DRM radios ? This is why the technology failed.

PJH's 240 posts

@mazbar

Only 20% well thats the point. This is a very low figure considering the DAB system has been running for 18 years!. Having a DAB radio does not mean people are listening on DAB. They all have an FM tuner. Most stations are available on FM and there are only a small number of DAB only stations as Ofcoms report shows. Many local stations are not on DAB. Many people bought DAB radios to listen to thier favourite station on a regional DAB mutiplex only to find they have closed down the regional multiplexes.

I would not choose a car on the basis of having a DAB radio. A DAB radio can always be retrofitted.

@Mark

Well I agree that the BBC might not be able to switch off DAB until an alternative is available. I do support DRM+ as it seems to me to be the best system at ther moment. DRM is a relative new standard but it is being used even by the BBC. In fact the BBC is activly involved in DRM and DRM+ development. What do you sugest then?

Actually I am 66 and active on the forums!


In general DAB and DAB+ are experiencing the low level of take up found in the UK.


Trevor Harris's 367 posts

Trevor Harris: 20 % off all jobs have dab if I see a new radio it is dab, as for the 20% I see only about 30% of houses with fm radios with most having both. So fm is only about 10% more.

Mazbar's 384 posts

@PJH

Actually there is a DRM, DRM+ radio being sold on Amazon. The reason there are not many DRM sets available in the UK is because there are no DRM stations in the UK.

The BBC has been experimenting with DRM in the medium wave but with a very low bitrate. Using a bandwidth of 18khz would give much better results.


Trevor Harris's 367 posts

@Mazbar

According to Ofcoms report only 15-19% of radios used at least weekly are digital. Oddly enough 45.7% of individuals claim to have a DAB radio in the home. So there are alot of people with DAB radios and don't use them.

Trevor Harris's 367 posts

At the risk of sounding pedantic the DAB listening share is not 20%, it's 23.9%, so almost a quarter of all listening. Of course it could be higher but there are other ways of listening to digital stations, such as smartphones and tablets. The FM listening share has fallen from 67% to 58% in the last 2.5 years.

Most of the stations that did not migrate from the regional multiplexes to the local ones had very small audiences, particularly XFM, Choice & LBC. In the West Midlands LBC's weekly DAB reach was only 4,700, XFM was even lower at 4,200.

As for the claim that most people are using DAB radios to listen on FM, that of course isn't possible for BBC 6 Music or BBC 4 Extra. BBC 6 Music will overtake Radio 3's audience within the next couple of RAJAR surveys, it's a very popular station these days and it will never be available via an FM radio. The same applies to Radio 4 Extra, Absolute 80s, Planet Rock (outside the WM) and Jazz .

The BBC now needs to move on and build out the network to 97.5% as they have promised, and the local multiplexes need to be built out as outlined in the MoU. When the time is right a switch to DAB+ can be implemented in the UK.

Mark's 181 posts
Select more comments
Your comment please