The end is near for analogue radio... Part 4, the local radio to do list

Brian Butterworth published on UK Free TV
As we saw from part one, radio started out as a regional services. From this national networks were added. Then from 1969 onwards, local radio was added.

However, running a network of local radio stations, all with their own output, staff, presenter and news has always stretched the budget of individual stations a little bit thin.

This is as true for BBC stations, which share a small proportion, 4.6% of the TV Licence (£114.7m on content, £9.9m on distribution, £27.9 on infrastructure, making £152.5m), as it is for local commercial stations that fund themselves from adverts.



DAB local radio
Almost all of the country does now have a local radio
DAB
service - see
List of all DAB multiplexes
, but there are still some on the "to do very soon" list.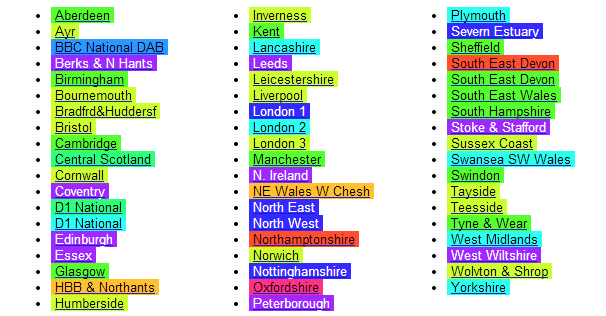 The "missing" services cover 5,583,000 people, which is about 9% of the UK population.
These are:
Cumbria
- 408,000 people
Derbyshire
- 652,000 people, Now
Digital
(East Midlands) Limited
Gloucestershire
- 498,000 people, MuxCo (Gioucestershire) Limited
Hereford and Worcester
- 501,000 people, MuxCo (South Midlands) Limited
Lincolnshire
- 550,000 people, MuxCo Lincolnshire Limited
Mid and West Wales
377,000 people, MuxCo
Wales
Limited
North Yorkshire
- 531,000 people, MuxCo North Yorkshire Limited
Somerset
- 444,000 people, MuxCo Somerset Limited
Suffolk
- 541,000 people
Surrey
about 1.085 million people, MuxCo Surrey and North Sussex Limited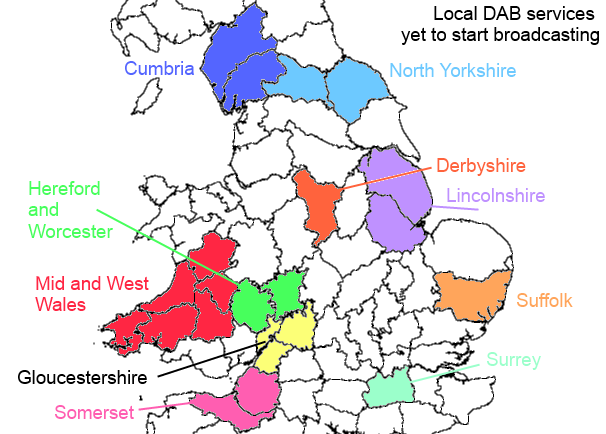 Why can't we have local radio on Freeview?
The
Freeview
service is provided on six
Multiplexes
. Like the DAB multiplexes, these services provide a large number of
channels
together on a single broadcast.
The three "commercial" multiplexes operate a UK wide service, and are therefore unsuitable for local radio. One of the "public service" multiplexes is for high definition TV services only.
This leaves the BBC and Digital 3+4 multiplexes. However, even though these services are "regional", they each cover many "local radio" areas. It would therefore be impracticable to add so many local stations to either
multiplex
.
However,
Local television on Freeview
is coming. These services are designed to provide a
local TV
service to specific local areas. It may be possible for each of these multiplexes to have local radio added to them.
Why can't we have BBC local radio on Freesat or Sky?
The additional cost for the BBC to add the 39 local radio stations not on digital
satellite
(BC
London
94.9 is already there) to the
four DVB-S mode transponders
would probably be marginal.
However, the BBC does have to currently pay
Sky
a large fee to add channels to the Sky EPG, so this would be perhaps unreasonably expensive (see
Government to stop Sky charging public service broadcasters for "retransmission"
).
And whist the BBC owns
Freesat
, it would probably not be worth the bother of up linking 39 radio streams if Sky viewers could not also benefit.
See also
BBC - Annual Report 2012/13 - Expenditure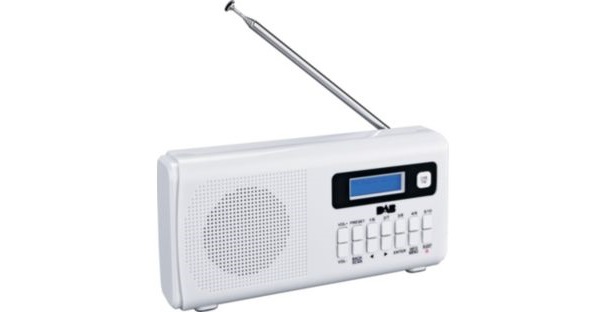 Comments
Saturday, 7 September 2013

We repeatedly re-iterate ourselves. Many areas receive a poor signal from FM and AM. DAB, even if ever implemented "as promised" assumes near-perfect conditions and the reliable operation of many thousand relays. Naively. Likewise, internet radio assumes a stable connection, which many do not have, nor can expect for many years - if ever. In the event of an emergency (watch the upcoming BBC docu-drama), only an AM network using a few key transmitters could hope to provide crucial information and advice nationwide. Many battery radios would survive and be able to receive AM. Notwithstanding, short-term commercial interests override. A reasoned compromise would retain a few critical AM and FM transmitters. This would go a long way to meet budgetary requrements and allow DAB and other digital services to provide a wide range of services in "fair weather" times. - and deliver rosy figures to the bean-counters.

michael's 869 posts
Sunday, 8 September 2013

steve tames:

You don't need to turn on the TV to listen to the radio through a Freeview or satellite box.

Online listening doesn't need a computer. Lots of people listen via a mobile or a wi-fi radio.

Mark's 181 posts

Listening via a mobile may well become more and more attractive where there is a strong and stable signal and when download costs are negligeable - or monthly downloads are unlimited. Currently advertised 1p for 1Mb is not as good as it might appear at first sight. Assuming a rounded 100kb/s download, = 0.1Mb/s, the pennies soon add up ! Wifi at home can work, but can be blighted by dropouts due to a wobbly internet connection or moody router or to domestic interference. The only convincing advantage of current digital radio options is the wider choice of stations, especially via webradio.

michael's 869 posts
Monday, 9 September 2013

"You don't need to turn on the TV to listen to the radio through a Freeview or satellite box".

Sorry, you've lost me here Mark. I know of know portable radios that receive Freeview Radio.

Sky did have the "gnome" a while back, but this has been discontinued for some time now

"Online listening doesn't need a computer. Lots of people listen via a mobile or a wi-fi radio."

Well, that would depend on your data allowance (I presume your talking about mobile smart phones and tablets) and WiFi requires a broadband signal somewhere along the line.

I still think a terrestrial signal of some sort is the best way to replace AM/FM, whether it be DAB, DAB+, DRM, or DRM+

At the moment DAB appears to be the only option.

Portable radios running of a subscription free 3G or 4G signal seems a long way off.

PJH's 240 posts
Thursday, 12 September 2013

RE Radio via satellite or freeview box... You can connect it to a Hi-Fi or cinema amplifier and select the radio station you want then turn TV off... that's what i do. The reason i do this is DAB and FM is pretty poor in my area. also i am deaf i like better sound via my Hi Fi speakers.

rob's 171 posts

Rob : if you are not moving about, that is a good alternative. Most understand radio as being essentially portable. It remains to be seen whether DAB will in fact allow portable reception equal to FM now. Once the FM plug has been pulled, our Great Benefactors will perhaps tells us that we either need a roof-top DAB aerial or that we should do what you trail-blazingly do. We will then be able to listen to the radio where there is an antenna wall-socket. Elsewhere in the house, we will be expected to resort to CDs, i-thingys or meditation. It will be a bit like our beautiful 78-rpm grammophone, which we have to enjoy listening to where it is. I do love progress...

michael's 869 posts

michael: http://stakeholders.ofcom….pdf defintions for FM

For DAB, see http://stakeholders.ofcom….pdf - which states "The revised planning criteria for indoor coverage, described in Section 1.2, seem appropriate in the light of the review of building loss measurements (section 2.7) and the receiver performance measurements (section 2.4)."

1.2 UK planning limits

DAB planning parameters are set out in the Ofcom document Technical Policy Guidance for DAB Multiplex Licensees [Ofcom, 2006].

This document notes that new DAB transmitters (i) must avoid causing interference to existing, co-channel, services (ii) should not serve overspill zones beyond the licensed coverage area and (iii) should not cause interference to DAB services in the same area.

The last requirement relates to the need to avoid hole-punching to existing networks due to the use of non-co-sited transmissions. Such transmissions will, inevitably, cause the necessary protection ratios to be infringed for some area
around the new site. There is, therefore, a strong incentive to co-ordinate transmitter sites where possible, and this is formalised through the Reserved Assignment List. This list, drawn up collaboratively by multiplex and transmission
operators and Ofcom, identifies locations that are likely to be useful for DAB coverage and (i) requires use of the site to be on a non-exclusive basis and (ii) makes explicit to all operators that any other licensees in the area may be expected
to use the site at any time.

The technical planning standards are set out in Section 5 of the Ofcom document, and are specified in terms of the median field strength at 10 m above ground, with predictions made to the centroids of 100 m x 100 m squares. Two thresholds are
used:

58 dB(V/m) [a mobile listening environment, and above a first floor level indoors, on typical portable receivers]

65 dB(V/m) [indoor reception, in the majority of domestic buildings].

Within the licensed area, a protection ratio of 25 dB is to be ensured for 99% of time. The document notes that this is based on calculation, supported by field trial data gathered in 1997 by Ofcoms predecessor, The Radio Authority).

Revised planning criteria are currently being developed. These leave unchanged the 58 dBV/m figure for mobile coverage, but give four criteria for indoor coverage. In dense urban areas useful coverage is defined to be provided for a 10 m field
strength of 71 dBV/m and robust coverage at 77 dBV/m. In other areas, the corresponding limits are 64 dBV/m and 70 dBV/m.



Briantist's 38,908 posts
Friday, 13 September 2013

michael: I agree with you... I have get a proper DAB tuner and a roof top aerial for the house... I have a personal DAB radio a bush one from argos that works well in the car.. until you go pass a valley or down hills... dab tend to go like bubbly noise like underwater sounds... FM carries on fine.... I do wonder if DAB will increase transmission power? I thought the idea of DAB in car it auto tunes to the next station when it gets weak... it doesn't do that.. you have to press auto tune for each time you go different parts of UK..... I heard Europe is having DAB+ which means our DAB wont work there? am i right or wrong?

rob's 171 posts

Brian, the on-paper tech specs for here-and-now-reception of DAB sadly do not correspond to empirical observations. DTT mis-planning resulted in CCI which Ofcom would neither recognise nor rectify. Scepticism is not entirely unjustified. If final implementation is in reality as documented, we will eventually verily verily have reliable DAB reception of all currently available FM broadcasts, including local BBC, in the valleys, on the coast and indoors. "if" is a big word. We shall see...

Rob, I am amazed that I am not a lone nuisance-voice in the valley :-) As Ofcom has committed the UK to DAB and most thus far sold DAB-receivers are not DAB+ compliant, the UK is unlikely to adopt DAB+ for many moons. Check your in-car DAB receiver's spec. If you are lucky, it will be dual and will work beyond the waters, but if it is UK-only DAB, it will bestow you serendipity, silence and meditational bliss on the autoroute, autostrada and Autobahn... No matter, let us join in chanting the praise of progress for the toiling masses...

michael's 869 posts

michael

All standard-fit in-car DAB radios sold in the UK will receive DAB+, as they comply with the WorldDMB Profiles.

Some of the retrofit devices (such as the Pure Highway) will not receive DAB+ if purchased in the UK so you need to be careful when you buy these if you intend to drive abroad.

Ofcom has not committed the UK to DAB, in a recent report they noted that their multiplex planning is suitable for DAB+ transmissions. A test DAB+ multiplex has recently been on-air in the Brighton area.

Mark's 181 posts
Select more comments
Your comment please