A bakers dozen of changes: Freeview channel number changes from 3 September 2014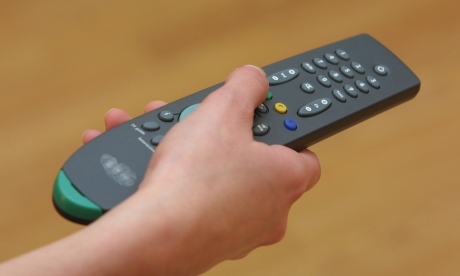 Brian Butterworth
published on
UK Free TV
These changes have been long coming, and have even been subjected to formal review on behalf of Sky.

From the afternoon of Wednesday 3rd September 2014, Freeview viewers will find that 13 channels will have new numbers.




Depending on the sophistication of (which means "how long you have had") your Freeview equipment, the channels will either change number automatically, or require a retune.

If you have Freeview+ box - the ones the can record programmes - you should find that the channel number changes will not cause any scheduled recordings to change.

You may need to do a "first time installation" to ensure the channel numbers are correct. See My Freeview box has no EPG ... or the channel line up is wrong if you don't know what to do. Another option is the list of retune instruction leaflets and manuals on the Freeview Retune - list of manuals page.

The new channel numbers do provide better logic on the whole, however BBC News HD is in the HD section, whereas CBBC HD and CBeebies HD are not.

Sadly the Freeview channel number system is unable to match Freesat HD and Sky EPGs which both provide the ability to find HD channels in place of the standard definition channels.
All free TV channels
I have recently updated the ever-popular
All free TV channels
page.
As well as ensuring that all the channel numbers are up-to-date (there has been a small number of changes to some Sky Guide numbers) I have split the table to have three new sections.
The first, as shown below, lists all of the High Definition channels first.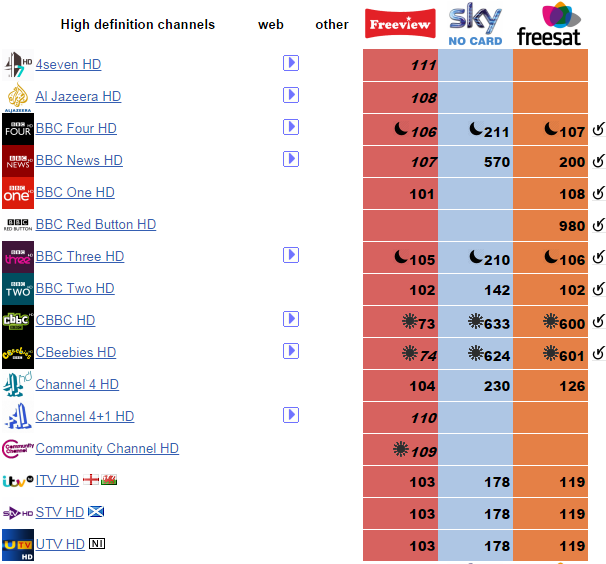 A third section now splits the Local TV channels from the "Main TV channels" section, and there is a "Where Local TV broadcast" section for channels that are provided alongside
local TV on Freeview
.
Good luck with your retune.
Comments
Wednesday, 3 September 2014

is there atime table for this major freeview retune?

derek hirons's 2 posts

derek hirons: yes... It's this afternoon!

Briantist's 38,907 posts

Do you know what time it is?

Ethan Walton's 5 posts

Ethan Walton: the press pack says "this afternoon".

From what I recall Digital UK give the engineering people some leaway to ensure that this are done and tested to the highest standard.

This usually means they will get things done before the "start of peak" which is 5pm.

As the change cover lots of multiplexes there could be quite a few companies with "buttons to push" so to speak.

I'd look myself but I'm on a train....

Please let me know how it goes for you.

Briantist's 38,907 posts

If I don't loose BBC1 I'm leaving it alone and staying with same numbers.

David's 306 posts

Briantist: the Panasonic freeview hd tv in lounge will not tune in to CITV but the Samsung in the dining room does . Both sets are on the same aerial . Any ideas on what is wrong would be appreciated

Colin Evans's 9 posts

Old numbers are now placeholders, and 10 channels in 800 range.

Another messy rescan


jay's 92 posts
jay's:
map
J's Freeview map
terrain
J's terrain plot
waves
J's frequency data
J's Freeview Detailed Coverage

It has been done now I think it happen at 15:30 and Briantist thinks for that information!

Ethan Walton's 5 posts

Don't re-tune and the numbers stay as they were.

Iain Davies's 38 posts

Living roughly half-way between Winter Hill and Moel-y-Parc, my parents are used to having to deal with stopping the Welsh Channels getting through, but today their Humax box retune said which Region? (England-NorthWest selected) and they now have BBC Yorkshire, so no idea where that signal is coming from!

Ian Fitter's 13 posts
Select more comments
Your comment please