A bakers dozen of changes: Freeview channel number changes from 3 September 2014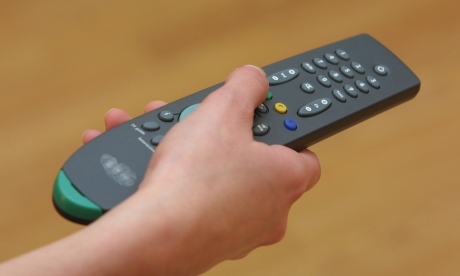 Brian Butterworth
published on
UK Free TV
These changes have been long coming, and have even been subjected to formal review on behalf of Sky.

From the afternoon of Wednesday 3rd September 2014, Freeview viewers will find that 13 channels will have new numbers.




Depending on the sophistication of (which means "how long you have had") your Freeview equipment, the channels will either change number automatically, or require a retune.

If you have Freeview+ box - the ones the can record programmes - you should find that the channel number changes will not cause any scheduled recordings to change.

You may need to do a "first time installation" to ensure the channel numbers are correct. See My Freeview box has no EPG ... or the channel line up is wrong if you don't know what to do. Another option is the list of retune instruction leaflets and manuals on the Freeview Retune - list of manuals page.

The new channel numbers do provide better logic on the whole, however BBC News HD is in the HD section, whereas CBBC HD and CBeebies HD are not.

Sadly the Freeview channel number system is unable to match Freesat HD and Sky EPGs which both provide the ability to find HD channels in place of the standard definition channels.
All free TV channels
I have recently updated the ever-popular
All free TV channels
page.
As well as ensuring that all the channel numbers are up-to-date (there has been a small number of changes to some Sky Guide numbers) I have split the table to have three new sections.
The first, as shown below, lists all of the High Definition channels first.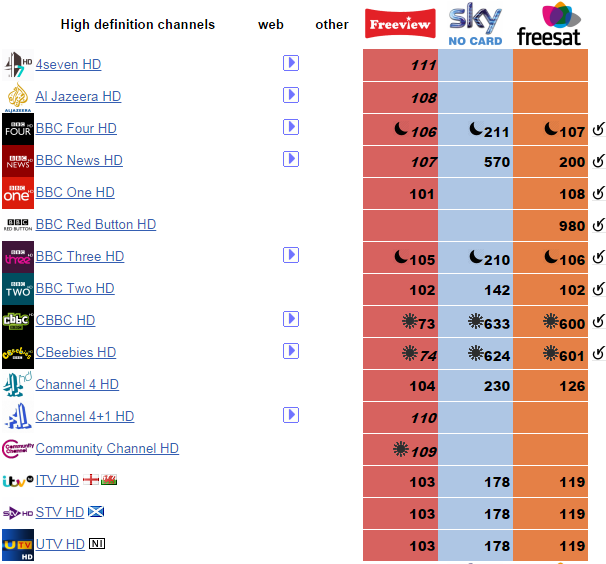 A third section now splits the Local TV channels from the "Main TV channels" section, and there is a "Where Local TV broadcast" section for channels that are provided alongside
local TV on Freeview
.
Good luck with your retune.
Comments
Tuesday, 9 September 2014

I live in the South Wales Valleys (Caerphilly - a quite sizeable town) but we cannot receive many channels on Freeview e.g we don't get Ch 4seven SD, never mind HD. Nor do we receive BBC4HD but we do receive BBC3HD! We do receive ITV1 & 2 in SD but not Ch 2 +1, or any Ch ITV3 or 4. We receive More4 but not E4!

Cardiff, only about 4/5 miles away, get the full Freeview service.

That's why most people in the Valleys use Freesat. Advertisers should take note!

Ray Baldacchino's 9 posts
Monday, 15 September 2014

Hi,

I am on the Sandy Heath transmitter and after the number changes Pop+1 has showed up on channel number 126 but not pop on 125,

Does anyone know if Pop tv will be available using the Sandy Heath transmitter?

Also Does anyone know when Pop+1 will be running as its saying coming soon?

Many Thanks in advance

Dale's 1 post

Dale: Refer to the full channel list from Digital UK:


Digital UK Industry - Channel listings

Pop+1 is carried on COM5 multiplex, which is available from Sandy Heath. However, "Pop" on LCN125 is only available on "L_SFD" (which is the local Sheffield multiplex) and "Local" multiplexes.

Therefore it doesn't look like Pop will be available from Sandy Heath.

Dave Lindsay's 5,724 posts
Friday, 19 September 2014
C
Christopher Millward
4:07 PM

Since the retune scheduled recordings keep failing, either completely or a black screen saying the signal the channel is scrambled/not available/poor signal quality. All scheduled programmes were set up anew after the retune since they were deleted anyway. Anyone else having this problem? Everything is tuned to the Oxford Transmitter as usual.

Christopher Millward's 3 posts

Christopher Millward: Are you sure you've tuned to the correct transmitter. If your suddenly getting a poor signal strength, when it was fine before, either your aerial has developed a problem, or transmitter strenght has suddenly weakened. In that case, is it the right one?

MikeB's 2,579 posts
C
Christopher Millward
7:58 PM

We are only 15 miles from the Oxford transmitter and the tuning process only gives Oxford and Berkshire. Only last night an identical machine failed to record the sky at night on BBC Four. The duration was correct but it simply reported that the channel was scrambled or not available. I just wondered if others had similar problems.

Christopher Millward's 3 posts

Christopher Millward: What machine do you have? (we thought the Goodmans curse was lifting..but maybe it continues!).

MikeB's 2,579 posts

There is a new Network Change Notification in the NIT

cell_id = 0000
network_change_id = 02
NetworkChangeType = Minor - service changed
network_change_version = 01
ReceiverCategory = all receivers
start_time_of_change = 01/10/2014 14:00:00
change_duration = 01:00:00
invariant_ts_onid = 233A
invariant_ts_tsid = 200B

replacing

cell_id = 0000
network_change_id = 01
NetworkChangeType = Minor - service changed
network_change_version = 01
ReceiverCategory = all receivers
start_time_of_change = 03/09/2014 13:30:00
change_duration = 01:00:00
invariant_ts_onid = 233A
invariant_ts_tsid = 200B

js's 826 posts
Saturday, 20 September 2014

MikeB

Hi Mike

We are now a fortnight down the line.

My last post either never made it or has been removed.

After spending last weekend messing with the aerial and boxes i came to the conclusion that the problem of freezing screens and boxes only occured with BBC channels. From the BBC web site I found a link to the 4G problems page and contacted them, just in case. Within a couple of hours I had a helpful reply informing me that it was a known BBC problem!

Recent viewing of BBC channels has been trouble free.

Thanks for your help. John

John Everingham's 3 posts
Sunday, 21 September 2014

John Everingham: Its nice that they told you 'it was a known BBC problem', since they did'nt know when I contacted them! However, its nothing to do with 4G (why 4G is seen as the root of all problems is beyond me), but is in fact a software problem. Have a look at this thread My ITV/C4 Freeview channels have disappeared - what can I do? Is it my SCART ca | Help! Freeview and aerials | ukfree.tv - 12 years of independent, free digital TV advice , but as you say, the problems seem to be on the way out, so hopefully we should be fine.

MikeB's 2,579 posts
Select more comments
Your comment please