What is the Inversion Effect and why does it effect my Freeview TV reception?

Brian Butterworth published on UK Free TV
Under normal circumstances, the signals from each television transmitter can only be received by those homes and businesses that have aerials that have a direct line-of-sight to the transmitter.

(The Inversion Effect is also known as "Tropospheric Ducting")




The part of the signal from the transmitter that is directed upwards simply escapes into space and are lost.

When there is high atmospheric pressure (Met Office - Surface pressure charts) as the sun heats up the ground the warm air gets trapped underneath the colder air higher up. At the point where the warm air gets trapped under the cold air this creates a layer that is, in effect, a mirror for the television signals.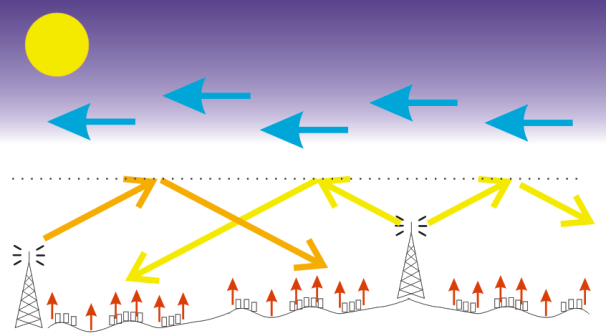 This means that signals that would otherwise be impossible to receive can suddenly effect your television reception.

The digital television signal uses a format called COFDM (coded orthogonal frequency division multiplexing) and this incorporates the ability to ignore reflected digital signals.

However, analogue television signals did not co-operate with each other and the picture quality is reduced. The very weak digital signals that were used before digital switchover for Freeview were badly effected by interference from reflected signals from adjacent analogue transmissions.

I recommend you look at the Tropospheric Ducting Forecast for VHF and UHF Radio and TV page for a current forecast - yellow, orange, red, and pink indicate that conditions are perfect for the effects listed above.
Links to current pressure data
Tropospheric Ducting Forecast for VHF and UHF Radio and TV

Met Office - Surface pressure charts

Comments
Tuesday, 16 August 2011
G
Geoff G
9:45 PM
Tonbridge

Brian : Thanks for the reply, i've read through the pages suggested and am sitting here watching Channel 4 atm and its 'crackling' every few minutes or so - do you think that a mains filter device really is the answer ?
Or is it more likely to be the aerial cable may need looking at, there is very little coming through the wall and its quite an old brown coloured one !

Geoff G's 3 posts
Geoff's:
map
G's Freeview map
terrain
G's terrain plot
waves
G's frequency data
G's Freeview Detailed Coverage
Wednesday, 17 August 2011

Geoff G - Have you asked youe new neighbours what their experience is?

If you could try your box on their aerials, assuming they have no problems, it would clarify a lot!

Steve P's 1,173 posts

Geoff G: If you aerial lead is old, it could very well have decayed. If you can, replace it with satellite-grade cable, as this has much better shielding, which keeps out interference.

Briantist's 38,907 posts
Thursday, 18 August 2011

after swithcover on wednesday, my freeview reception was perfect,today,bbc1 and bbc 2 are fine, anything else, unwatchable,bdly breaking up and clicking.i have done a full scan,this has made no diference.

jean brown's 2 posts

jean brown: I would have a look at Freeview reception has changed? | ukfree.tv - independent free digital TV advice and try doing My Freeview box has no EPG, is blank on FIVE, ITV3, ITV4, ITV2+1, has no sound or the channel line up is wrong | ukfree.tv - independent free digital TV advice .

Briantist's 38,907 posts
KB Aerials Sheffield
5:22 PM

Jean Brown - is there an amplifier on the system ?

Amplifiers are needed for some kind of installs - especially with pre switchover power that the transmitters were transmitting at

Its possible that due to the power been upped dramatically by the broadcasters your amplifier is being driven into whats called cross modulation - simply put your amplifier cannot cope with the amount of signal

possibly a Attenuator fitted to the amplifier input may reduce the overloading making the amplifier do its job

if its a set back amplifier that just feeds one tv then you can probably disconnect the amp and feed the aerial direct to the tv
please note that
if you haven't got an amplifier on the system then it maybe your tv cannot cope with the amount of signal now going into it - again an attenuator can be used to reduce the signal
I would try a 12DB attenuator as this is about the level the broadcasters have lifted the signal by

Maplin stock them

Aerial Attenuators : Aerial Adaptors : Maplin


(got to say that is about 3 times more exspensive than IU buy them for )

Keith KB aerials

Sheffield (S201EG)

KB Aerials Sheffield's 274 posts
Friday, 19 August 2011

Steve P : The neighbours have installed sky and say they dont have any issues.

Briantist : The odd thing is that last night it didnt skip or crackle once during live tv or even during recorded playback !
I'm still off the opinion that its down to the cable and will take your advice and get someone to install a new run form the aerial down.

Thanks for all the comments guys :)

Geoff G's 3 posts
KB Aerials Sheffield
10:49 AM
Sheffield

Geoff G - have you checked the end of the cable for signs of water coming through the cable - common fault that affects reception

as for your neighbours having sky - this is a totally different transmission and reception so cant compare the 2

Keith

KB Aerials Sheffield's 274 posts
KB's:
map
K's Freeview map
terrain
K's terrain plot
waves
K's frequency data
K's Freeview Detailed Coverage
Tuesday, 15 November 2011
M
Mark Fletcher
12:07 AM
Halifax

KMJ,Derby.Just out of interest in relation to myself receiving briefly the Dutch Digitenne mux on fr 32,possibly situated in Leeuwarden last night (Sun 13 Nov 2011) due to atmospheric conditions/inversion effect which affected some viewers including myself receiving Belmont transmissions,the programme channels to the best of my memory were Nederland 1,Nederland 2,Nederland 3,Omrop Fryslan,Radio 1,Radio 2,3FM,Radio 4,Radio 5,Radio 6,Fun X.However the polarisation of these Dutch programmes was vertical not horizontal,and it appears that nearly if not all the Dutch digital transmitters broadcast on vertical polarisation.

Mark Fletcher's 673 posts
Mark's:
map
M's Freeview map
terrain
M's terrain plot
waves
M's frequency data
M's Freeview Detailed Coverage

Can the inversion effect occur during daylight hours? Or does it occur exclusively during darkness or is it generally during darkness, but sometimes in the daytime.

I had this sort of thing down as only happening in summer when it's hot.

Dave Lindsay's 5,724 posts
Dave's:
map
D's Freeview map
terrain
D's terrain plot
waves
D's frequency data
D's Freeview Detailed Coverage
Select more comments
Your comment please