How do I change the RF output channel on a Sky Digibox?

Brian Butterworth published on UK Free TV
Press the [SERVICES] button and then press [4] [0] [1] then [SELECT]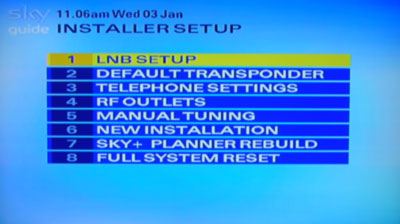 Then press [4] to go to the RF output menu.




You can now change the value so that it does not clash with an analogue TV channel or a Freeview multiplex.


HD and "new EPG" boxes
If you have a HD box, press [SERVICES] button and then press [0] [0] [1] then [SELECT]. Nothing is shown on the TV screen until you press the Select button.
Then use the [RIGHT] arrow button on the remote until this screen is shown, and press SELECT to change the values: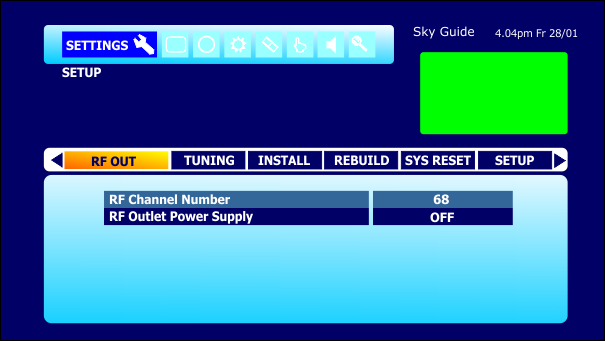 Comments
Sunday, 13 February 2011

jb38: Look at this from Crystal Palace...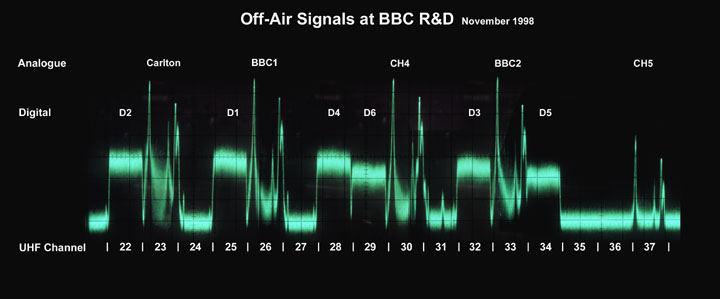 You can see the difference, from an "analogue perspective" of the digital channels and their sideband effects.


Because the digital services use interpolation, they appear to have a "noise" profile in the analogue domain.


C31 is now used for the pre-switchover Freeview HD service.

Briantist's 38,906 posts

Much thanks Briantist for speedy response, all sorted now.

Gary's 2 posts
Gary's:
map
G's Freeview map
terrain
G's terrain plot
waves
G's frequency data
G's Freeview Detailed Coverage

Gary: Thanks.

Briantist's 38,906 posts
Monday, 14 February 2011

Briantist: The spectrum analyser illustration of Crystal Palace transmissions good as it might be for reference purposes it doesn't really have any direct correlation to the particular situation I was referring to involving the possibility of problems if a very "low" powered analogue signal from a Sky box is being used on an adjacent channel to one receiving a "high" powered DTT signal, this in effect really being the reverse of the Crystal Palace situation where its powerful 1000Kw analogue output towers above the 20Kw Mux transmitters.

Regarding interference, all I am saying is that although I do realise that a digital signal does not cause the same type of interference to an analogue picture etc as would another analogue transmission it is however still capable of interfering in other ways like creating a fine snow cast etc over the analogue image, this effect obviously being totally dependant on how powerful it is in relation to the strength of the Sky boxes output plus other aspects concerned with the TV's tuner quality, so purely for the record I intend at the first available opportunity to carry out a spectrum analyser test on the output lead used to feed a second TV whilst visiting a location where a powerful DTT signal was known to exist, although this unfortunately at this present time isn't the easiest thing to arrange due to a combination of factors involved with the "borrowing" of the spectrum analyser (workshop use only!) as well as the person at the location also being a Sky box user, still one never knows what will crop up in my travels!

jb38's 81 posts
Tuesday, 15 February 2011

jb38: I'm going to just remind you about "over distance squared" bit...

Yes, in an ideal situation you would pick a frequency that is as far away from an allocated one as possible - where this is not possible it is better to pick one adjacent to a digital signal than an analogue one.

Another problem is the DDR - you don't want to be using a frequency that will be in the DDR range in the future as your "mobile broadband" will not work when you get it.


Briantist's 38,906 posts

how do i change my sky plus box to a sky plus hd box but i dont want sky hd just bbc hd and itv hd

john's 1 post

john: You just have to buy one and swap it for your existing box. You will have to tell Sky you have changed your box, as you need to match the subscription to the box.

You can watch BBC HD, BBC One HD and ITV1 HD without a HD subscription.

Briantist's 38,906 posts
Wednesday, 16 February 2011

jb38: There is now a "Spare RF" line in the "My settings" box when a postcode is entered.

Also, the return of the local transmitters list, with the engineering work highlighted.

Briantist's 38,906 posts
Friday, 18 February 2011

sorry I need an answer in laymans terms I'm no tekki...since having sky+hd fitted (from basic sky)we seem to have lost the reception to our freeview digi channels on our Sony tv. I've retuned a number of times but same thing. the channels are found so it isn't a tuning issue. We switch channels up and down, the headers appears, but we get no picture and limited noise.

deb's 3 posts

Hi Deb,

The "installer" who swapped your sky for sky hd has probably disconnected your aerial from your tv. You will need to find your aerial lead & plug it directly in to the tv, then do a retune.

Mark Aberfan Aerials

Mark Aberfan Aerials's 1,059 posts
Select more comments
Your comment please