How do I change the RF output channel on a Sky Digibox?

Brian Butterworth published on UK Free TV
Press the [SERVICES] button and then press [4] [0] [1] then [SELECT]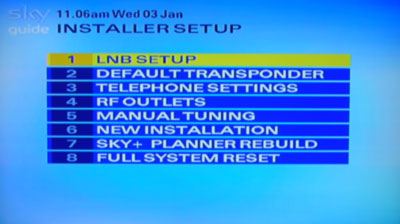 Then press [4] to go to the RF output menu.




You can now change the value so that it does not clash with an analogue TV channel or a Freeview multiplex.


HD and "new EPG" boxes
If you have a HD box, press [SERVICES] button and then press [0] [0] [1] then [SELECT]. Nothing is shown on the TV screen until you press the Select button.
Then use the [RIGHT] arrow button on the remote until this screen is shown, and press SELECT to change the values: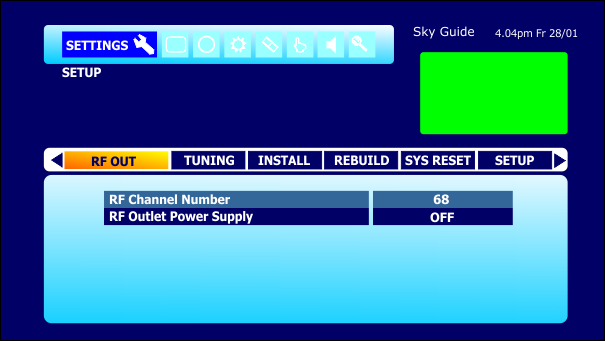 Comments
Thursday, 22 September 2011

Alison: Put your SkyHD box on, showing a programme. Then on the SkyHD remote press "Services" then "0" then "0" then "1" then "Select". This will bring up the installer menu.
The RF Outlets tab will show the UHF channel in use (default is 68), and whether the RF2 9V power is ON or OFF.
Some distribution amplifiers use the 9V power from the RF2 socket to operate, so try turning that ON and see if you have any more luck. Remember to save any changes you make (green button).
You'll know from the SkyHD box which analogue UHF channel to look for on the other TV sets.

Jim F's 141 posts
Friday, 23 September 2011

Hi and thank you all. I finally did get there....the RF output wasn't on but even then, I eventually had to change the channel from 68 to 60. After that, I scanned and found sky on all tv's. Phew! Thank you again.

Alison Gold's 3 posts

how do i get a decent signal on my 2nd tv plz my sky hd is down stairs with coax running to 2nd tv in bedroom its a bush idtv(a hd job)i know i am not gonna get a hd pic but the pic i got isnt right i had a normal tv there b4 and that was fine any ideas please

scott's 1 post

scott - you have A pic but it is not right?

How not right? Do you have sound?

Are you sure your upstairs TV is tuned to the correct channel?


Steve P's 1,173 posts
Saturday, 24 September 2011
S
sharon burrows
2:13 PM
Blackwood

Alison Gold:how do i then scan to do what you did and get other tvs to work?

sharon burrows's 3 posts
sharon's:
map
S's Freeview map
terrain
S's terrain plot
waves
S's frequency data
S's Freeview Detailed Coverage
S
sharon burrows
2:16 PM
Blackwood

aerial is on the roof and all worked before installling new hd box

sharon burrows's 3 posts
sharon's:
map
S's Freeview map
terrain
S's terrain plot
waves
S's frequency data
S's Freeview Detailed Coverage

sharon burrows: If this posting is a continuation of your previous request for info regarding the magic eye made under another heading, then if you have switched the Sky boxes RF2 power on as per instructions given, then you simply carry out a scan on the TV in the other room until you see the same as is on your Sky box, making sure that before scanning that the TV is set on "analogue" and not digital or it wont pick the Sky box up.

jb38's 7,179 posts
Sunday, 25 September 2011

Hi, hope someone can help with this. Up until yesterday we had a sky+ box in one room and an old (over 5 years) standard sky box in the lounge.

On the old lounge box, we used a digital sender with a little transmitter 'thingy' which we placed over the light on the front of the box, to sent sky upstairs to one of the bedrooms.

This worked great until yesterday when we had new boxes fitted by Sky. The digital sender still sends pictures and sound upstairs, but the sky remote upstairs will no longer change channel. Also we have to keep the tv in the lounge on all the time or we don't get anything on the upstairs tv.

Does anyone have any ideas please. I have a teenage son who's done nothing but whitter all day!!

Nicky's 5 posts

1) Children should not have TVs in their bedrooms.

2) Tell Sky to return and make it work at least as well as it did before they called

3) You will have been provided with Instructional Manuals. Tell son to read them and sort it out. Say "RTFM" It will amuse him.

4) As a slightly perhaps bettter answer; either

a)the new boxes do not provide the functionality you seek, or
b)something needs switchiong on - try the "Services" menu, or
c)someting loose. Wiggle connections.

Steve P's 1,173 posts
Monday, 26 September 2011

ha-ha Steve, although the wiggle suggestion has possibilities.

I'll have a look at the services menu tomorrow and then give the sky fitter a buzz if that doesn't work.

Thanks

Nicky's 5 posts
Select more comments
Your comment please