How do I change the RF output channel on a Sky Digibox?

Brian Butterworth published on UK Free TV
Press the [SERVICES] button and then press [4] [0] [1] then [SELECT]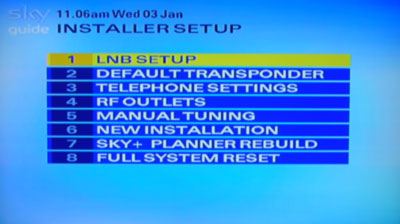 Then press [4] to go to the RF output menu.




You can now change the value so that it does not clash with an analogue TV channel or a Freeview multiplex.


HD and "new EPG" boxes
If you have a HD box, press [SERVICES] button and then press [0] [0] [1] then [SELECT]. Nothing is shown on the TV screen until you press the Select button.
Then use the [RIGHT] arrow button on the remote until this screen is shown, and press SELECT to change the values: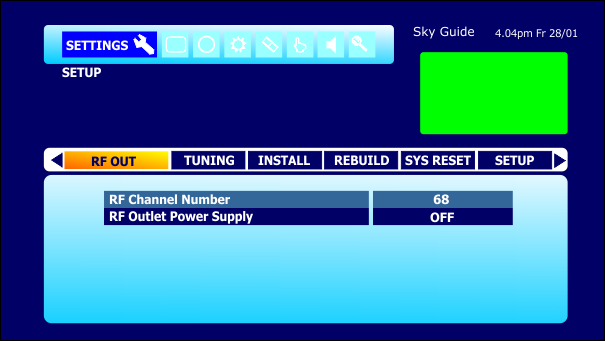 Comments
Friday, 19 August 2011

Brianist, yes I have confirmed that the RF Power Supply is on by looking at the Sky menu. I believe I have 9 volts out of my RF2 but the sky picture is still poor. Any ideas?

Mark

Mark's 3 posts

Mark: I would try some different RF channels until you find a free one, see the list in your "MY UK FREE TV SETTINGS" box at the top right.

Briantist's 38,899 posts

Briantist, I think I have now resolved the problem. The analogue coaxial from the loft aerial came down into a cable outlet plate behind the main television. I replaced this plate. Whilst I had this disconnected I noticed that the sky picture improved to near perfect on a tele plugged into rf2. Ironically when I fitted the new plate and reconnected the cables the quality of the sky signal on the other teles reduced marginally. I haven't played with altering the sky output channel from 35 as the current picture is more than watchable. Still mystified as to why the sky picture is slightly poorer when the main aerial is removed.
Mark

Mark's 3 posts

Thank you for all the information, Sky have told me there is nothing wrong so I'm very relieved to see why my Sky is fuzzy!
I can get in to the RF Outlets screen and change the channel number but the change won't hold - every time I hit select or scroll down to the 'Save New Settings' option the screen goes to black and white fuzz then a solid blue. If I go back in the number has reverted to 68. Please can you help, thank you.

Sunflower's 4 posts
Sunday, 21 August 2011

Hi.

Have just setup the sky magic eye on my fathers digital tv downstairs and it works great. My problem however is this. How do i set it up so that when he does not want to use the magic eye, he can swich his telly over to the digital channels through the built in freeview and use them..?. I thought it was a simple case of buying a splitter and plugging hhis aerial; lead into a splitter, his digital lead into the other port on the splitter, then justinstering the splitter into the magic eye and that then into the telly. This does work but for instance the sky picture now has terribile interferance. If i then take the digital lead out of the splitter leaving just the rf lead in the picture is fine.

Mark's 1 post
Tuesday, 23 August 2011

i watch sat in other rooms via rf out although i changed channel it made no difference however having no ariel in the sky box but splitting at the rf out cable i now have sky and freeview in all rooms

val's 1 post

Sunflower: Once you change the value to a different channel you will need to retune your set to that channel, unless you are connected via a SCART cable (on the mains set) where it will have no direct effect.

Briantist's 38,899 posts

Mark: Put the rooftop aerial into the "RF in" on the Sky box. No splitter is required.

Briantist's 38,899 posts
Wednesday, 24 August 2011
R
Robin Window
1:23 PM
Crewkerne

I am a second class citizen as I get Freeview from a relay ariel ie much reduced number of channels!
Will we ever get upgraded to full citizenship or are we resigned to only ever having a reduced number of channels?
Thanks in anticipation.

Robin Window's 2 posts
Robin's:
map
R's Freeview map
terrain
R's terrain plot
waves
R's frequency data
R's Freeview Detailed Coverage

Robin Window: No, you will not get any more services from a "public service" transmitter, if you want more channels, you might want Freesat - Compare Freeview Light and Freesat TV | ukfree.tv - independent free digital TV advice .

Briantist's 38,899 posts
Select more comments
Your comment please