How do I change the RF output channel on a Sky Digibox?

Brian Butterworth published on UK Free TV
Press the [SERVICES] button and then press [4] [0] [1] then [SELECT]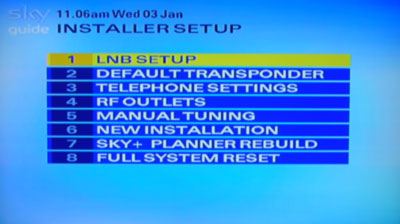 Then press [4] to go to the RF output menu.




You can now change the value so that it does not clash with an analogue TV channel or a Freeview multiplex.


HD and "new EPG" boxes
If you have a HD box, press [SERVICES] button and then press [0] [0] [1] then [SELECT]. Nothing is shown on the TV screen until you press the Select button.
Then use the [RIGHT] arrow button on the remote until this screen is shown, and press SELECT to change the values: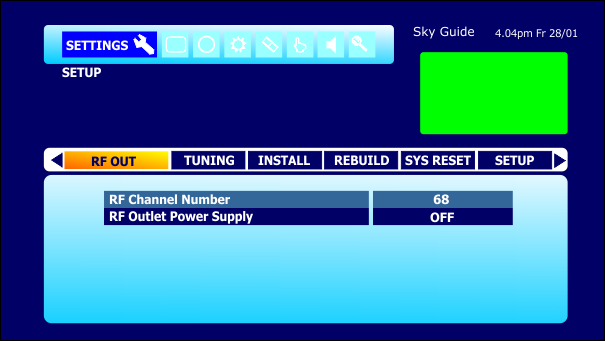 Comments
Monday, 18 July 2011

hi ian,

thanks for ur earlier comments. i have managed to get a picture now after checking over the wire and giving more of the copper core in the connectors, anyway like i say i have a picture now but it is NOT very good quality at all, quite fuzzy to be honest. i have retuned a couple of times using whilst changing the RF number each time, first it was at 36 like u suggested then i tuned again back at 68, still a fuzzy picture though... any suggestions? my post code is de4 3ee if that helps.

thanks again..

johnny

johnny's 2 posts
johnny's: ...
Tuesday, 19 July 2011

I wonder if you can help. This week9 I had a new amstrad 250 gb sky hd box delivered free to replace an older Thomson box. I have a second TV in another room about 15m away and use a magic eye to control the sky box. With this newer box I am struggling to control the sky box. The signal from the magic eye is slow and often wont wrok. The red light is on tried channel change etc ...no good. Is there way I can boost this connection ?H Could this be a problem with the 9v on the new box? Any ideas would be most helpful. many thanks

David's 1 post

I bought a HD,tv because it had a usb.input that I intended to use to record some TV,the usb will only record when usb/dtv is sourced and I have found will only function when an ariel is used. My postcode BT20. is not digital until 2012 so I am using a satalite dish Is there a way I can use RF out on my decoder to solve this problem or do I have to wait untiL 2012. Thanks

andrew's 20 posts

andrew: Basically no! as although terrestrial digital signals can pass through the sky boxes (or whatever) RF in/out sockets this doesn't extend to the RF signal generated within the actual box, as its purely analogue.

jb38's 7,179 posts

johnny: I would do as ian has suggested and leave the Sky boxes RF output channel on Ch36, as this appears to be a free channel as far as DTT transmissions covering your area are concerned.

You haven't actually confirmed what ian had asked, insomuch whether or not you are using a magic eye? as if not use the Sky boxes RF1 output and turn off the power to RF2, as this isn't required.

Although this might well be an inconvenience to do, but I would temporarily place the upstairs TV near to the Sky box and link the TV to the Sky boxes RF1 with a jumper lead, as this will show instantly if the Sky box is giving out a good quality picture, which it should do!

If that's OK, then take the set upstairs and plug the aerial back into it again whilst still on the Sky boxes RF1, this confirming (or not) if your cable / connections are OK.

"If" you are using a magic eye, then place it back in line with the TV and change the RF1 back over to RF2, switching the power back on for same, any inferior picture seen after doing so then being pin pointed to the magic eye link arrangement.

jb38's 7,179 posts

David: You are not on your own regarding having this type of problem with your new Amstrad Sky HD box, as its a well known problem caused by the box being much more critical in operation, in other words the magic eye detecting circuitry just works and no more, and I am unaware of any devices that can enhance the operation of the magic eye in the way you have asked.

For a test, I would first of all cover the IR sensor on the Amstrad to make sure that it "doesn't" respond to the remote commands, once satisfied the sensor is blanked out, then couple the magic eye directly into the Amstrad box and try changing channels, if this is OK then the box is being affected by the cable run, so should you use wall plates make sure that the plugs are screwed in tightly.

However on the other hand, if its not OK then about the only thing you can do is to purchase a different brand of magic eye, or even make a complaint to whoever sent the box, as to reiterate this "is" a known problem with some people even replacing their co-ax with top quality types to try and help overcome the difficulty, which in simple terms is through the bad design of this part of the circuitry.



jb38's 7,179 posts
Thursday, 21 July 2011

Do i need second sky box to watch sky tv on
a new tv set in the bedroom independent of the main set downstairs. New set is all set up for hdmi 1. Hope you can help thankyou

mal's 1 post

mal: Yes, you require a second box to do what you want, plus a second subscription if its Sky movies etc you wish to view.

However, it is possible to view Sky non-subscription channels, as all that's required is to pick up and old Sky box and wire it to a second port on the LNB, should it have one! if not they can be purchased for under £10.00 or so and are simplicity to install.

jb38's 7,179 posts

jb38: Checked the connections at each end of the suspect cable run, all found to be ok. Magic eye tried again, still not wanting to peform. Noted your comments re the Magic Eyes just working and no more so purchased a Marmitek Powermid XL, connect up, and it worked first time so I'll be sticking with it thank you very much!
Thanks for all your help with this problem.

Alan's 5 posts

Alan: Thanks for the update, and pleased to hear you have rectified the problem as I was wondering how you got on, albeit your cure involved going upmarket and using RF means to link the devices together.

I would though have been interested in knowing the brand / model of TV that the eye had a problem with, this for purposes of checking its aerial input circuit, as I still suspect that the eye being used was passing DC which was being shorted out by that particular TV's aerial input circuitry appearing as a short to DC.

Anyway that's in the past now you are using the Powermid XL, although "if" you experience any odd problems now and again with these beware of devices such as "some" cordless door bells or car door security keys of the RF variety, as they operate only a stones throw away from the frequency used by the Powermid's.




jb38's 7,179 posts
Select more comments
Your comment please