How do I change the RF output channel on a Sky Digibox?

Brian Butterworth published on UK Free TV
Press the [SERVICES] button and then press [4] [0] [1] then [SELECT]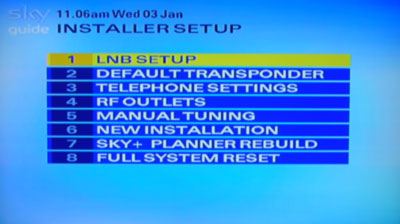 Then press [4] to go to the RF output menu.




You can now change the value so that it does not clash with an analogue TV channel or a Freeview multiplex.


HD and "new EPG" boxes
If you have a HD box, press [SERVICES] button and then press [0] [0] [1] then [SELECT]. Nothing is shown on the TV screen until you press the Select button.
Then use the [RIGHT] arrow button on the remote until this screen is shown, and press SELECT to change the values: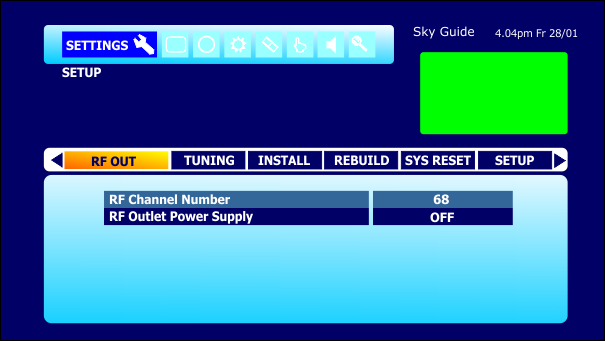 Comments
Saturday, 11 June 2011

Karen McKinlay: Forgot to add, that once you have changed the Sky boxes RF output to another channel remember to follow that action by carrying out a rescan on the TV to enable the new channel number to be received.

jb38's 7,179 posts
Wednesday, 22 June 2011

Hi i have my sky box down stairs with a rf out to a TV upstairs,i`ve just bought a lg with built in Freeview which needs an aerial,where do i plug my aerial coax into the TV upstairs as i already have the skylink in the aerial socket,any help please

GERRY's 2 posts

Gerry: The SkyLink system is designed for you to plug the aerial connection into the Sky box's aerial input (e.g. RF IN). The Sky box does not actually use the input, it adds its modulated output to the rest of the signals picked up by the aerial.

Otherwise, you can use a splitter in reverse as a combiner.

Mike Dimmick's 2,486 posts

Many thanks Mick,so New aerial to the sky box aerial input and the existing rf sky link to my New TV with Freeview and it be a OK,

GERRY's 2 posts
Thursday, 23 June 2011

I have new samsung tv which is front room on wall with sky box in cupboard under stairs connected to magic eye. Also tv upstairs connected to box and also magic eye. I can see sky on both tv's but can't change channels. Why is this? I have tried solutions given in previous posts but no luck

Matt's 1 post
Wednesday, 29 June 2011

Hi Brian / jb38 with respect to my issue with the antiference remotelink 4-room amp and my sky hd box, I tried your suggestion jb and can use one feed direct into my rf2 and change channels fine from that room. My thoughts were that the antiference box had stopped working so I bought a new one. Again perfect picture on all 4 tellys feeding from it but still cant change the channel or control the box from anywhere other than the room with the sky box in it. magic eyes all still blink at each telly but dont change the channel. aaargh

jonny's 3 posts
Wednesday, 6 July 2011

Great advice. Worked first time. Many thanks

Simond's 1 post
W
wayne green
6:33 PM
Wolverhampton

i live in an apartment and i am a sky HD subscriber and our signal works off a communal dish. I have a freeview tv in the bedroom and would like to know if i can feed a cable from the HD box to our tv and watch different channels to what's been viewed on the main tv. Unfortunately, an indoor aerial does not work despite the fact we are now digital and we cannot be allowed to connect any more wires elsewhere.

wayne green's 1 post
wayne's:
map
W's Freeview map
terrain
W's terrain plot
waves
W's frequency data
W's Freeview Detailed Coverage

wayne green: No, you cant do that, as the only programme that you can get from the Sky box's RF output socket is the same as is showing on the main TV, although if deciding to that remembering to set the bedroom TV to "analogue" before tuning it to the Sky boxes RF output or you wont get anything.

As far as your indoor aerial is concerned, you "might" start to receive Freeview channels from either the 21st or 28th of September when switchover takes place at Sutton Coldfield, Brierley Hill and lastly The Wrekin.


jb38's 7,179 posts
Wednesday, 13 July 2011

I need help in understanding the wiring for multi room use. I recently moved my TV from one site of the roon. I had to extend the cables. Prior to the move I was able to get digital programs on all TVs (3 in total). prior to moving the TV. I have 2 cables from the satalite dish which into the two crew in pionts on the back of the shy plus box. I also have a lead coming fron the loft which I think is coming from a 2 way distruber. I think the airial goes into the 2 way input.

My TVs will now not find any digital stations.

If the cable coming from the lost is pluged into the RF2 output I get shy in all 3 rooms, but no digital TV channels.

Any help would be appreciated

john's 2 posts
Select more comments
Your comment please