How do I change the RF output channel on a Sky Digibox?

Brian Butterworth published on UK Free TV
Press the [SERVICES] button and then press [4] [0] [1] then [SELECT]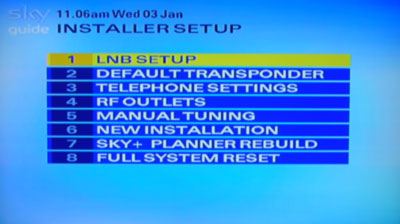 Then press [4] to go to the RF output menu.




You can now change the value so that it does not clash with an analogue TV channel or a Freeview multiplex.


HD and "new EPG" boxes
If you have a HD box, press [SERVICES] button and then press [0] [0] [1] then [SELECT]. Nothing is shown on the TV screen until you press the Select button.
Then use the [RIGHT] arrow button on the remote until this screen is shown, and press SELECT to change the values: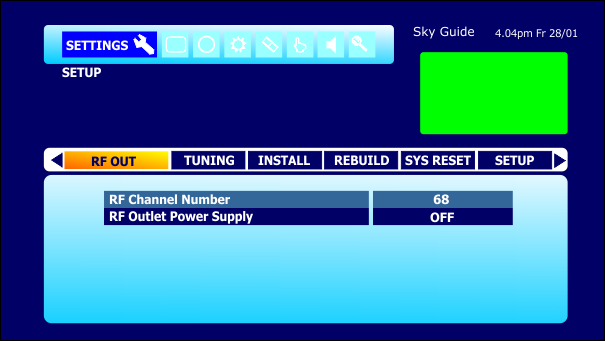 Comments
Thursday, 25 August 2011

Mark: I'm glad you have found a workable solution to the problem.

Briantist's 38,908 posts

Hi,

on the skybox rf outlet issue - do they operate on specific channels or is there a bit of leaway with 63, 64, 65 etc etc

still got nowhere with bad picture.

how should the connections be at either end?

clean of all wire and silver covering?

many thanks indeed.... i look forward to an answer soon :-)

STEVE's 2 posts

STEVE: I believe you can select any channel from 21 to 68. Just make sure it doesn't clash with a channel used for terrestrial TV where you live.

Mike Dimmick's 2,486 posts
Friday, 26 August 2011

We have a sky box and via a splitter in the loft ( I think that is what it is called) and magic eyes in other rooms can watch sky and change channels.

We have an old TV for which we have bought a set top box to access channels after the digital switchover.

We can no longer use the sky magic eyes if the set top box is in use. What, if any, are the solutions ?

Sally's 2 posts

Sally: The magic eyes are purely Sky box devices and cant in any way be used to control anything else.

If you are saying that the magic eyes do not work now, I am assuming that you have been trying to use the Sky boxes RF output into the Freeview box, then the problem is likely because you are killing to magic eyes power supply by connecting the Freeview box into one of the leads from the Sky box without the use of a two way powered splitter in one of the TV's leads "after" the magic eye, (between the magic eye and the TV) the lead that went into the TV now going into the splitters input, and one of the splitters outputs going to the same TV, with the No2 output going into the Freeview boxes aerial socket, the Freeview box being coupled to the TV via a scart lead.

You have to ensure that the Sky boxes RF2 output is not clashing with any of the Freeview channels in use, but unable to advise on what channels to use as your location (post code) is unknown.

You could of course use the old TV to also view the Sky channels via its aerial socket, and to that you would link the old TV's aerial socket into the Freeview boxes RF output socket, making sure that the said boxes RF modulator is not clashing with anything else, these being the Sky boxes RF output or any Freeview channels.


jb38's 7,179 posts

Sally: Should have also mentioned, or you could just plug one of the leads used "from" the magic eye to the TV into the Freeview box rather than the TV, then use a jumper from the Freeview boxes RF output into the TV's aerial socket, scrapping the powered splitter suggestion.

The main thing is, always watch to see that you aren't killing the magic eyes power supply when connecting anything, as if you are then the magic eyes red light will go out.

jb38's 7,179 posts
Saturday, 27 August 2011

Hi mike,

sorry for the delay in thanks, very busy indeed. will try them and see what happens


STEVE's 2 posts
Monday, 29 August 2011

Hi,

I am confused... please help!

In our living room we have sky digital. We have no digital aerial into this room.

In our kitchen we have a digital aerial feed.

I have managed to run from sky RF2 a cable to our bedrooom TV and amazingly it works! (channel 69 seemed to work for those who get poor picture quality)

On the bedroom TV i want to add the digital aerial to get freeview.... this is where I get confused. .... If I split from the aerial socket in the kitchen to the bedroom TV where does it go as I only have one RF input on the bedroom TV?

Many thanks in anticipation for some help.

Lyndon's 1 post
Tuesday, 30 August 2011

I have recently moved to a new home in IP13
Just outside Wickham Market. My TV signal is totally usless. The House has been refurbished and has all new TV outlets and a new roof mounted ariel. I know there are issues here with the digital swichover but I struggle to watch BBC. I can get a signal sometimes for about an hour then it breaks up. I am considering a dish but I don't want to have to run cables around replastered and painted walls. Any suggestions other than read more books please.

Paul's 1 post
Paul's:
map
P's Freeview map
terrain
P's terrain plot
waves
P's frequency data
P's Freeview Detailed Coverage
Thursday, 1 September 2011

Hi, I have plugged the coaxil into my rf connection at back of my sky+ box (multiroom in bedroom) and have run the lead to bedroom 2, plugged magic eye onto it and then plugged other end of magic eye into ariel hole. I have sorted rf settings via sky+ box and red ight is on on the magic eye box (led) but not eye itself. I cannot get a picture on my second tv, I have tried both auto and manual tuning but to no avail- please help!!

Sue's 1 post
Select more comments
Your comment please