How do I change the RF output channel on a Sky Digibox?

Brian Butterworth published on UK Free TV
Press the [SERVICES] button and then press [4] [0] [1] then [SELECT]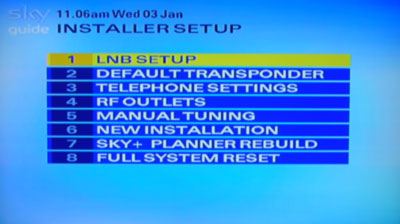 Then press [4] to go to the RF output menu.




You can now change the value so that it does not clash with an analogue TV channel or a Freeview multiplex.


HD and "new EPG" boxes
If you have a HD box, press [SERVICES] button and then press [0] [0] [1] then [SELECT]. Nothing is shown on the TV screen until you press the Select button.
Then use the [RIGHT] arrow button on the remote until this screen is shown, and press SELECT to change the values: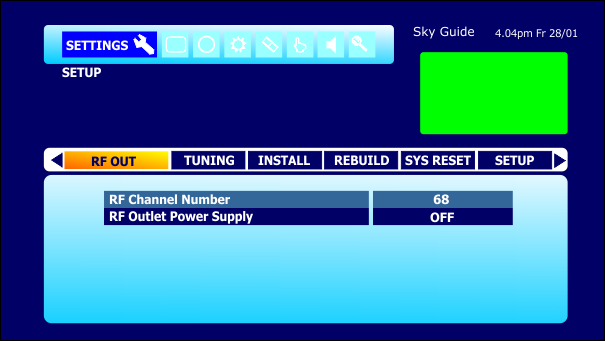 Comments
Thursday, 24 November 2011

Michael: If they are analogue-only TVs, i.e. no built-in digital ("Freeview" or DVB-T), then they won't work with terrestrial television broadcasts without a Freeview box.

Dave Lindsay's 5,724 posts
Friday, 25 November 2011

I have a TV link problem which so far I can't resolve. I have a 4 magic eyes in the house and a couple of weeks ago my Sky box stopped receiving a signal after a power cut. The magic eyes did not work to bring up menus either but I could do so using the remote direct to the box. I bought a reconditioned box and TV is OK but still no magic eye use. Have checked all the eyes and they all light up. Checked the RF output and that is on. Put each eye in the back of the box and none of them work, so it isn't the cabling.
What else could it be?

Jim's 1 post
Saturday, 26 November 2011

Jim: When you connect the Magic Eyes directly to the Sky box, are you plugging them into RF Out 2 (rather than RF Out 1 or Aerial In) ?

When you connect the Magic Eye directly to the box, don't connect the cable that serves other rooms and try it.

Dave Lindsay's 5,724 posts

Jim: I found these which may be of use to you:

Sky magic eye Problems with your TV Link?
Split Digibox RF outlet for other TVs

Dave Lindsay's 5,724 posts
Monday, 28 November 2011

Hi I have just had my dads phillips 42" tv. He had a great picture at his house, buy not so good at mine. I have changed the Scart lead for a very expensive one buy still no good. We both have sky+ set up. I have changed the set up to pal and changed the RGB output to 30 from 68. The picture is pixalated a bit
Any ideas anyone?

Richard Hall's 1 post
Tuesday, 29 November 2011

We had a perfect sky picture transmitted through RF channel 68 to all the other tv sets in our house, but since the digital switch over the picture quality has become terrible. We have tried changing the RF output channel from the sky HD box to nearly all of them, but there is no improvement at all! Obviously we havent touch any wires or anything else since the picture was perfect... any ideas please?

Anne's 1 post

Anne: If you are using a normal aerial into the Sky boxes "aerial in" socket to feed Freeview signals through to other TV's in the house then try removing it and see what happens, because if this clears the problem then its almost certain that the signals coming down from the aerial are clashing with the Sky boxes RF output.

It should also be appreciated, that as there are so many high powered digital stations transmitting its sometimes quite a lengthy exercise to find a channel that doesn't clash, advice could have been given with knowledge of your post code.



jb38's 7,179 posts
Wednesday, 30 November 2011

Hello. problem is red eye in bedroom tv. was working fine till i put in sons wii. since then cant find sky channel or no idea how to manually tune it in as an engineer did it 1st time. tuning aint as easy as it used to be with these complicated modern tvs.all i know is i had it on ch.10 now i cant get ch.10. if anyone knows of the exact frequency settings to tune this in could you tell me please, or do i have to just press a certain channel number allocated by the rf outlet thing on services menu? thankyou

harry's 1 post

I have run to 2 magic eyes in my bedrooms.one one I have picture but no sound,on other I have no signal sign.both eyes are receiving signal.any ideas?

joe colquhoun's 1 post

harry: I don't fully understand where the wii comes into it, but if you have upset the channel used to receive the signal from the Sky boxes RF outlet then make sure the TV being used to receive it is set on analogue, (not DVB) and then carry out a retune, this will recover the Sky boxes signal whatever you may have set the Sky boxes RF output channel to.

jb38's 7,179 posts
Select more comments
Your comment please