How do I change the RF output channel on a Sky Digibox?

Brian Butterworth published on UK Free TV
Press the [SERVICES] button and then press [4] [0] [1] then [SELECT]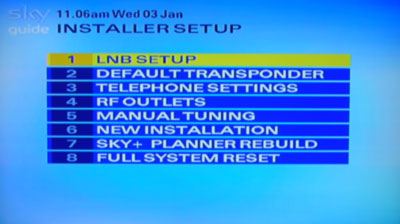 Then press [4] to go to the RF output menu.




You can now change the value so that it does not clash with an analogue TV channel or a Freeview multiplex.


HD and "new EPG" boxes
If you have a HD box, press [SERVICES] button and then press [0] [0] [1] then [SELECT]. Nothing is shown on the TV screen until you press the Select button.
Then use the [RIGHT] arrow button on the remote until this screen is shown, and press SELECT to change the values: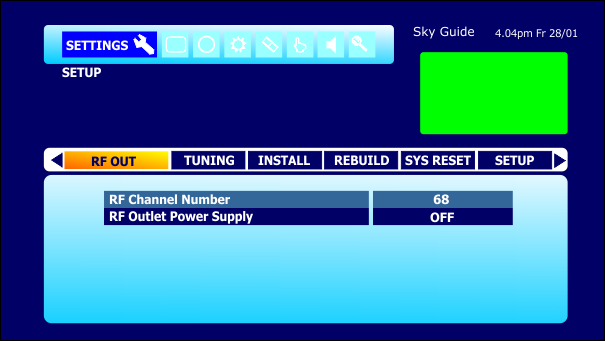 Comments
Sunday, 17 January 2016

Gary: The only difference between RF1 and RF2 outputs on a Sky box is that the latter output offers a switchable 9 volts power on/off facility, the purpose of being to enable the channel being viewed on the Sky box in a second location to be changed via a device called a "magic eye" installed in said location, as apart from that both outputs are identical.

As far as your grainy picture is concerned, go into the boxes set up menu and change the RF output channel you are using to 38, not forgetting to retune the TV used in the other location to match the change, as channel 41 is the Mux channel used by Londonderry's Freeview HD transmitter, this being the most likely reason for the problem with the "analogue" picture.



jb38's 7,179 posts
Sunday, 31 January 2016

Thank you so much for the very useful help and easy to understand instructions on here ..... whoever is responsible for the sky troubleshooting guides has done a brilliant job ... deserve a huge pat on the back !! Thanks again... Caron

Caron's 1 post
Saturday, 6 February 2016

I have sky plus in downstairs room. Have 2 way DA tv in and two out cables. Can't get my magic eye to work re: remote to change channels etc. trout it was magic eye bought 3 now! Red light nor working- frustrated please help.

Maria corcoran's 1 post

Maria corcoran : No quite sure as to exactly what you are meaning, but try connecting your magic eye directly into your Sky boxes RF2 output socket, if the red light fails to illuminate then make sure that RF2's power is switched on as per instructions shown at the top of this page.

If though the magic eye does illuminate when connected directly into the RF2 output socket, then your problem has to be caused by the coax from said socket passing through some device that is killing the DC voltage that operates the magic eye, anything in line (if not of a continuous nature) having to be "Sky magic eye compatible".




jb38's 7,179 posts
Tuesday, 23 February 2016

Hi, Can anyone please help? Have set up Tv in another room via RF outlet from Sky Box using a Magic eye. , I have checked that the RF Out is ON , both the Main Tv source and the new TV set up is 'On' they are along with having the same Channel Number being 21 ,The Magic eye is illuminated but I cannot get the SKY menu up on the screen of the new TVs, can any please advise what could be.wrong ? Regards

Steve Wright's 1 post
Wednesday, 9 March 2016

How do I find a free channel for rf modulator in ballyclare, bt399sp . What site do I use or can anyone tell me. Thanks

john's 4 posts

john: On the assumption that you are referring to a Sky boxes RF modulator? C36 or C37 would appear as being reasonably safe from being interfered with by Freeview transmitters.


jb38's 7,179 posts

Hi jb
It's actually from a rf modulator from a cctv dvr but can't get a clear picture other from ch 1 on a different tv. Need to be above 21 for the others so will give those a try. Am I right in what I'm at? Cheers

john's 4 posts

john: What you have mentioned did cross my mind after having posted my reply, however it doesn't really make any difference to the situation, as the RF output signal from the DVR is virtually the same as that from a Sky boxes RF1/2 output sockets, i.e: a modulated AM signal.

By the way, the two channels mentioned were chosen after having checked the Mux channel numbers used by the three Freeview stations indicated as being receivable at your location, namely : Divis - Carnmoney Hill and Black Mountain.

However, should by any chance you still get interference using either 36 or 37, if you have a normal aerial looping through the DVR? (as done with Sky boxes) see if the situation clears up if you remove it.


jb38's 7,179 posts

Still slot of snow on the pic and hardly see the picture , no other aerial connected
Just sky through same booster, why does one of my tv's able to connect to channel 1 from rf mod but the rest is from ch21?

john's 4 posts
Select more comments
Your comment please