BBC One HD
Aims to speak to everyone in the UK through programming that celebrates the richness and diversity of life in new and surprising ways.
Main TV standard-definiton channels
How to Watch: BBC One HD
Below is a list of all the television and radio channels that you can watch in the UK using one of the free services: DAB (for radio), Freeview, Sky No Card - Sky without a viewing card (Freesat from Sky (or fSfS)) and Freesat.. Where a channel can be watched for free, the channel number is listed below. In addition, if you can watch (or listen) immediately online, press the button in the "web" column.

As some channels are exclusive to one service alone, you may need to get receive more than one service to get all the channels you want. The coverage for Freeview differs too - those channels not provided by the public service "Freeview Light" transmitters the current coverage shown thus

(54%)

, taken from Connected Nations Report 2017: Data analysis' Key: wb_sunny daytime; watch_later nighttime; account_box funded from the TV License; flags show Freeview channel limits.
High definition channels
Regional content
: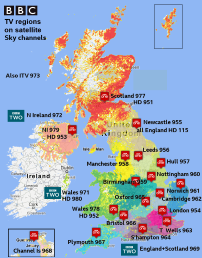 BBC nations and regions TV network - 14 English regions plus Wales, Scotland and Northern Ireland - for regional news. See
BBC nations and regions - overview map - interactive maps
. .
media.info
: For full details of broadcaster contacts, see the
media.info BBC One HD page
.
Official site
: See the
BBC One HD website
.
From Wikipedia
: The channel's annual budget for 2011/12 is 1,166.6 million.3 Along with the BBC's other domestic television stations, and many European broadcasters and some in Asia, it is funded principally by the television licence fee, and therefore shows uninterrupted programming with no commercial advertising at any time. It is currently the most watched television channel in the United Kingdom, ahead of its traditional rival for ratings leadership, ITV1. This system used a vertically-scanned image of 30 lines just enough resolution for a close-up of one person, and with a bandwidth low enough to use existing radio transmitters. - en.wikipedia.org
read more about BBC One HD on wikipedia
(summary by
Clipped
).
Freeview multiplex
: BBC One HD is on
multiplex PSB3
in
.
This channel carries a subtitles service for the deaf, hard of hearing and quiet environments.
Comments
Saturday, 8 January 2011

I am having problems getting a signal on free view hd which is built into my tv, what do I do to improve this as this is very annoying..

Barry nicol's 1 post
Sunday, 9 January 2011

Barry nicol: I would start by having a look at Single frequency interference | ukfree.tv - independent free digital TV advice .

Briantist's 38,907 posts

Barry Nicol I live 12 miles from Crystal Palace and have a loft aerial with an amplifier feeding 5 rooms. Everything was fine until I bought a Sony HD freeview TV which was sharing the same aerial feed as my Sony PVR/DVD/HDD. SD channels were fine but all 4 HD channels on the TV won't work if the PVR/DVD/HDD is on at the same time. I simply ran an extra aerial feed from the amplifier to my living room so the HD freeview TV doesn't have to share with the PVR/DVD/HDD & problem solved. I'm sure your situation is completely different to mine but my point is that the tuner in my Sony TV seems to require a stronger signal for HD reception so maybe you need to strengthen the signal by improving the aerial or adding an amplifier if you don't already have one.

Neil Bell's 106 posts
Neil's:
map
N's Freeview map
terrain
N's terrain plot
waves
N's frequency data
N's Freeview Detailed Coverage
Thursday, 13 January 2011

Briantist: According to the What Satellite web page, it seems as though Formula One will be providing a High Definition satellite feed for this years Grand Prix season. Also the BBC have decided to use this satellite feed to show the qualifing stages and the races.

NottsUK's 345 posts

NottsUK: Yes, I saw that. The only reason they didn't in the past was that it wasn't sourced in HD.

Briantist's 38,907 posts
Saturday, 30 April 2011

Location TW19 7RL receiving from Crystal Palace
I bought a Freeview HD box for the World Cup and it worked fine after an aerial upgrade. After the cup finished, so did the HD reception! I note that Crystal Palace HD transmissions are "below average". WHY? Will things improve after the changeover?
I can't help feeling I was fooled into buying HD well before its time...

Raf's 2 posts
Raf's:
map
R's Freeview map
terrain
R's terrain plot
waves
R's frequency data
R's Freeview Detailed Coverage
Wednesday, 4 May 2011

Raf: I would see Single frequency interference | ukfree.tv - independent free digital TV advice . Yes, the preview HD service will be replaced with a full power service at switchover.

Briantist's 38,907 posts
Wednesday, 17 August 2011

We are due to lose analogue in September but were requested to retune last evening which we did both our Sony TV and Humax receiver /recorder. Now can get HD, BBC etc when the Humax is on but when we put the Humax into Stand-by we do not get any HD on our Sony.Any suggestions please.

Charles's 2 posts
C
catherine lee
1:36 PM
Nottingham

we have 2 freeview televisions ,we lost itv , channel 4 and other channels a few weeks ago .we have retuned both of them .on one of them we now get all the channels but itv and channel 4 break up .on the other tv we still do not receive itv , channel 4 etc .we had a digital aerial fitted in 2002 and have had no problems .

catherine lee's 1 post
catherine's:
map
C's Freeview map
terrain
C's terrain plot
waves
C's frequency data
C's Freeview Detailed Coverage
Thursday, 18 August 2011

catherine lee: Please see Freeview reception has changed? | ukfree.tv - independent free digital TV advice .

Briantist's 38,907 posts
Select more comments
Your comment please