BBC One HD
Aims to speak to everyone in the UK through programming that celebrates the richness and diversity of life in new and surprising ways.
Main TV standard-definiton channels
How to Watch: BBC One HD
Below is a list of all the television and radio channels that you can watch in the UK using one of the free services: DAB (for radio), Freeview, Sky No Card - Sky without a viewing card (Freesat from Sky (or fSfS)) and Freesat.. Where a channel can be watched for free, the channel number is listed below. In addition, if you can watch (or listen) immediately online, press the button in the "web" column.

As some channels are exclusive to one service alone, you may need to get receive more than one service to get all the channels you want. The coverage for Freeview differs too - those channels not provided by the public service "Freeview Light" transmitters the current coverage shown thus

(54%)

, taken from Connected Nations Report 2017: Data analysis' Key: wb_sunny daytime; watch_later nighttime; account_box funded from the TV License; flags show Freeview channel limits.
High definition channels
Regional content
: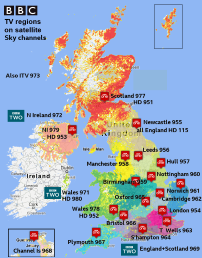 BBC nations and regions TV network - 14 English regions plus Wales, Scotland and Northern Ireland - for regional news. See
BBC nations and regions - overview map - interactive maps
. .
media.info
: For full details of broadcaster contacts, see the
media.info BBC One HD page
.
Official site
: See the
BBC One HD website
.
From Wikipedia
: The channel's annual budget for 2011/12 is 1,166.6 million.3 Along with the BBC's other domestic television stations, and many European broadcasters and some in Asia, it is funded principally by the television licence fee, and therefore shows uninterrupted programming with no commercial advertising at any time. It is currently the most watched television channel in the United Kingdom, ahead of its traditional rival for ratings leadership, ITV1. This system used a vertically-scanned image of 30 lines just enough resolution for a close-up of one person, and with a bandwidth low enough to use existing radio transmitters. - en.wikipedia.org
read more about BBC One HD on wikipedia
(summary by
Clipped
).
Freeview multiplex
: BBC One HD is on
multiplex PSB3
in
.
This channel carries a subtitles service for the deaf, hard of hearing and quiet environments.
Comments
Thursday, 18 August 2011

catherine lee: Please see Freeview reception has changed? | ukfree.tv - independent free digital TV advice .

Briantist's 38,908 posts

Charles: Leave the Humax on?

Briantist's 38,908 posts
Sunday, 21 August 2011

I have a Panasonic TX-P42V20 with built in HD receiver - just retuned but it has not picked up any HD channels - area is Lincoln and transmitter Belmont - anyone else have same problem - retuned 3 times.

Ricci's 6 posts
Ricci's:
map
R's Freeview map
terrain
R's terrain plot
waves
R's frequency data
R's Freeview Detailed Coverage

Ricci: The spec I read on that model suggests that it cannot actually receive Freeview HD transmissions as the tuner is only shown as being a DVB-T type.

Have a check though on your user manual in the specifications section, as unless DVB-T2 is seen then it wont be able to receive HD, only showing HD images via an HDMI lead from some other device.

By the way, sets with DVB-T tuners will just ignore an HD signal whilst tuning, this making it appear as though nothing is there, HD from Belmont being on Mux Ch28 should you want to try a manual tune.

jb38's 7,179 posts

JB38. Many thanks. Just checked the specs it says "DVB-T/T2(Digital terrestrial services via UHF aerial input)". I will try manual tuning as suggested as soon as I can access the TV - the kids are hogging it! I am surprised that channels are not picked up on auto tune - have got all the other Freeview channels. Will put a progress report for others if they are having same issue. Thanks again.

Ricci's 6 posts
Ricci's:
map
R's Freeview map
terrain
R's terrain plot
waves
R's frequency data
R's Freeview Detailed Coverage

Ricci: Yes, quite correct, as I managed to have a look at the more detailed spec and it does indeed state what you have said.

And as previously mentioned give it a manual tune scan on Mux Ch28, but if still nothing try a signal strength/quality check on either Mux Ch22 or Mux Ch25 to see what is indicated, as both these transmitters are on the same power as the HD one on Mux Ch28.

Another aspect that has to be taken into account is regarding your aerial, should it be roof mounted coupled to a booster take the latter off, as your signal could be on the verges of blocking the tuner input, as I am aware that Belmont really blasts in on quite a number of locations in a line between Lincoln and Newark, (and further afield!) although whats said obviously only applying should HD still not work.

Looking forward to update on outcome!

jb38's 7,179 posts

JB38. Thanks for your patience. Cant get anything on Mux Ch28 - signal strength about 1/2. Signal quality nearly full on first pass but quickly drops off to 0!

Tried also Mux Ch22 - signal strength over 1/2 and quality nearly 10 and tunes to all BBC Channels including Radio but no HD.

Mux Ch25 signal strength and quality same as Mux Ch22 and tunes all ITV, Ch4, More 4, Ch5, E4, both Rabbit channels but no HD!
Aerial is in roof space (conservation area not allowed to install roof aerials!) and there is no booster attached - all Freeview Channels crystal clear just not tuning to HD. Any other thoughts? Many thanks

Ricci's 6 posts
Ricci's:
map
R's Freeview map
terrain
R's terrain plot
waves
R's frequency data
R's Freeview Detailed Coverage

JB38. I might have solved the problem - I have just been checking HD channels from Waltham transmitter and see that they don't start transmitting until 31 Aug. It is possible that my aerial installer has pointed my aerial at the Waltham transmitter and not Belmont! I will wait until the end of the month and try again and post here if it solves the problem! Thanks for your help.

Ricci's 6 posts
Ricci's:
map
R's Freeview map
terrain
R's terrain plot
waves
R's frequency data
R's Freeview Detailed Coverage

Ricci: You can carry out a visual check on what station your aerial is directed at, as Belmont is at 52 degrees (19mls) - Waltham 202 degrees (28mls) - Lincoln Central 8 degrees (4mls), with the latter being a light Freeview transmitter (limited services) using Mux Ch's 44 (BBC1) - 41 (ITV1 etc) - 47 (HD service).

jb38's 7,179 posts

Ricci: I just noticed your 1:53PM report on the test carried out, this before your later 2:17PM posting that I replied to. (I really will have to scroll up the screen more often!!)

However, what you have said now makes me a bit suspicious as far as your sets capability to resolve HD transmissions is concerned, especially when it initially shows nearly full but immediately drops off, as that can indicate that the TV recognises that a signal is there but is unable to decode it, this irrespective of what the manual might state.

I intend to investigate this further as far as this model is concerned, because through experience I am well aware that some equipment although listed as being able to do whatever, still requires software updates to correct problems, something that "might" be applicable in your case.

Anyway, if magically it suddenly rectifies itself, (which I doubt) you could maybe post an update.

jb38's 7,179 posts
Select more comments
Your comment please