BBC One HD
Aims to speak to everyone in the UK through programming that celebrates the richness and diversity of life in new and surprising ways.
Main TV standard-definiton channels
How to Watch: BBC One HD
Below is a list of all the television and radio channels that you can watch in the UK using one of the free services: DAB (for radio), Freeview, Sky No Card - Sky without a viewing card (Freesat from Sky (or fSfS)) and Freesat.. Where a channel can be watched for free, the channel number is listed below. In addition, if you can watch (or listen) immediately online, press the button in the "web" column.

As some channels are exclusive to one service alone, you may need to get receive more than one service to get all the channels you want. The coverage for Freeview differs too - those channels not provided by the public service "Freeview Light" transmitters the current coverage shown thus

(54%)

, taken from Connected Nations Report 2017: Data analysis' Key: wb_sunny daytime; watch_later nighttime; account_box funded from the TV License; flags show Freeview channel limits.
High definition channels
Regional content
: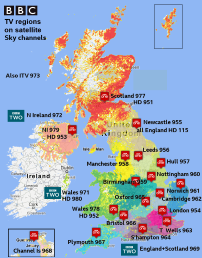 BBC nations and regions TV network - 14 English regions plus Wales, Scotland and Northern Ireland - for regional news. See
BBC nations and regions - overview map - interactive maps
. .
media.info
: For full details of broadcaster contacts, see the
media.info BBC One HD page
.
Official site
: See the
BBC One HD website
.
From Wikipedia
: The channel's annual budget for 2011/12 is 1,166.6 million.3 Along with the BBC's other domestic television stations, and many European broadcasters and some in Asia, it is funded principally by the television licence fee, and therefore shows uninterrupted programming with no commercial advertising at any time. It is currently the most watched television channel in the United Kingdom, ahead of its traditional rival for ratings leadership, ITV1. This system used a vertically-scanned image of 30 lines just enough resolution for a close-up of one person, and with a bandwidth low enough to use existing radio transmitters. - en.wikipedia.org
read more about BBC One HD on wikipedia
(summary by
Clipped
).
Freeview multiplex
: BBC One HD is on
multiplex PSB3
in
.
This channel carries a subtitles service for the deaf, hard of hearing and quiet environments.
Comments
Saturday, 30 June 2012

Pete: The Viera model may not have a HD tuner built-in. In the specification it will say that it is capable of receiving DVB-T2 signals (as well as DVB-T ones).

Freeview HD uses DVB-T2.

Earlier HD sets were HD Ready, meaning that they can show HD pictures, but don't have the means to receive them off the air.

Dave Lindsay's 5,724 posts
Wednesday, 4 July 2012
R
Roger Hodsoll
9:37 PM
Bexhill-on-sea

Hi can anyone tell me whether, if any HD broadcasts are available from the Hastings transmitter please

Roger Hodsoll's 1 post
Roger's:
map
R's Freeview map
terrain
R's terrain plot
waves
R's frequency data
R's Freeview Detailed Coverage

Roger Hodsoll: Yes! on mux Ch22 but reception is indicated as being variable on the verges of poor on all muxes using the code provided, however your "very" local (nearly next door) Bexhill transmitter is indicated as providing excellent reception on channels 46 - 40 - 43 (HD).

jb38's 7,179 posts
Saturday, 21 July 2012

Hi, I'm experiencing bad intermittent reception on BBC one HD (ch50) & BBC HD (ch54) only on those channels thru my Samsung Smart PVR. I have retuned but still cannot view a single show without it planking for 2 or more seconds.

Robert Dyet's 1 post
Friday, 28 September 2012
D
doug thwaites
10:04 PM
Saltburn-by-the-sea

i have hd ready tv, and four settop boxes. i cannot recieveany hd channels, despite doing several retunes, as per instructions.
i am on bilsdale and am at TS13 4NG

doug thwaites's 1 post
doug's:
map
D's Freeview map
terrain
D's terrain plot
waves
D's frequency data
D's Freeview Detailed Coverage

doug thwaites: You won't do. HD Ready (<--click the words) means that the set can show HD pictures but does not have the means to receive them off the air.

Dave Lindsay's 5,724 posts
Monday, 15 October 2012

Today i have lost the HD channels on my Smart hdtv. I have tried retuning but only the standard channels are availble

hugh's 1 post
Thursday, 18 October 2012

I have no bbc 1 hd logo on ch 101 on my tv all other hd channels are showing, any help please as to why

Billy's 1 post
Billy's:
map
B's Freeview map
terrain
B's terrain plot
waves
B's frequency data
B's Freeview Detailed Coverage
Tuesday, 23 October 2012

I am not receiving any freeview HD channels from the Bilsdale transmitter. Any suggestions?

Terry Wright's 1 post

Terry Wright: The first question would be whether or not you have ever received them? and if not what model number of TV (or box) you are using?

jb38's 7,179 posts
Select more comments
Your comment please