BBC One HD
Aims to speak to everyone in the UK through programming that celebrates the richness and diversity of life in new and surprising ways.
Main TV standard-definiton channels
How to Watch: BBC One HD
Below is a list of all the television and radio channels that you can watch in the UK using one of the free services: DAB (for radio), Freeview, Sky No Card - Sky without a viewing card (Freesat from Sky (or fSfS)) and Freesat.. Where a channel can be watched for free, the channel number is listed below. In addition, if you can watch (or listen) immediately online, press the button in the "web" column.

As some channels are exclusive to one service alone, you may need to get receive more than one service to get all the channels you want. The coverage for Freeview differs too - those channels not provided by the public service "Freeview Light" transmitters the current coverage shown thus

(54%)

, taken from Connected Nations Report 2017: Data analysis' Key: wb_sunny daytime; watch_later nighttime; account_box funded from the TV License; flags show Freeview channel limits.
High definition channels
Regional content
: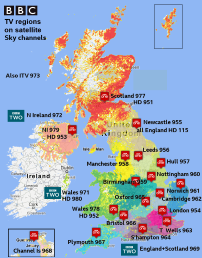 BBC nations and regions TV network - 14 English regions plus Wales, Scotland and Northern Ireland - for regional news. See
BBC nations and regions - overview map - interactive maps
. .
media.info
: For full details of broadcaster contacts, see the
media.info BBC One HD page
.
Official site
: See the
BBC One HD website
.
From Wikipedia
: The channel's annual budget for 2011/12 is 1,166.6 million.3 Along with the BBC's other domestic television stations, and many European broadcasters and some in Asia, it is funded principally by the television licence fee, and therefore shows uninterrupted programming with no commercial advertising at any time. It is currently the most watched television channel in the United Kingdom, ahead of its traditional rival for ratings leadership, ITV1. This system used a vertically-scanned image of 30 lines just enough resolution for a close-up of one person, and with a bandwidth low enough to use existing radio transmitters. - en.wikipedia.org
read more about BBC One HD on wikipedia
(summary by
Clipped
).
Freeview multiplex
: BBC One HD is on
multiplex PSB3
in
.
This channel carries a subtitles service for the deaf, hard of hearing and quiet environments.
Comments
Tuesday, 8 November 2016

Thanks for all the helpful comments. I had checked the web-site for a list of services, and I noticed that, although Windermere lists PSB3 with channels 101 to 104, there are no channel icons shown. One TV is a fairly recent Sony (2015, described as 'full HD'); the other is 'HD ready', it's true, but I'm running it via a Manhattan HD-T2 set-top box that's described as 'Freeview HD' - no ifs, buts or readys. Via an HDMI cable, so the TV is getting a decoded digital signal. All PSB1 and PSB2 services are OK, but there's nothing at all from PSB3. I've run out of ideas - hence my cry for help!

Stuart's 7 posts

Stuart: Look at what transmitter your actually on (just in case) and check signal strength and wiring. You should be getting HD from a Lite transmitter, and I know the Manhattan is HD (I've got one - they do tend to lock up, dont they?) and the 2015 Sony almost certainly has a T2 tuner, so your missing the mux in some way. And thats normally because the signal strength is too low - so either a dodgy connection or too low a signal from a transmitter.

If its on both sets, then the problem is probably where the signal splits or before.


MikeB's 2,579 posts

Stuart: In addition to advice given by others. You should try carrying out a signal strength check using the "manual tune" facility on the Manhattan, the procedure being to enter Windermere's Mux 41 (634 Mhz) into the selection box then stop at this point, as if any signal is being received the level of will be indicated no matter how low it might be.

Another point to observe when using an HDMI lead is to make sure that its kept well away from aerial coax cables, as radiation from HDMI cables is well known as being frequently responsible for interfering with (or killing off) the reception of certain Mux channels whilst others are unaffected.

jb38's 7,179 posts
Wednesday, 9 November 2016

Many thanks for all the help: I've tried all the suggestions, with no success.This is what I found: I can't find any confirmation of the transmitter on the box or TV, but given this hilly area, I'm sure that no others are detectable. Manual tune (with co-ax link to set-top box removed, and HDMI lead held well away from main aerial feed: CH 41 gives strength cycling from 6% to 92% about once every 3 sec; quality does the same from 0% to about 30%. The two variations don't appear to be synchronised. The aerial is communal, with 15 houses connected, and it's over 30 years old, with some trees in the signal path. I have a splitter/amp close to my connection to the system, and the signal is unreliable, with PSB1 (CH44) more prone to occasional picture break-up than PSB2 (CH47). That, together with your comments, leads me to sigh and resign myself to the inevitable! You have helped me enormously, and even though the result isn't what I wanted, at least I appear to have an answer now.

Stuart's 7 posts

Stuart: As you're using a communal aerial you should ask whoever is responsible for maintaining it to investigate the problem, particular if you can confirm that your neighbours using the same aerial are also affected.

StevensOnln1's 3,570 posts
Sunday, 19 March 2017

What channel numbers do BBC at Hannington for BBC programmes

Chris Peck's 1 post
Monday, 20 March 2017

Chris Peck:

Look at Which Freeview channels does the Hannington transmitter broadcast? for indformation on all the programmes served fro Hannington.



MikeP's 3,056 posts
Friday, 4 May 2018

I'm used to seeing odd entries in the Freesat EITpf (now and next) for tests, but not ASTRA or BSkyB.

There are five test items, 3001 to 3005, on the BBC transponder at 10773.25 H.

According to the SDT, 3001 is of type 25 - HD and 3002 to 3005 are type 1 - SD.

I haven't seen any actual streams off them so far.

I use that transponder as a source for SI data with DVBViewer set to record a "Transponder Dump" for one minute, three times daily.

ASTRA only provides EITpf. Here is the event for 3002 from the 11 am Dump:

3002, Thu 03 May 02:30 - 07:00: Early Breakfast
Why are you listening. Sleep!
eventID = 002F, RST = 4, ONID.TSID.SID = 2.7FD.BBA, 10773.25 H


I've just looked at the BSkyB EPG and there are entries for 3001 and 3004 for next week:


3001 Tue 08 May 07:00 - 09:15 : Breakfast 18/19
Breakfast News from Broadcasting House
eventID = 001B

3001 Tue 08 May 09:15 - 10:00 : Rip Off Britain: Food 17/18
As the new series investigating food stories continues, Angela Rippon get to the bottom
eventID = 001C

3001 Tue 08 May 10:00 - 11:00 : Homes Under the Hammer 22 Spr...
...18/19. Martin, Dion and Martel follow renovation projects in Cheshire, Lanarkshire an Norfolk.
eventID = 001D

3001 Tue 08 May 11:00 - 11:45 : A1: Britain's Longest Road...
...Series 2. Simon G is here again
eventID = 001E

3001 Tue 08 May 11:45 - 12:15 : SKY Series 1
episode Series 1 1525346150 short description
eventID = 0037

3001 Tue 08 May 12:15 - 13:00 : Bargain Hunt 43 Win 15/16 (NCF)
Wetherby racecourse plays host to today's Bargain Hunt.
eventID = 0020

3001 Tue 08 May 13:00 - 13:30 : SKY Series 1
episode episode 2 1525346358 short description
eventID = 0038

3001 Tue 08 May 13:30 - 13:45 : London TV News 2018/19 Lunch
London News only
eventID = 0022

3001 Tue 08 May 13:45 - 14:15 : This is Datahub
Something in the post has a strange effect on Zara
eventID = 0023

3001 Tue 08 May 14:15 - 15:00 : 800 WORDS (SEASON 2)
The arrival of George's brother Terry has caused a buzz all over Weld.
eventID = 0024

3001 Tue 08 May 15:00 - 15:45 : PF Escape to the Country 18...
...(17/18). Ginny Buckley heads to rural Lincolnshire to help an optimistic couple with 500,000
eventID = 0025

3001 Tue 08 May 15:45 - 16:30 : Flipping Profit
The team head to Kendal to find some bargains they can turn into some flipping profit.
eventID = 0026

3001 Tue 08 May 16:30 - 17:15 : Flog It! 14 (15/16)
a collection of interesting and previously unseen finds from the show's travels
eventID = 0027

3001 Tue 08 May 17:15 - 18:00 : Pointless 19 18/19
The pointless quiz show
eventID = 0028

3001 Tue 08 May 18:00 - 18:30 : SKY Series 1
episode episode 2 1525346596 short description
eventID = 0039

3001 Tue 08 May 18:30 - 19:30 : Watchdog 18/19 Spring
Matt Allwright, Steph McGovern and Nikki Fox expose more big name companies
eventID = 0012

3001 Tue 08 May 19:30 - 20:00 : Eastenders 18/19
The drama continues in the east end
eventID = 002B

3001 Tue 08 May 20:00 - 21:00 : Holby City 20 18/19
As the pressure builds from all sides, Gaskell takes a huge risk to save his trial.
eventID = 002C

3001 Tue 08 May 21:00 - 22:00 : Split, The
Hannah finds herself caught in the middle when Nathan and Christie clash on a divorce case
eventID = 002D

3001 Tue 08 May 22:00 - 22:30 : News (BBC1) 22:00 18/19
BBC News live
eventID = 002E

3001 Tue 08 May 22:30 - 22:40 : BBC London News
London news live
eventID = 002F

3001 Tue 08 May 22:40 - 22:45 : Weather (BBC1) 22:00 18/19
Weather for you
eventID = 0030

3001 Tue 08 May 22:45 - 23:40 : Back to School With Mum and Dad
Mum and dad go back to school at the Family School
eventID = 0031

3001 Tue 08 May 23:40 - 00:00 : Harry and Meghan Interview -...
...iPlayer version. personal details of how their romance began with a blind date
eventID = 0032

3001 Wed 09 May 00:00 - 00:05 : Weather for the Week Ahead...
...(late night) 18/19 BBC1. All the Weather for the Week Ahead
eventID = 0033

3001 Wed 09 May 00:05 - 06:00 : BBC News 24 18/19 (BBC1)
All the latest news from around the world
eventID = 0034

3001 Wed 09 May 06:00 - 10:00 : Breakfast 18/19
Latest breakfast news
eventID = 0035




3004 Tue 08 May 10:00 - 12:45 : Clara Amfo
The home of Radio 1's Live Lounge.
eventID = 0000

3004 Tue 08 May 12:45 - 13:00 : Richard Jolly is a Metadata Legend
The latest news from around the UK and around the world.
eventID = 0001

3004 Tue 08 May 13:00 - 16:00 : Matt sits in for Scott
Matt sits in for Scott to entertain the nation.
eventID = 0002

3004 Tue 08 May 16:00 - 17:45 : Greg James
Greg plays What's My Age Again?
eventID = 0003

3004 Tue 08 May 17:45 - 18:00 : Richard Jolly is a Metadata Legend
The latest news from around the UK and around the world.
eventID = 0004

3004 Tue 08 May 18:00 - 19:00 : Greg James
Including the 10 Minute Takeover from 6 and more musical goodness...
eventID = 0005

3004 Tue 08 May 19:00 - 21:02 : Annie Mac
Dan Smith from Bastille and Grimmy team-up to takeover Annie Mac's show!
eventID = 0006

3004 Tue 08 May 21:02 - 23:00 : The 8th with Charlie Sloth
Charlie Sloth is live and direct from the top of BBC HQ!
eventID = 0007

3004 Tue 08 May 23:00 - 01:00 : Huw Stephens
Huw delves deep into the world of new bands and alternative sounds.
eventID = 0008

3004 Wed 09 May 01:00 - 03:00 : Annie Nightingale presents...
Annie Nightingale with the biggest bass bangers.
eventID = 0009

3004 Wed 09 May 03:00 - 04:00 : Gary Oldman and Steven Speilberg
Ali Plumb asks another two stars to chat about the Movies That Made Me.
eventID = 000A

3004 Wed 09 May 04:00 - 06:33 : Early Breakfast with Adele Roberts
Staying up or getting up, Adele's here to help.
eventID = 000B

3004 Wed 09 May 06:33 - 10:00 : The Radio 1 Breakfast Show with...
...Nick Grimshaw. Hi huuun...
eventID = 000C

js's 826 posts
Sunday, 20 May 2018

Chan-King:

The BBC HD services do not carry the 'local' news bulletins, hence the red screen with text. There is not a released plan, as yet, for when BBC1 HD will be expanded to carry all the local news services, it is unlikely to be before 2020 or later. As you are outside of the intended reception area, it is difficult to predict what or when you might get 'local' London news as you are not in the London service area. Your only option would seem to be trying the internet, if your web service is fast enough, or Freesat if you are within the service area of that satellite system. There is no guarantee that anyone outside of the UK will be able to view BBC services or those of any other UK broadcaster.



MikeP's 3,056 posts
Saturday, 26 May 2018

Can't get C57 is it down?

Chris's 1 post
Select more comments
Your comment please