Channel 4 (SD)
Award-winning comedy, groundbreaking documentaries, distinctive drama and entertainment with an edge
Main TV standard-definiton channels
How to Watch: Channel 4 (SD)
Below is a list of all the television and radio channels that you can watch in the UK using one of the free services: DAB (for radio), Freeview, Sky No Card - Sky without a viewing card (Freesat from Sky (or fSfS)) and Freesat.. Where a channel can be watched for free, the channel number is listed below. In addition, if you can watch (or listen) immediately online, press the button in the "web" column.

As some channels are exclusive to one service alone, you may need to get receive more than one service to get all the channels you want. The coverage for Freeview differs too - those channels not provided by the public service "Freeview Light" transmitters the current coverage shown thus

(54%)

, taken from Connected Nations Report 2017: Data analysis' Key: wb_sunny daytime; watch_later nighttime; account_box funded from the TV License; flags show Freeview channel limits.
Main TV standard-definiton channels
Regional content
: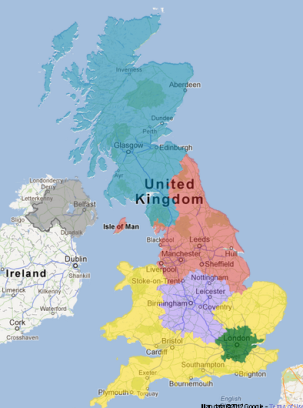 Channel 4 network for adverts only. See
TV regions interactive maps
. .
media.info
: For full details of broadcaster contacts, see the
media.info Channel 4 (SD) page
.
Official site
: See the
Channel 4 (SD) website
.
From Wikipedia
: Channel 4 is a British public-service television broadcaster which began transmission on 2 November 1982. The Broadcasting Act 1980 began the process of adding a fourth, and Channel 4, along with its Welsh counterpart, was formally created by an Act of Parliament in 1982. After some months of test broadcasts, it began scheduled transmissions on 2 November 1982. - en.wikipedia.org
read more about Channel 4 (SD) on wikipedia
(summary by
Clipped
).
Freeview multiplex
: Channel 4 (SD) is on
multiplex PSB2
in
.
Comments
Monday, 16 January 2012

Channel 22 only weak now, everything else working better.

Martin's 2 posts
Martin's:
map
M's Freeview map
terrain
M's terrain plot
waves
M's frequency data
M's Freeview Detailed Coverage

we are living in Godalming near Guildford and ordinarily can receive freeview tv, for most bbc and itv/ch4 channels.

however, virtually every friday night around midnight, for the past year or so, all channels except some bbc become 'low or no signal' and unreceivable - a situation that persists all weekend and often into the week. then all of a sudden they are back again, until the next weekend.

retuning the receiver makes matters much worse (even fewer channels) - so have given up trying. analogue (although not great reception either) has been our only fallback.

signal quality/strength is not always good where we are, but this seems periodic.

i am very worried that come the switch over we will be left with no tv at all having been totally forgotten about in the greater scheme of things by the broadcast/transmission companies.

there seems nowhere (except here perhaps?) to lodge our concerns.

anyone experienced similar/got any helpful advice?



rcain's 2 posts
rcain's:
map
R's Freeview map
terrain
R's terrain plot
waves
R's frequency data
R's Freeview Detailed Coverage
Wednesday, 18 January 2012

rcain: Please can you see Freeview intermittent interference | ukfree.tv - independent free digital TV advice ?

Briantist's 38,899 posts
Friday, 10 February 2012
ADRIAN
8:35 PM
Crawley

Hello, one month ago I have installed an I-Can Easy HD Receiver with my existing roof aerial which I believe points to Crystal Palace. My post code is RH10 3TN. All scanned well, all channels fine. Today I've noticed NO SIGNAL for Channel 4 and ITV1, all others OK. Re-plugged, reset, etc..still no signal. I dont believe it's the box as al other channels are OK. What else can it be then ?

ADRIAN's 4 posts
ADRIAN's:
map
A's Freeview map
terrain
A's terrain plot
waves
A's frequency data
A's Freeview Detailed Coverage
Saturday, 11 February 2012
ADRIAN
9:38 PM
Crawley

I have a fundamental question about Channel 4 and ITV : are these digital or analogue or both ??? My TV with Freeview does not list them in the All TV list but in a separate list called Analogue. Here I can see them in what I suspect it is analogue. My I-Can digital receiver lists them in All TV and sometime I see them and sometime I don't as per my previous post here. I suspect that what I see in the I-Can is digital channels ??? Two Freeview boxes ( my TV and the I-Can) both connected to same aerial and I see different things ??? Is this how it's going to be from April 2012 ??

ADRIAN's 4 posts
ADRIAN's:
map
A's Freeview map
terrain
A's terrain plot
waves
A's frequency data
A's Freeview Detailed Coverage

ADRIAN: Perhaps you are in a marginal area for reception of ITV1, C4 etc on digital. The digital UK predictor certainly suggests that this one multiplex (group of programme channels) is "marginal" whereas the others are "good".

For this reason it might sometimes be available and sometimes not. Resetting and retuning is not good and should be avoided as now you have not got these services in your tuner's memory whereas if they were, you could switch over to number 3 to see if ITV1 was back.

The only time you should retune is when the services change channel when switchover occurs.

If there is a manual tune option on the device in question, then you need to manually tune to channel 22. If it doesn't pick anything up (or at least not a strong enough signal to provide a picture), then try again at a different time.

Dave Lindsay's 5,724 posts
Sunday, 12 February 2012

ADRIAN: Just in addition to that already fully explained by Dave Lindsay, but regarding your 9.38pm question on ITV & Ch4 both of these are presently available on analogue as well as digital from Crystal Palace and Reigate, but however wont be from April 18th when analogue transmissions cease to exist from both these sources.

Another point to remember regarding digital reception is that no two devices have exactly the same sensitivity, so even although both are connected to the same aerial its possible that a programme can be seen on one device but not the other.

This of course applies more to situations involving weaker signals from lower powered commercial muxes, but if it happens with a BBC channel then its an indication of a low level of signal being received.

Just as a finale, its only your TV thats capable of viewing analogue signals.

jb38's 7,179 posts

ADRIAN: There were engineering works at Crystal Palace last week, in preparation for switchover. Perhaps whatever it was has changed your reception slightly, but enough for your I-Can not to have enough signal to operate. The other possibility is that the signal level has dropped due to some atmospheric change and may change back.

If you have no joy manually tuning to channel 22 (using the digital part of your receiver), then from 7th March the power of Reigate's equivalent multiplex (which carries ITV1,ITV2,C4,C5 etc) will be increased ten-fold and it is on channel 21. Your aerial is the wrong polarisation (horizontal when it needs to be vertical for Reigate) and is pointing a bit in the wrong direction, but it might work to some degree. It is a try it and see sort of thing. It might be better than nothing until switchover on 18th April.


I tried looking online for a user manual for the I-CAN device, but have been unsuccessful. I was hoping to be more specific as to what it is you need to do (i.e. which buttons to press) having found out how it works. If you know of the manufacturer's name and/or website for it, then it might be useful to this end.

Dave Lindsay's 5,724 posts
ADRIAN
6:07 PM


ADRIAN: Many thanks to both Dave and jb38 for taking the time to explain this to me.Really grateful for your help. I now plan to do nothing until the switchover, I'll deal with any problems after that. For reference the I-Can website is at : I-CAN from where the manual can be viewed/downloaded, which I did when I bought the box. (RH103TN)

ADRIAN's 4 posts
Monday, 13 February 2012

ADRIAN: Thanks for the link. Looking at the instructions, there doesn't appear to be a manual tune option (or at least it isn't mentioned in the instructions).

Dave Lindsay's 5,724 posts
Select more comments
Your comment please