ITV 1 (SD)
The heart of popular culture.
Main TV standard-definiton channels
How to Watch: ITV 1 (SD)
Below is a list of all the television and radio channels that you can watch in the UK using one of the free services: DAB (for radio), Freeview, Sky No Card - Sky without a viewing card (Freesat from Sky (or fSfS)) and Freesat.. Where a channel can be watched for free, the channel number is listed below. In addition, if you can watch (or listen) immediately online, press the button in the "web" column.

As some channels are exclusive to one service alone, you may need to get receive more than one service to get all the channels you want. The coverage for Freeview differs too - those channels not provided by the public service "Freeview Light" transmitters the current coverage shown thus

(54%)

, taken from Connected Nations Report 2017: Data analysis' Key: wb_sunny daytime; watch_later nighttime; account_box funded from the TV License; flags show Freeview channel limits.
Main TV standard-definiton channels
Regional content
: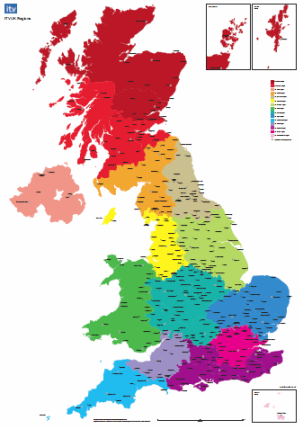 Channel 3 network for adverts and regional news. See
ITV, UTV and STV regions - overview map - interactive maps
. .
media.info
: For full details of broadcaster contacts, see the
media.info ITV 1 (SD) page
.
Official site
: See the
ITV 1 (SD) website
.
From Wikipedia
: The ITV1 brand was introduced by Carlton and Granada in 2001, alongside the regional identities of their eleven regional companies. However in line with other terrestrial channels, ITV1's audience share has fallen in the era of multi-channel television. ITV existed in a region-heavy form from its inception to the 2000s, although the switch was gradual. - en.wikipedia.org
read more about ITV 1 (SD) on wikipedia
(summary by
Clipped
).
Freeview multiplex
: ITV 1 (SD) is on
multiplex PSB2
in
.
Comments
Wednesday, 30 September 2015

Derek Remington: ITV4 has changed frequency. It has moved from Arqiva B to D3&4.

There is no accounting for the behaviour of some tellies. Do you have anything on 24 on the telly? The remnant of the old ITV4 should be on 792 but, without a rescan, may still be on 24, thus blocking that channel number. If so, try deleting it. If that doesn't fix it, try manfully rescanning Arqiva B and D3&4. A last resort would be an automatic scan.



js's 826 posts
Tuesday, 6 October 2015

Hello, I am experiencing pixelating interference with itv channels every evening with loud noises, which is very disturbing particularly during windy weather. I have a new indoor aerial in my loft. The BBC channels are just fine. Can you please enlighten me as to what to do. I live in Falmouth, Cornwall. Many thanks.


Rosie's 1 post
Wednesday, 9 December 2015
L
lisa woodthorpe
11:02 AM
Dronfield

Hi, for the last few days since the windy weather i have lost a few of the itv channels, i keep retuning and have got some back, but they are either un watchable because of pixilation or no signal at all. Please advise. Many thanks.

lisa woodthorpe's 1 post
lisa's:
map
L's Freeview map
terrain
L's terrain plot
waves
L's frequency data
L's Freeview Detailed Coverage

Lisa:

To be able to offer any guidance we need a post code so we can determine which transmitter you might be using and what the local reception conditions are like.

MikeP's 3,056 posts
Saturday, 6 August 2016

I have lost all Itv channels and local news channels and several other channels. BT engineers did not offer any advice other than not their fault. Possibly my aerial. Appalling service. I was not aware of the 4G possibility until now. My postcode is PO14 4AN. Any advice?

P bower's 2 posts
P's:
map
P's Freeview map
terrain
P's terrain plot
waves
P's frequency data
P's Freeview Detailed Coverage
Sunday, 7 August 2016

P bower: Good Morning, P Bower. In Fareham, as you are probably aware, your best Freeview tv transmitter is Rowridge on the Isle of Wight. Your aerial should be pointing South-South-West. Check that it is pointing in that direction by comparing with neighbours' aerial orientations. If it is going to be necessary to re-orientate your aerial, carry out a risk assessment prior to climbing up and re-orientating it towards Rowridge. Is your aerial in good condition, with all director elements and the reflector grid or elements attached and intact? Is the down-lead in good condition with no signs of water ingress? Are all of the electrical connections between aerial cabling and living room wall-plate and at each end of the fly-lead between the wall-plate and the tv set in good order? Once you have checked all of the above, DISCONNECT the aerial lead from your tv and carry out a 'first-time installation' type of retune. A message should come op stating, 'no channels found'. This is so that the tv 'forgets' the channels it had stored before but also forgets any 'corrupt data' within it. Re-connect the aerial lead and then carry out another 'first -time installation' retune. Now you should have all available channels listed including the itv channels you had 'lost'. Hope this helps, Richard, Norwich.

Richard Cooper's 466 posts

Richard Cooper: Thank you Richard. My aerial is indoor - in the loft. I have an aerial engineer coming to look at the problem on Wednesday. Thank you for your advice. Fingers crossed. Pauline

Pauline's 2 posts
Monday, 8 August 2016

Pauline: Good to hear that you have an engineer looking at your aerial this week. Richard, Norwich.

Richard Cooper's 466 posts
Sunday, 22 January 2017

I have just bought a new tv, auto tuned it and now get London local news instead of east area , I live in saffron walden Essex, can you advise how I can get my local news please ?

Clare's 1 post

Clare:

Firstly we need your full post code so we can find out which transmitter(s) are available to you. Some areas can get signals from more than one transmitter but others can only use a single source.

It would seem that your TV has tuned to a transmitter carrying the London services and without the full post code we cannot tell what others might be available or suitable.

Further advice available, depending on provision of the full post code.



MikeP's 3,056 posts
Select more comments
Your comment please