ITV1 +1
Another chance to watch your favourite shows an hour later on ITV+1
Main TV standard-definiton channels
How to Watch: ITV1 +1
Below is a list of all the television and radio channels that you can watch in the UK using one of the free services: DAB (for radio), Freeview, Sky No Card - Sky without a viewing card (Freesat from Sky (or fSfS)) and Freesat.. Where a channel can be watched for free, the channel number is listed below. In addition, if you can watch (or listen) immediately online, press the button in the "web" column.

As some channels are exclusive to one service alone, you may need to get receive more than one service to get all the channels you want. The coverage for Freeview differs too - those channels not provided by the public service "Freeview Light" transmitters the current coverage shown thus

(54%)

, taken from Connected Nations Report 2017: Data analysis' Key: wb_sunny daytime; watch_later nighttime; account_box funded from the TV License; flags show Freeview channel limits.
Main TV standard-definiton channels
Regional content
: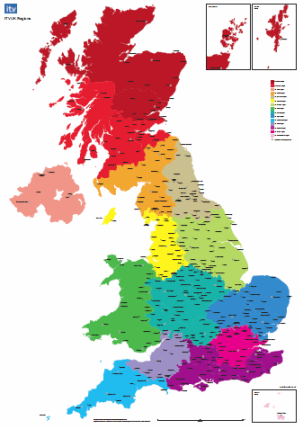 Channel 3 network for adverts and regional news. See
ITV, UTV and STV regions - overview map - interactive maps
. .
media.info
: For full details of broadcaster contacts, see the
media.info ITV1 +1 page
.
Official site
: See the
ITV1 +1 website
.
From Wikipedia
: The ITV1 brand was introduced by Carlton and Granada in 2001, alongside the regional identities of their eleven regional companies. However in line with other terrestrial channels, ITV1's audience share has fallen in the era of multi-channel television. ITV existed in a region-heavy form from its inception to the 2000s, although the switch was gradual. - en.wikipedia.org
read more about ITV1 +1 on wikipedia
(summary by
Clipped
).
Freeview multiplex
: ITV1 +1 is on
multiplex PSB2
in
.
Comments
Thursday, 26 September 2013

Why was ITV+1 in Wales giving West news & not the Welsh news?? Does anyone know what happened to the timeshift service for Wales. Normally I've had the Welsh news on the timeshift service, but now I getting West instead. ITV Wales & S4C are still in the normal place. Is this an error on ITV's side?

Rob's 3 posts
Rob's:
map
R's Freeview map
terrain
R's terrain plot
waves
R's frequency data
R's Freeview Detailed Coverage

Rob: This would suggest a transmitter programme feed error as both ITV1 and ITV+1 are on the same transmitter, West news being fed to the Mendip transmitter.

However purely for the purpose of verifying that nothing odd has happened at your end carry out a signal check on both ITV1 and its +1 service and noting the mux channel number indicated, as in both cases it should be Ch44, whereas Mendip is Ch54.

jb38's 7,179 posts

ITV West announcers said at the end of the local news, that the Welsh news studio had to be evacuated ??

John's 1 post
John's:
map
J's Freeview map
terrain
J's terrain plot
waves
J's frequency data
J's Freeview Detailed Coverage
Sunday, 5 January 2014

Hi, I have been watching itv +1 on freeway in Bingley West Yorkshire but it as now disappeared and does not come back when I retune. Can you help

Steve Marley's 1 post
Sunday, 2 February 2014

I cannot find listings for itv+1 in the Radio Times or Saturday Telegraph. Where are they printed please?

D.Attridge's 2 posts

I cannot find listings for ITV+1 in the Radio Times or Saturday Telegraph. Where can I find them please?

D.Attridge's 2 posts
Monday, 3 February 2014

D.Attridge: The point of the "+1" channels is that they are one hour behind. So ITV+1 shows what ITV showed exactly one hour before. Channel 4+1 shows what Channel 4 showed one hour before. Thus, there is no need for separate listings for them.

If it's confusing you that much, put your clock by one hour and then only watch the "+1" channels.

Dave Lindsay's 5,724 posts
Wednesday, 2 July 2014

Hello, last night whilst watching ITV + 1 a notice flashed up stopping the programme & stated that "if you can see this notice then it is illegal to watch a programme one hour after it has been shown, please switch to ITV etc" after a while the notice vanished and the programme continued. why did this happen?

I've watched ITV + 1 many times and found this notice very strange

Regards

Angela Ward

Angela Ward's 1 post

Angela Ward: Broadcasters have to have rights to show programmes. They will need be licensed to show on ITV+1 as well as ITV. The message implies that they didn't have the rights to show the programme on +1.

However, if the programme was Benidorm then it contained a reference to Rolf Harris and was not broadcast on +1 for that reason.

Dave Lindsay's 5,724 posts
Wednesday, 17 September 2014

When i watch 33 ITV +1 (Meridian south coast), the Meridian news is not South but Meridian south east (i.e. east sussex to kent) not hampshire this is stupid. Who ever set the transmitter in IOW is transmitting (Meridian south east) 33 ITV +1. Unlikely standard ITV 1 normal hours. Its nice to know what happens in kent but i live in portsmouth!

C buckland's 1 post
Select more comments
Your comment please