Freeview reception - all about aerials

Brian Butterworth published on UK Free TV
Updated 8th January 2014.


Your ability of receive all the Freeview transmissions depends on the suitability of aerial
the design style,
the "group", and
its physical location.
Standard type - Yagi aerial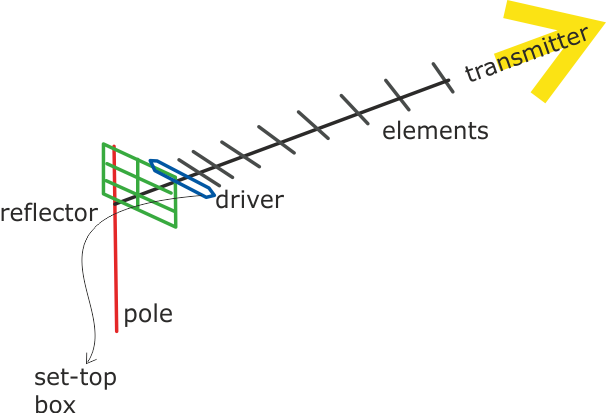 The
standard
type of TV aerial is known as the Yagi aerial. It is mounted on a pole, and consists of a rod with a reflector (shown green) at the back and many spiky elements (in grey) at the front. The connecting
cable
connects to the element nearest the reflector, known as the driver (shown in blue).
These Yagi aerials are directional and so pick up signals best from a
transmitter
that the rod points towards. The more elements the aerial has, the better it picks up a
signal
and becomes more directional.
A standard-type aerial is all that is required for
digital
TV
reception
in most places. These antennae have between 10 and 18 elements and a single reflector. These are recommended for new installations for good digital television reception, but will more often than not function perfectly in good reception areas.
Typically these aerials are designed to receive only some transmission frequencies - see "groups" below.
High Gain aerials

These aerials are designed for poor digital reception areas, and have two reflectors. For maximum signal strength, some digital high
gain
aerials have up to 100 elements. Since the
switchover
to digital-only transmissions back in October 2012, most UK households now have good
quality
digital TV signals.
A more expensive aerial is only required where the signal strength is low, but can often provide the whole Freeview reception where it might otherwise be impossible.
The CAI (that represents aerial installers) has four standards for digital TV aerials. The highest standard "1" is for homes on the fringes of coverage areas, intermediate standard "2" is suitable for use within the coverage area; minimum standard "3" is for good coverage conditions.
These aerials can be either
wideband
, or receive only selected frequencies - see "groups" below.
Grid

You may haved used a 'Grid aerial' for
analogue
reception, but as they are generally unsuitable for Freeview reception, they have now generally been replaced by the Yagi type. However in some places a Grid aerial installation may work for Freeview: otherwise replace with a standard Yagi aerial.
Indoor
Indoor aerials
are generally not suitable for Freeview reception. In areas of good signal strength it is often possible to receive some transmissions. Even where an aerial works, people often find that may get interruptions to their viewing (or recording).
Loft mounted
Loft
mounted arrivals are not generally recommended for Freeview reception, as the
roof
tiles and plumbing will degrade the signal. Some compensation for this loss of signal can be made by using
satellite
-grade cable to connect the set top box to the aerial.
Positioning
The best position for a TV aerial is mounted outdoors, as high from the ground as possible, pointing directly at the transmitter. The signal can be blocked by hills and tall buildings. It should be positioned away from any other aerials.
Horizontal or vertical?
The transmitter will either use vertical
mode
which requires the elements of your aerial to be up-down, or horizontal mode which requires them to be level with the ground.
Groups
Both analogue and digital television is transmitted the same group of transmission frequencies (known as
channel
21 through to 60). A coloured marking on the aerial shows the group.

To create the best possible analogue
picture
, TV transmissions from adjacent transmitters have been designated to several different groups of frequencies. By using an aerial that receives only the
channels
in the correct group, the analogue picture can be kept free from
interference
.
To receive Freeview transmissions from the same transmitter it has been sometimes necessary to use frequencies that are not part of the transmitter's normal group. When this has occurred, the aerial will need to be replaced with a "wideband" aerial (also known as group W) - one that covers every group.
As
Ofcom
is planning to move the TV frequencies again - perhaps as soon as 2018 - it may be wise to use a wideband aerial if you can to ensure you can keep viewing Freeview for many years to come.
Comments
Tuesday, 3 November 2015
M
MikeP
12:17 PM
Trowbridge

Laurence:

A lot depends on local terrain and surrounding buildings or hills. The general advice to mount an aerial 'as high as possible' is to raise it above the local causes of reception problems, such as people, houses, trees, etc. The tiles of a roof are unlikely to be good reflectors of RF signals, which is why some have their aerial inside the loft with a slight loss of strength due to the signal travelling through the tiles and felting.

The 'ideal' position depends very largely on the local conditions.

MikeP's 215 posts
MikeP's:
map
M's Freeview map
terrain
M's terrain plot
waves
M's frequency data
M's Freeview Detailed Coverage
Thursday, 26 November 2015
P
Phil Jones
5:37 PM
Torpoint

I live in Downderry PL11 3JA and currently pick up most of the main channels via an indoor aerial.
I'm thinking of putting an 'outdoor' aerial in the loft which might pick up a few more channels - Iitv 4 channel5 +1 etc
To which transmitter should I point the aerial - Plympton or Caroden and do I need a special aerial or is wideband ok?

Phil Jones's 1 post
Phil's:
map
P's Freeview map
terrain
P's terrain plot
waves
P's frequency data
P's Freeview Detailed Coverage

Phil Jones: Indications are that the only station receivable in the postal code area of PL11 3JA is that of the local Freeview - light - Downderry transmitter, zero reception indicated from Caradon Hill, but with the exception of traces of a signal from its PSB3 /BBCB HD transmitter on Mux C22.

The reception problem from Caradon Hill basically caused by the signal from same suffering from a reasonably sizeable line-of-sight obstruction from just under 1mile prior to your location, obstructions of this nature affecting reception to a much higher degree the closer they are to the receiving aerial.

However, if the post code in question covers a somewhat larger area? then you might be able to receive a signal of sorts from Caradon Hill, as a few test p/code tests from around your area indicated reception as being extremely variable, insomuch, Torpoint receiving good signals from both Caradon and Plympton.

Therefore, dependant on the type of indoor aerial being used, purely for test purposes, try mounting it up in the loft with the aid of a coax extension lead, the aerial being mounted horizontally and pointing at an angle of 348 degrees for Caradon.

Once done, go into your TV or boxes set up menu and select "manual tune", entering C28 (Caradon's BBC) into the box but "not" searching or scanning, because if any traces of a signal is being received, the strength / quality of will show up on the indicator bars. If it does, use that indicated to fine tune the position of the aerial.

Should reception from Caradon prove as being possible, then you could try tuning in the other three commercial multiplexes, namely C21 - C24 - C27, COM7 (C31) and COM8 (C37) being much lower powered HD transmitters.

Further advice dependant on outcome of test.


jb38's 7,179 posts
jb38's:
map
J's Freeview map
terrain
J's terrain plot
waves
J's frequency data
J's Freeview Detailed Coverage
Monday, 30 November 2015

Your "all about aerials" section doesn't mention log periodic aerials, a surprising omission.

Michael Glaves's 6 posts
Sunday, 6 December 2015

Mike B: What a load of waffle

Lucy's 1 post

Lucy: And what particular waffle would this be?

MikeB's 2,579 posts
Thursday, 18 February 2016

Now that manufacturers are not going to make any televisions that are not HD, and are already pushing 4K TV, when will broadcasters catch up and make sure we can get more HD channels in all areas of the country?

Paul Bale's 8 posts
Saturday, 2 April 2016

Im very old school and live in the out skirts of st austell and ive lost most of my digital reception and idont know if its the aerial or the connecters or the cable so who do i call to sort this out and how much is tnis going to cost me

Jackie GLITHERO's 1 post

Jackie GLITHERO: Firstly, check if its the transmitter - put your postcode into the site, and it should bring up a load of links, including D & G service - that will let you know if there is a problem. Ok, check the signal level - too high or low?

Next, you could simply change the aerial lead - even a Poundland one might do the trick. If its the cable inside the wall, or outside, or the aerial itself, then a professional is probably called for.

Before you call them, look at this website: Planning Your TV Installation
A huge amount of info, but at least they will give you an idea of the sort of price you should be paying for quality cable, aerials, etc. I couldn't tell you how much it could cost, but I'd say that a brand new aerial with cabling should be anything from a 125 to 180. If the company says it can do it for 70 or only has a mobile number, ignore. There is a riggers zone on this site - try asking for anyone local to you there.

MikeB's 2,579 posts
MikeB's:
map
M's Freeview map
terrain
M's terrain plot
waves
M's frequency data
M's Freeview Detailed Coverage
Tuesday, 17 May 2016

please can you help my freeveiw was working fine, now there is no signal i have checked every thing except the aerial,have checked coverage on line, retuned, should i get a stronger signal aerial i live in newport so can only get the west

Gary Jones's 1 post
Select more comments
Your comment please