Indoor aerials

Brian Butterworth published on UK Free TV
We have tested a number of indoor aerials, to investigate how well they work for Freeview reception.
Simple stick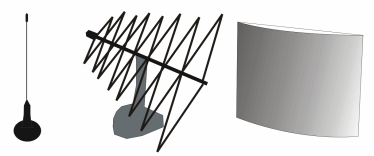 The first is a small 20cm high simple stick aerial, costing a few pounds. This was found to give adequate reception of (16QAM-
mode
) Freeview
channels
in strong
signal
areas, especially outside.
However, unless it can be placed in direct sight of the
transmitter
an only unsatisfactory signal can be received.
Indoor Yagi
The second form of aerial is of the Yagi design of around 30cm length, costing around 10.
This aerial was slightly better than the simple stick design, largely because it can be directed to point at the transmitter and be positioned horizontally or vertically as required.
However, in poor signal areas the
64QAM
channels were not received, and the aerial required good placement to get an uninterrupted Freeview signal.
Indoor Panel aerial
This was found to have around the same reception
quality
as the Indoor Yagi type, and cost around the same.
Indoor digital aerial with booster
Costing 25-30, the improvement of the signal provided by a modern internal TV aerial. Typically able to boost the signal by 36dB, this type of aerial when well positioned provided stable, uninterrupted Freeview reception on all channels.
Comments
Tuesday, 26 July 2011

John: Just noticed Mazbar's reply, and agree insomuch that the landlord has nothing to lose if a tenant volunteers to pay for the aerial himself.

jb38's 7,179 posts

Thanks for your replies jb38, which satellite kits are you referring to? Can you recommend one please?
Thanks
John

John's 2 posts
Wednesday, 27 July 2011

John: I think he's referring to these -
TV & Satellite : Free-to-Air Satellite : Free-to-Air Satellite Kits : Maplin Electronics
.

Briantist's 38,900 posts

Briantist / John: Yes, thanks Briantist, that's the type of kits I was meaning, or even the one that Aldi has in stock now and again, the dishes supplied with these are a bit on the small side for use in Northern parts of the UK (Scotland) as far as ease of alignment is concerned, but no problem in Southern areas.

jb38's 7,179 posts
Thursday, 28 July 2011

I have a Technika DTV in my bedroom with a SLXA amplified set top aerial (roof or attic aerial not an option) on which the reception is brilliant on most channels except film4 in the evening; unless a taxi stops outside or there are people metal detecting on the beach 50 yards away where upon I lose the signal on pretty much every channel. What can I use to filter the reception to prevent this?

Julie's 2 posts
Friday, 29 July 2011

Julie: If you want reliable Freeview reception, use a rooftop aerial. Indoor aerials are not suitable for stable Freeview reception.

Briantist's 38,900 posts

Quite so Briantist but as a roof top aerial is not an option available to me an Indoor aerial it must be. Do you know if there is something I can use to filter out occasional localised interference? The amplifier is set to low but it does make all the difference to a non-amplified aerial.

Julie's 2 posts
Saturday, 30 July 2011

Julie: Mentioning your location would have been of assistance in determining what strength of signal you are liable to be receiving, but in answer to your question there really any form of filter you can use to help eliminate localised interference.

The only two things you can do is, "if" your rooms window faces in the direction of the transmitter then site the aerial at the window using an extension lead, and secondly, make sure that the aerial is orientated in the correct polarity for the transmitter, horizontal or vertical as the case may be, find this out by looking at roof aerials nearby.

The transmitter that you receive from "may" still be on low power prior to switchover, but as aforementioned this being where knowledge of your location (post code) would have enabled this to have been found out.

jb38's 7,179 posts

julie: correction > really "isn't" any....

jb38's 7,179 posts

Julie: There are filters available for reducing e.g. taxi interference - "Google TVI filter" to see what the simple ones are like. For proper filtering, Vision make a V25-101.
There's a complication though for your setup - the filter needs to go between the aerial and any amplifier (to prevent input overload and subsequent distortion in the amp). With your SLx aerial, you can't insert the filter in the correct location, and adding the filter after the amplifier won't work (amplifier will still overload).
You could consider a non-amplifier set-top aerial (e.g. Telecam TCE2000) connected to a filter and then have a separate amplifier.
I've yet to see an amplified set-top aerial that incorporated a decent filter.

Jm F's 141 posts
Select more comments
Your comment please