Where are the public service (Freeview Light) transmitters?

Brian Butterworth published on UK Free TV
There are many TV transmitters in the UK, but only 81 of them carry all the services including the three commercial multiplexes. The other 1,036 transmitters will only carry the three public service transmitters, sometimes called Freeview Lite.

The commercial operators, SDN (originally S4C Digital Networks, now part of ITV plc) and Arqiva (originally as Crown Castle International, the privatized BBC Engineering) declined the invitation from Ofcom to extend their transmission network, see No new full Freeview transmitters.

As the transmitters can cover millions of homes down to less than 100, this means that:


In England, there are 54 full service transmitters and 583 public service transmitters, but the three-multiplex transmitters only serve 7% of the population.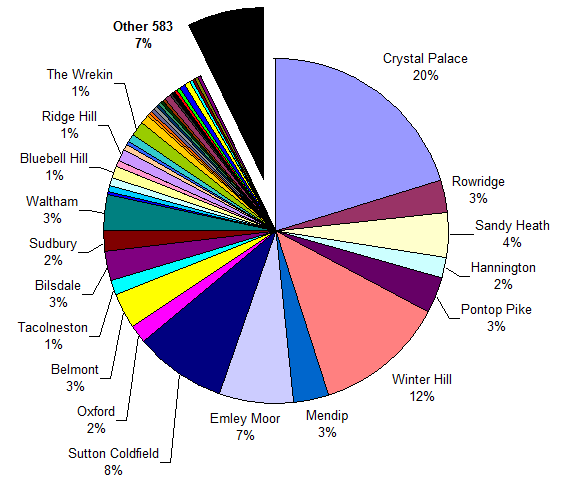 The main reason for the commercial operators not extending their networks is the uneconomic nature of these sites. It is not simply a question of being allocated frequencies by Ofcom (these were freely available to the operators) - the cost of installing the three antennas on each mast, the considerable capital expense of providing the transmission equipment and the ongoing network, power and monitoring costs.

In Scotland, the 14 main transmitters cover 85% of the population with full Freeview, but those in the mountains and islands are again uneconomic. Indeed, the Black Hill transmitter alone covers 40% of Scots.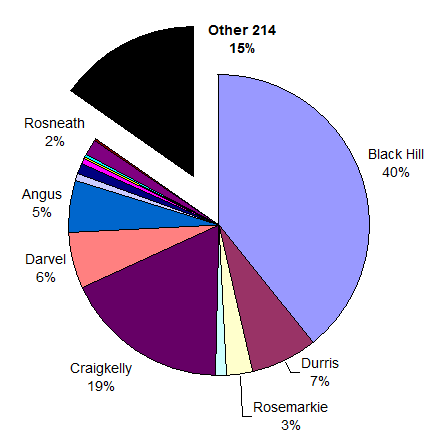 Looking to Northern Ireland, the Divis transmitter provides services to 67% of the population, with two other full service transmitters providing the next 13%. However, again 20% of the population are provided by the other 43 and these will provides just the public services.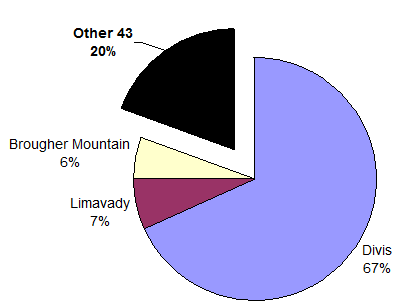 TV viewers in Wales stand the most chance - one in three - of being short of channels. Nine main transmitters cover 66% of the population, and in the mountains and valleys the other 196 transmitters cover very small populations each.




Map showing public service only areas in England, Wales, NI and Scotland.


Comments
Thursday, 23 February 2012

John: I don't see anything on the site about anything happening in 2012 - DSO's already happened across Scotland. The Digital UK tradeview estimator suggests you might be able to get the commercial muxes from Angus already with a good group C/D aerial with horizontal polarisation pointing approximately ENE (a bearing of 59°) in place of your current group B aerial with vertical polarisation pointing south. I wouldn't like to make any guarantees - maybe there are some hills in the way? - but if you already have a half decent wideband aerial you could go up on the roof with a compass and re-orient your aerial and see if you can get any sign of any signal on channels 53 and up (PSB muxes included) before you go buying a good group C/D aerial.

John Robinson's 43 posts

John, the Digital UK postcode checker shows this: Postcode Checker - Trade View

Angus looks like your best bet, with a little improvement due from March 6th on the commercial muxes.

Greebo's 13 posts
Wednesday, 7 March 2012

Help don't have a clue! I like to watch tv in bed but since moving into my new-build house 2 years ago, husband put up aerial in loft (from b and q) in loft and has tried and tried and can't get a signal with tv we have no aerial on roof but we have sky downstairs but not looking to have sky upstairs is there a way we can sort this?

Jo's 1 post

jo: Its impossible for anyone to offer advice without them having knowledge of your location, this preferably in the form of a post code for purposes of greater accuracy when assessing the signal levels expected in your area.

jb38's 7,179 posts
Saturday, 31 March 2012

I have a HumaX BOX. AND AM TRYING TO GET CHANNEL 12 (YESTERDAY). kEY IN 12 AND PRESS ENTER. nOTHING HAPPENS. pLEASE ADVISE

ELAINE BAYES's 1 post

ELAINE BAYES: This is likely because you are not receiving the multiplex that's used by programme Ch12 (Yesterday), which could either be caused through having poor reception or alternatively by being located in a Freeview "light" transmitter area, exactly which impossible to verify without knowledge of your post code.

jb38's 7,179 posts
Monday, 23 April 2012
P
Paul Murphy
12:51 AM
Bourne End

How are the channels on 'Freeview Light' decided upon?

We've just finished the Digital Switchover and using the Wooburn relay we get just the 'Freeview Light' channels. This is a big let down but its exacerbated by the fact that there are '+1' channels using up valuable space that standalone channels could (should) be using instead ie ITV 1 +1 instead of ITV 3 (or 4), Channel 4 +1 instead of Film 4. Surely the delayed channels must be considered a 'luxury extra' that should be made available only if there is sufficient multiplex capacity after the main 'live' channels are provided.. How was this decided upon and who is responsible?

We may not be able to get more multiplexes (for cost/benifit reasons) but I can't see why they shouldn't try to please more customers with more distinct channels. If people really need '+1' channels, that's what video recorders/time shift TVs are for. My TV Tuner equipped Windows 7 HTPC does this perfectly but even the best of such devices won't get additional 'commercial' Freeview Channels in such locations. We already have a new (professionally installed) aerial and receiving directly from Crystal Palace is not an option (the guy checked) so it's important to make the most of what multiplexes we do have access to! Who can I write to?

Paul Murphy's 6 posts
Paul's:
map
P's Freeview map
terrain
P's terrain plot
waves
P's frequency data
P's Freeview Detailed Coverage

Paul Murphy: There are different regions for ITV1+1, thus the multiplex that it is carried on must have different regional variants.

The SDN Commercial multiplex which carries ITV3 has two variants: Wales and everywhere except Wales. Putting ITV1+1 on it would mean quite a few more variants would be needed, pushing up costs.

Also, I expect that consideration will have been given to what will bring in the most revenue from advertising.

I wouldn't waste my time writing to anyone; it is as it is. It looks as though you will have to go down the Freesat route if you want these extra channels.

There are some differences between Freesat and full Freeview:

Compare Freeview and Freesat TV | ukfree.tv - independent free digital TV advice

Dave Lindsay's 5,724 posts
Tuesday, 8 May 2012
P
Paul Murphy
8:17 AM
Bourne End

Dave Lindsay: Thanks for the swift and clear answer. In the case of ITV 1 (+1) what they've done does make alot of sense for the reasons you've given but does the same apply for Channel 4 (+1) do you know? I thought there was just the one Channel 4 all around the country - the same as Film 4 (rather than there being regional variants). Although many people may watch the +1 channels, I suspect if they weren't there such people would either be watching the original broadcast (or recording it for playback later) and watching another channel instead so I don't see how the commercial argument would be strong in the long run.
ps when I put my postcode into your 'My Freeview page, it incorrectly gave High Wycombe Transmitter details rather than Wooburn. I'm in an area not covered by the High Wycombe transmitter (and the map shows this) so maybe you can fix this on your system? A generally very helpful and informative website BTW!

Paul Murphy's 6 posts
Paul's:
map
P's Freeview map
terrain
P's terrain plot
waves
P's frequency data
P's Freeview Detailed Coverage
Friday, 18 May 2012

Paul Murphy: Please see Macro Map | Interactive Map of Our Regions with Data - Channel 4 has regions for adverts, but not programmes.

Briantist's 38,908 posts
Select more comments
Your comment please