Freeview signals: too much of a good thing is bad for you

Brian Butterworth published on UK Free TV
Most people will experience nothing but simplicity and joy with the digital switchover - the process that turns off the old five high power analogue signals, and the existing six low power digital services and replaces them with six new high power Freeview multiplexes.

For those with problems, there are generally three issues.


Eliminating other possible problems first
The first is that very, very old equipment will not function with the digital signals split into 6,817 sub-signals, as it was only designed to work with 1,705 sub-signals. This is known as the "8k
mode
issue" - see
TVs and boxes that do not support the 8k
It is also common that people do not clear out the old
channel list
(by selecting "first time installation" retune, "Factory Reset" or "Shipping Condition") before doing an "autoscan" for the available broadcast frequencies, and this results in everything from missing
channels
to no subtitles, programme guide, wrong channel numbers and no text services. If you can't find how to do it see either
Freeview Retune - list of manuals
or do it this way:
My Freeview box has no EPG, is blank, has no sound or the channel line up is wrong
.
A third problem is caused by having signals from more than one
transmitter
- see
Digital Region Overlap
.
The final very common issue is "too much
signal
".
Transmitters have much more digital power after switchover
At most transmitters, the digital signals after switchover are considerably more powerful than before. This was because when the analogue and digital services ran together, the digital services were kept low to prevent appearing as snowy
interference
on television sets using analogue
reception
.
Here is an example, from
Sutton Coldfield
, of how the signals change at switchover:

4,000kW of analogue signals are turned off, and the digital services increase in total power from 48kW to 1,200kW - that is an increase of 25 times in numerical terms, also know as +14dB. (The reduction of -7dB from the analogue strength is intended - the digital services require less power to cover the same number of homes).
This large increase in power should cause no effect for most people. A stronger signal does not increase the
picture
quality
(you need
Freeview HD
for that), sound levels - the only effect should be that more homes that are further away from the transmitter
mast
can receive a stable digital signal.
High gain aerials and signal boosters
However, many people have been tempted into buying one both high
gain
aerials and signal boosters.

High-gain aerials were very suitable for places where the Freeview signal before switchover was very weak indeed, but if you have one of these and you are located closer to the transmitter, you will probably now have a signal overload.
Generally speaking, signal
booster
devices are never
really
much use for Freeview reception, and much of the time they actually amplify the interference more than they do the signal, causing reception to get worse, not better.
How to tell if you have too much signal
There are almost as many ways for a Freeview box to display the "signal strength" and "signal quality" as there are types of Freeview box. Here are some of them: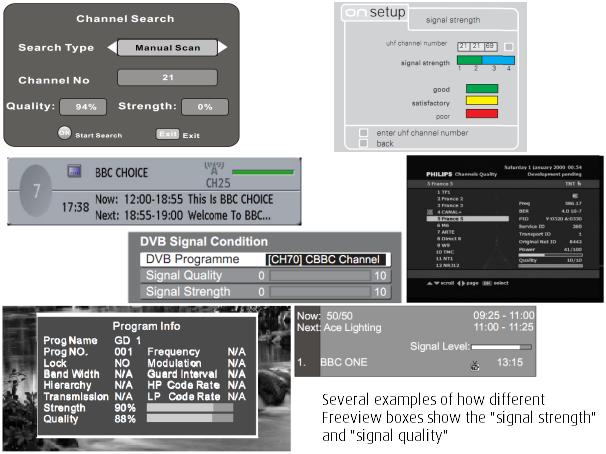 Speaking generally, there will be two indicators:
One is
signal strength
- this shows the power level of the signal entering the Freeview box. Often "0" is the lowest and "10" the highest, but sometimes it can be a percentage, sometimes coloured boxes and so on.
The signal strength should be around 75% - more than this indicates too much signal.
The other measure is the
signal quality
and this is much more important to high-quality Freeview viewing. Any measures that increase this to the maximum will provide for uninterrupted viewing, lower values will result in "bit errors" that cause the picture to freeze and the sound to mute out.
One problem with over powerful signals is the overload can sometimes show as a low signal because the receiver circuitry will enter a "blown fuse" state to protect itself.
How to deal with too much signal
First, if you have a booster or
amplifier
- remove it from your system. Don't just unplug the power, as this will result in
no signal
getting though the device.
If you can't just disconnect the
output
cable
and connect it to the input cable, you might need a coax female-female coupler to connect two male connectors together.

If you don't have a booster or amplifier, you might have to fit an attenuator onto the cable. They come in two types, either a "single attenuator", around five pounds, or a variable attenuator, for around ten pounds. The variable sort has a knob that can be turned to select the required level of signal dampening.
Comments
Thursday, 8 March 2012

Adam:
Thanks for that, it's a good tip.

Nick Flowers's 3 posts
Friday, 6 April 2012
T
Tony Hill
4:44 PM
Dorchester

All:

Update on my re-tune signal strength situation - a useful lesson?

We are on the western edge of the Rowridge transmitter area and I have been using a masthead amp plus a loft distribution amp to serve two TVs. After the second upgrade my Freeview box was overwhelmed with signal strength over 95% so I bypassed the distribution amp and used a simple splitter: strength fell to 60% on the main TV and only 40% (at best) on the other - no good. I then tried using the distribution amp for the secondary TV - only up to about 45%. After many trials I settled on:

- masthead amp signal split and fed to two separate loft amps
- additional set-side amp for additional TV

Now all perfect with signal strengths all about 70-75% and quality 98%

So:
- main TV has masthead plus distribution amp
- other TV has masthead amp + another distribution amp + extra TV amp

Cor! It works but I can't believe that all this should be necessary for reception in Dorset!

Tony Hill's 65 posts
Tony's:
map
T's Freeview map
terrain
T's terrain plot
waves
T's frequency data
T's Freeview Detailed Coverage
Monday, 9 April 2012

Dana: Albert Einstein said that insanity was "doing the same thing over and over again and expecting different results".

You might like to read the checklist at the top of the page.

Briantist's 38,899 posts
Monday, 23 April 2012

I have a signal strength of about 88% & all Freeview chans work fine, but when i switch the bedroom tv off i loose some channels & have to retune again! This only happens to the bedroom tv, not the downstairs one. I have tried switching tv's around, but this still happens. So i think tv is fine, maybe more to do with signal? This only started after switchover in april.

(ps- I have a High Gain Aerial(6 months old) & a Signal Booster(situated downstairs behind lounge tv).

Any ideas would be appreciated...Thanks.

John's 2 posts

John: This is quite a commonly experienced problem and is usually always caused by the TV having found more channels than its memory system is capable of storing.

One way to get over the problem is by after having carried out a re-tune go into the edit channels menu and delete everything that's not required, as that will reduce the total number stored in the memory, or if your TV does not allow you to do that carry out a factory reset (or default setting) on the TV before carrying out another auto-tune.

Another way that "sometimes" (set dependant) works is to pull the aerial out and carry out a re-tune but just stop it as soon as it starts to scan as that should have blanked out blank the memory, then reconnect the aerial and re-tune as normal.

jb38's 7,179 posts

(From John):
Thanks "jb38" for your quick response!
I tried the 3rd option, (pulling out aerial, whilst doing a retune) & it works fine now.

So thanks again & all the best.

John

John's 2 posts
Friday, 15 June 2012
J
Jean Preston
2:40 PM
Farnborough

I recently bought a new freeview ready TV for use in the bedroom. I was working fine until yesterday and now all the channels have gone. I've tried re-tuning with no success. The tv in the living room is still receiving a signal through a Freesat box. Any ideas what the problem and solution is please.

Jean Preston's 1 post
Jean's:
map
J's Freeview map
terrain
J's terrain plot
waves
J's frequency data
J's Freeview Detailed Coverage

I live in Harefield and now have full power Freeview from Crystal Palace after variable service for years due to dodgy location. The one TV that generates any sort of issue is Tesco's Technika 22" set with built-in Freeview and only on channel 82, Sky News. Signal strength is often 82-85%. At night, the picture freezes momentarily.
You have recommended an attenuator but as access to my aerial socket is difficult due to furniture fitting, can you fit them to the socket on the TV?
Thanks (51.6052,-0.4971)

Mike Gordon's 8 posts
Saturday, 16 June 2012

Mike Gordon: I don't think that the problem could be too high a signal strength (which can be rectified by attenuation).

The tall aerial masts can clearly be seen on the Bird's Eye photographs on Bing Maps and these tell a story.

The problem would appear to be that you live low down and that you are receiving the signal over the brow of a hill, and are close to the hill at that. The problem of the signal going at night is probably caused by the vegetation on the hill or slope getting damp and acting to reflect the signal away.

To understand this, imagine that the signal was a large beam of light. Due to the fact that you're over the brow of the hill of don't have line of sight, you're trying to pick up when light comes over the hill.

Now consider when the sun is low to the ground and shining through trees. The trees cause shadows and as the wind blows, the light changes. Now apply this understanding to what's happening to the signal to your property.

I have set out below an analysis that shows there are a number of groups of trees that are likely to be problematic.

You probably saw the effects with analogue. I expect that when it was wet and windy it be particularly bad as not only would the trees be acting to reflect the signal away because they're wet, but the bits of signal that get through would be changing owing to the fact that the trees were blowing about. Maybe it was different to differing degrees at different times of year, the signal getting better when the leaves fall of the trees.

I did this plot of the signal path from Crystal Palace to your house:


Terrain between ( m a.g.l.) and (antenna m a.g.l.) - Optimising UK DTT Freeview and Radio aerial location

Click the link below the plot on that page to view a map of the area between the two points.

I zoomed out so that both points were visible on the screen. Holding a ruler up to the screen I found that the length of line to be 22cm. The distance to the transmitter is 22.1 miles, so I then looked at what's on the ground in the first mile and a half away from your property. This is the red bit marked on the plot and appears to be roughly up to Breakspear House or thereabouts.

The trees at Old Orchard Lodge would appear to be in the way and quite close at that. The signal path intersects Church Hill, somewhere near Countess Close. Assuming that it is close to the ground, you have the buildings there as well. The trees your side of Dovedale Close, near Chestnut Cottage look as though they could just be in the way. The line doesn't quite intersect them, but the point at your end isn't quite on your house. Then there are trees near Breakspear House as well, which is about a mile and a half away, so I think that's your lot.

Everything further away from you would appear to be under the line of the signal. That is, Bayhurst Wood Country Park, for example, is in a dip and therefore the signal goes over the top of it.

-----

The Commercial multiplexes, which include ITV3, Pick TV, Yesterday, Sky News and others use a signal mode that is more susceptible to break-up with poor signal than the Public Service ones (which carry BBC, ITV1, ITV2, C4, C5 etc.

The reason the Commercials do this is so as to fit more services in. This obviously comes at the expense of some fringe viewers.

Different receivers having differing levels of sensitivity and tolerances. This probably explains why some work OK and some faulter.

Dave Lindsay's 5,724 posts

Thanks for the very helpful info here on reducing signal strength. I've been battling with no HD reception for weeks, Sony shop and helpline useless. Found this and resolved it in seconds by disconnecting the booster we had fitted before the switchover/increase in signal from Sutton Coldfield. HD channels now sparkling! No dropping out and no pixellation. Thanks!

Jill's 6 posts
Select more comments
Your comment please