Final mapping updates: new server, region overlaps, HTML5 radiations and pre-DSO

Brian Butterworth published on UK Free TV
The "overlay" graphics that display transmitter coverage areas and TV regions onto the Google mapping used on UK Free TV have been moved to a new Amazon Web Services (AWS) m1.small server, with new code to ensure the maps show as quickly as possible.

The server for the overlays has: 1.7 GB memory, 1 EC2 Compute Unit (1 virtual core with 1 EC2 Compute Unit), 160 GB instance storage, 32-bit or 64-bit platform, I/O Performance: Moderate.

This joins the two AWS t1.micro UK Free TV graphics servers (img1 and img2.ukfree.tv) which work alongside the main www.ukfree.tv machine, which is provided by BPWEB.

Region overlaps
The maps of the television regions (including the
BBC regions
, ITV1 regions and transmitter regions used for
digital
switchover
) now show the areas that overlap with other regions.
On each map, the area where the signals from the transmitters are strongest from the selected region are shown in green (bright green for strong signals, dark green for the weakest).
Where there are signals from the current region, but there are stronger signals for another region, the colouring is cyan where the signals are strong from the selected region to dark blue where the signals are weak from the current region. As shown here:
Radiation patterns now in HTML5 canvas format
The
radiation patterns
for each transmitter have been changed to display in HTML5 "canvas" format (but are otherwise unchanged), and now include data for
Saorview
transmitters and pre-
DSO
where this is available.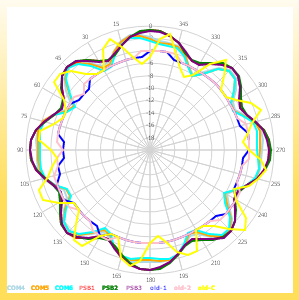 Pre-DSO radiation patterns
The following transmitters have radiation patterns for their pre-switchover configuration - this is now shown correctly on each page (when you click "pre-DSO 1") on the coverage map.
Aberdare
,
Bressay
,
Brierley Hill
,
Bristol Ilchester Crescent
,
Bristol Kings Weston
Hill,
Bromsgrove
,
Chesterfield
,
Fenham
,
Hemel Hempstead
,
Idle
,
Keelylang Hill
,
Keighley
,
Knockmore
,
Lark Stoke
,
Malvern
,
Nottingham
,
Pendle Forest
,
Pontypool
,
Rumster Forest
,
Saddleworth
,
Selkirk
and
Sheffield
Here is a sample of transmitters in pre-DSO
mode
:
Comments
Sunday, 1 April 2012

james: I also meant to say that commercial muxes from Divis ArqA Ch48 and ArqB Ch34 are presently indicated as being possible to receive in Girvan, but with them only being on 2Kw and 1.6Kw respectively I think there is a bit wishful thinking involved with the predictions given, but though both these muxes increase to 50Kw in October and so the situation will be totally different then.

jb38's 7,179 posts

James: It's worth reading ATV's site about aerials. In particular, wideband Yagi aerials have less gain at Group A frequencies:

Gain (curves), Again

Probably best to use a Group A aerial for Divis.

Dave Lindsay's 5,724 posts
Monday, 2 April 2012
L
L Sperring
11:22 AM
Weston-super-mare

I live in Weston Super Mare BS22 9SA.I have retuned which was straight forward on the Television Signal but I have problems retuning on my Video.BBC 1/2/3/ Channel 4etc
are all from the Welsh Transmitter.The Guide programm is missing also ITV 3.Please advise
Panasonic TV and Panasonic Video

L Sperring's 1 post
L's:
map
L's Freeview map
terrain
L's terrain plot
waves
L's frequency data
L's Freeview Detailed Coverage

L Sperring: You're picking up the Welsh transmitter Wenvoe.

Run the tuning scan with the aerial unplugged up until 60% (then plug in).

This will hopefully miss out Wenvoe.

Having done this, you will probably be missing ITV3. Go through to manual tuning if your receiver allows and tune to UHF channel 48. If you're missing Yesterday, then do the same for UHF channel 52 and for ITV1 it is channel 54.

Dave Lindsay's 5,724 posts
Tuesday, 3 April 2012

I Live near Chelmsford, Essex. Freeview is clear except for Film 4, Yesterday and ITV 4. Sometimes they transmit and reception is exce;llent, but most of the time there is no signal. Could anybody tell me why, please?

Helen's 1 post
Helen's:
map
H's Freeview map
terrain
H's terrain plot
waves
H's frequency data
H's Freeview Detailed Coverage

Helen: Because those services are on low power until 27th June. On that date it will be necessary to carry out a retune to continue watching them. Don't carry out any retunes until then as there is no need to and you may just end up loosing them from your TV altogether.

Dave Lindsay's 5,724 posts
D
Dave Chappell
10:58 PM
Blakeney

Hi Brian,
I very much like the indication of what should be available on the reception coverage maps. However for me at Gl15 4TU, no full freeview transmitters are shown, despite the fact I've just retuned freeview on Mendip as recommended and can now receive the previously intermittent multiplexes. All the coverage map can give me is a distant freeview lite relay which isn't even the closest. I hope you'll be able to get it working better (For me, it was better before the improvements).
Keep up the good work !

Dave Chappell's 10 posts
Dave's:
map
D's Freeview map
terrain
D's terrain plot
waves
D's frequency data
D's Freeview Detailed Coverage
Wednesday, 4 April 2012

Hi Brian,
I've finally sorted how to get the mapping to give me the information I want. My postcode covers an area where the signal strength varies across the area. Your new software is almost too good and chooses the relevant transmitter based on possibly only a dB or two signal difference. I had to use an 8 digit grid reference working to 10m resolution to show the Mendip transmitter I'm receiving! (20 or 30m in the wrong direction and only a freeview-lite relay transmitter is shown). Maybe a possible improvement would be to widen the discrimination between transmitter signal levels so that more than one transmitter can be shown. (you use the term 'transmitters' plural on the map, but at present it seems to be always singular)
When you get the information you want it's pretty impressive - Many thanks. (SO63310646)

Dave Chappell's 10 posts
Saturday, 7 April 2012

Hi Just checking on the Frequency of Mendip BBCa transmitter Ukfree have it as 61 . Think it may go to 49 next year to clear 61 upwards for 4G network.

I just need to confirm this because I am on Ridge hill so no problem. But my mother and most of her elderly and non techno neighbours live in small village a few miles away and can get Mendip/Sutton Coldfield/Ridge Hill/Wenvoe and Oxford from their vantage point on top of the Cotswolds ( it depends where you point yr aerial to some extent). Specifically Wenvoe is so strong even at 80km plus doing an auto scan on an "uninteligent TV" means they get Welsh channels first ( they are lower channel numbers and most TVs scan low to high) , Therefore one needs to do a manual scan on each channel.
March 2012 they messed about with channels and several stations were lost ( again) , I see from digitalUk this will happen again in June and Oct 2012 as well as a major retune in 2013, when I think BBCa will goto 49 from 61 , this will mean four retunes in a year!!! Many folk have to call out a dealer ( or me for my Mum and her neighbours).

Could you just confirm channels are 61/54/58/52/56/48 for Mendip Txmitter. I look forward to the next three retunes that seem to be on the cards. It is keeping the local TV shop in work thats for sure.

CJ's 1 post
Monday, 9 April 2012

CJ: See 2013 - post-switchover changes to Freeview transmission frequencies | ukfree.tv - independent free digital TV advice :

"Mendip - BBCA C61 to C49"

"Wenvoe - ARQB C49 to C39+"

"Oxford - SDN C62 to C50"

See also Freeview on Mendip TV transmitter | ukfree.tv - independent free digital TV advice .

Hope this helps

Briantist's 38,905 posts
Select more comments
Your comment please