How do I know if the 4G broadband will overload my Freeview?

Brian Butterworth published on UK Free TV
Back in June 2011, we looked at how Ofcom moves to protect Freeview interference from 4G mobile .

Since then, the television Digital Switchover has been finished and 4th generation (4G) mobile broadband services - also known as Long Term Evoluition (LTE) have launched all over the world, including a service from Everything Everywhere (EE) in the UK.

To understand why and how these 4G broadband services will cause problems during 2013, you need to take into consideration a number of technical factors.


Understanding the radio spectrum
The
Radio spectrum
is the name given to the frequencies of the electromagnetic spectrum that can be usefully used to transmit radio, television and data services.
The top bar on the diagram below (or
download
) shows a selection of the services used in the UK, with old-fashioned long-wave radio, then medium-wave radio, though FM radio, the digital
DAB
radio services up to those used for television broadcasting. (See
here
for a
really
complex chart).

The highest frequencies on the diagram, the "ultra high frequencies" (or UHF) band is shown enlarged as the lower purple bar. In this range we can see TV "
channels
C21
to
C60
" (blue), second- and third- generation mobile phones (
2G
orange, 3G pink) and the location for the 4G services.
It is important to note that some of the 2G capacity in the "1800MHz" range has already been converted to 4G operation by Everything Everywhere (EE). The other two yellow boxes show the "
800MHz
" (to the left) "2.6GHz" (on the right).
For the purpose of
Freeview
reception
, only the
800MHz range
need be considered. The other two ranges will not cause Freeview problems.
Protecting Freeview receivers against overload
As we have seen already -
Freeview signals: too much of a good thing is bad for you
- Freeview boxes are designed to protect themselves against signal overloads. When they do this they close down and people often incorrectly
diagnose
the problem as being "
no signal
" when there is too much.
The problem that has to be solved as the 4G services launch, is that the new mobile broadband signals can cause overloads onto the frequencies that are being used for Freeview.

One particular problem is that a very common type of Freeview signal decoder, a
superheterodyne receivers
are sensitive to signals being present nine channels (72MHz) away.
In addition to overloads, 4G may also cause Signal-
Interference
Noise Ratio degradation, where reception breaks down because the
receiver
can no longer decode the digital information in the transmission.
Knowing who will win the 4G auction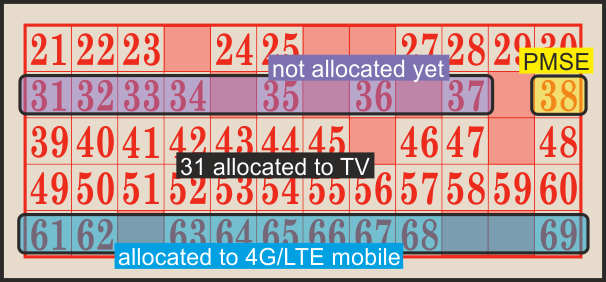 Until the
4G auction
takes place, no one will know which company has the right to use the 800MHz channels for mobile devices. The following companies have qualified to
bid
:
Everything Everywhere Limited (UK)
HKT (UK) Company Limited (a subsidiary of PCCW Limited)
Hutchison 3G UK Limited
MLL Telecom Ltd
Niche Spectrum Ventures Limited (a subsidiary of BT Group plc)
Telefonica UK Limited
Vodafone Limited
Viewing high power television and using low power mobiles
Using the
'Sitefinder' Mobile Phone Base Station Database
you can compare the locations of existing mobile phone "masts" with those used for
Freeview Transmitters
. Here is an example from Brighton and Hove, where a medium-sized single
mast
(
Whitehawk Hill
) can cover a whole city, but where hundreds of mobile phone base-stations cover a many smaller-by-comparison areas.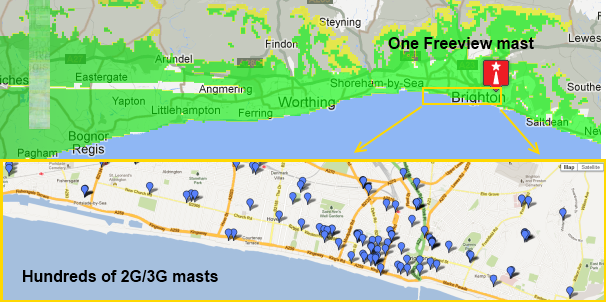 This illustrates two points. Firstly, that Freeview broadcasts are high powered and one-to-many - mobile devices are low
power
and peer-to-peer. The mast your TV signal comes from may be miles, sometimes tens or miles away, for your mobile perhaps only meters away.
The second point is that if an existing 2G/3G mobile supplier wins a 800MHz 4G slot, they will wish to use their existing "phone mast" locations (especially the 900MHz ones) as this would be most economical for them. Until the action winners emerge, and then plan their
network
, only
idle
speculation about possible interference can be made.
Using the TV frequencies for 4G masts and phones
Research (see
here
) shows that a 4G mast in relative close proximity, or a mobile 4G handset closer than a meter to an unfiltered Freeview box will cause overloading on many tested devices. The following diagram shows the relationship between the 4G use and the old TV channel designations.
Those
Freeview transmitters
that use channels above
C52
are most likely to have receivers that get overloaded by the use of 4G signals in the 800MHz area. FDD is
Frequency-division duplexing
- the transmitter and receiver operate at different carrier frequencies.
Interpreting the aerial and mast locations
Once the proposed mast locations for 4G services are known, it will then be possible to predict which homes will need to fit the special filters in areas
where Freeview uses the higher channel numbers (the C52 to C60 range)
.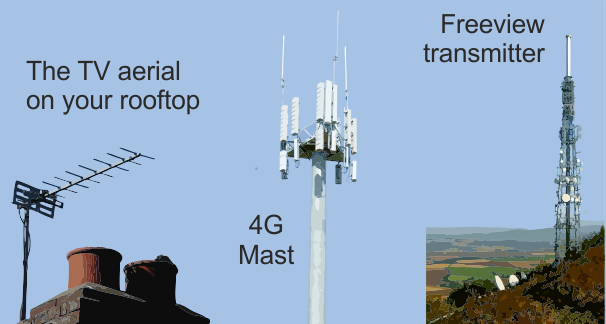 If you then have a rooftop
aerial
without a signal
amplifier
, to get an overload you will need the 4G mast to be in the line-of-sight between your Freeview transmitter and the aerial, or possibly "directly behind" the aerial.
If you then have a rooftop aerial and an amplifier, or perhaps have lower-grade cables, you are likely to need to protect from a 4G overload if the phone mast is close to your rooftop aerial.
Finding transmitters that use the higher range frequencies
Some powerful transmitters and many relays use the high frequencies:
Sudbury
,
Oxford
,
Belmont
,
Winter Hill
,
Tacolneston
,
Pontop Pike
,
Mendip
,
Emley Moor
,
Clermont Carn
,
Truskmore
and
Maghera
.
Click below to find out the transmitters in with high
frequency
allocations:
Protecting Freeview boxes and sets, cables, amplifiers from 4G devices
Again in areas where Freeview uses the higher channel numbers (C52 and above) you may have to protect your Freeview devices from signals from a 4G handset (such as mobile phone, tablet, or USB "dongle").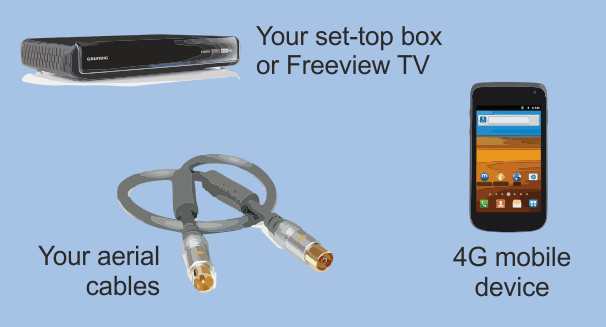 This may, once again, require the fitting of a special filter, or the upgrading of the "fly leads" used to connect your aerial to the set top box or TV. This may be a particular problem if you have used an indoor aerial or signal amplifier.
Comments
Saturday, 12 January 2013

£10,000,000 divided by 30,000 is £333 per home.

Briantist's 38,899 posts

And I don't know how anyone can say the there has been mis-selling - the DDR has ALWAYS been part of the plan!

See, from 17th June 2008 The great digital dividend sale | 4G mobile | ukfree.tv - 10 years of independent, free digital TV advice for example.



Briantist's 38,899 posts

From 18th June 2008 Digital Dividend Sale: possible services | 4G mobile | ukfree.tv - 10 years of independent, free digital TV advice

"Which new services can be run in these channels?

Ofcom will allow bids for the spectrum to be in blocks of 8MHz and 5MHz. This could mean that some allocations will no longer align to the traditional channel number boundaries.
...

FDM mobile broadband using frequency division duplexing (like 3G mobile) "

Briantist's 38,899 posts
Monday, 14 January 2013

Vodafone, O2 and EE have all received permission to convert some of their 2G allocations to 3G in the past, O2 certainly have done so in places.

Base stations are certainly not 'low power'. The permitted maximum power for 2G base stations is 32 dBW or 1.58 kW, for 3G that goes up to 35 dBW or 3.16 kW (at least that's true of the base stations at the Caversham phone exchange, over the road from me and on the path from me to the Hannington TV transmitter - though my aerial points to Crystal Palace). That's greater than a very large number of the relay TV transmitters, though not close to most of the 'main' TV transmitters.

The issue is going to be the *relative* power of the base station's signal, relative to the strength of the TV transmitter's signal, the background noise, and the interference from other TV transmitters that's already present. Different equipment is likely to be affected by different levels of interference. It makes figuring out who will be affected very difficult.

800 MHz transmissions may travel further, but that's true for both the wanted and unwanted signals. To get coverage at any decent level of capacity, they will need to use a dense mesh of base stations just as they do now. In rural areas, where it isn't interference-limited, there may be some advantage: however, that's the *least* likely place for 4G to be deployed. As ever, they will deploy the services in densely-populated town and city centres first, to maximise the number of people they can cover for the minimum outlay. Of the six blocks, only two will have any coverage requirements at all (these two will be auctioned together).

The auction is six blocks of 2x5 MHz, not three blocks of 2x10 MHz, though as I said earlier blocks 5 and 6 are to be auctioned as one lot.

I still find it deeply ironic that the guard band between downlink and uplink frequencies is 11 MHz, but the guard band between the new and previous users of the band is only 1 MHz.

Mike Dimmick's 2,486 posts

Thanks for the reply Brain Butterworth il just have to wait and see where they will put the new mast once they win the 4G bid. As long it's away from the Llanddona transmitter that's fine.

Declan McGrath's 13 posts
Declan's:
map
D's Freeview map
terrain
D's terrain plot
waves
D's frequency data
D's Freeview Detailed Coverage
Wednesday, 16 January 2013

I think the term we're looking for is desensing here. Whilst the signals are near to the wanted signals, they'll be within the pass band of any amplifier - indeed if there is any attempt to limit their bandwidth in any case. Just like some amplifiers are filtered against TETRA, those affected would have faced quite large costs to receive a relatively weak TV if they went down the filtering route, which would have been paid for by the 4G supplier. There's not much of guard band really and given that TV front ends go up to Ch 68, their receiver performance isn't in the communications receiver class. Seems they would simply shift those affected onto Freesat to avoid any excessive costs.

Andy Ripley's 32 posts
Thursday, 24 January 2013

found this article in the Guardian if it helps
http://www.guardian.co.uk…vice

It does mention the £10.000 sum (can we believe it)
and professor Sylvia Harvey, is quoted.
hope this is useful. (SK144AA)

Larraine's 1 post
Friday, 25 January 2013

Hi
To be honest I think it would be very wise to just wait and see, If any of you here are effected and then in the future if you do experience problems don't worry because for most of you we will be able to sort the problem out. If you over react you may end up having work done that was never required, Similar to all the people that rushed a head having new so called digital aerials erected when in most cases there old aerial systems would have worked just fine.
So just wait and keep your money in your pocket.
If there's going to be any problems the bulk of it is going to be due to inferior coaxial cables which allot of contractors have been using.
Don't be mislead that if its twin screen its ok, you cannot go much further from the truth because allot of cables that have and are been used are copper clad, which means its steel or alloy that been very finely coated with a copper layer and the second shield is thin foil which the cable price is a fraction to that of the cable required which which consists of a solid copper core together with the copper braid and copper foil such as Triax TX100 LSF or eq,which is what I use so my own personal customers will be ok.
Ive just quickly worked out that I can buy 1,250 meters of copper clad cable up against a 250 meter drum of TX100, so you can see why allot of riggers have used the copper clad.
Also my opinion been a dealer
I can see some unhappy customers if there getting substituted FreeSat in replacment of Terrestrial where they have been getting reception from a main transmitter because although theres a few different programs available theres programs like Yesterday which is a history channel thats not free via satellite, the only way you can receive it at the moment is subscribing to Sky.
Hopefully that will change In the future. Most of my customers that we have supplied and installed Freesat to are people due to there location could only receive Terrestrial reception via a repeater transmitter where the program choice was and still is very limited.
Regards

Dave's 41 posts
Monday, 4 February 2013
Howard Moore
7:26 PM


I currently receive FREEVIEW from the
WINTER HILL transmitter. Is it possible to predict - at this present date - if my FREEVIEW signals will suffer interference from the proposed new 4G transmissions? If I am forced to abandon Freeview will I have a choice between FREESAT or cable services. (It is my understanding that VirginMedia cable services ARE available in my area, and I would prefer cable to satellite reception.) In such a situation would the holder of the local relevant 4G licence be responsible for making the relevant payments DIRECT to VirginMedia, or would that responsibility fall upon myself?

Howard Moore's 4 posts

Howard Moore: No it isn't possible to predict.

I wouldn't expect, in cases where an alternative is provided, that this would ever be a subscription service!

In understand that in the first instance a single filter will be provided to an affected household.

Dave Lindsay's 5,724 posts
Select more comments
Your comment please