How do I know if the 4G broadband will overload my Freeview?

Brian Butterworth published on UK Free TV
Back in June 2011, we looked at how Ofcom moves to protect Freeview interference from 4G mobile .

Since then, the television Digital Switchover has been finished and 4th generation (4G) mobile broadband services - also known as Long Term Evoluition (LTE) have launched all over the world, including a service from Everything Everywhere (EE) in the UK.

To understand why and how these 4G broadband services will cause problems during 2013, you need to take into consideration a number of technical factors.


Understanding the radio spectrum
The
Radio spectrum
is the name given to the frequencies of the electromagnetic spectrum that can be usefully used to transmit radio, television and data services.
The top bar on the diagram below (or
download
) shows a selection of the services used in the UK, with old-fashioned long-wave radio, then medium-wave radio, though FM radio, the digital
DAB
radio services up to those used for television broadcasting. (See
here
for a
really
complex chart).

The highest frequencies on the diagram, the "ultra high frequencies" (or UHF) band is shown enlarged as the lower purple bar. In this range we can see TV "
channels
C21
to
C60
" (blue), second- and third- generation mobile phones (
2G
orange, 3G pink) and the location for the 4G services.
It is important to note that some of the 2G capacity in the "1800MHz" range has already been converted to 4G operation by Everything Everywhere (EE). The other two yellow boxes show the "
800MHz
" (to the left) "2.6GHz" (on the right).
For the purpose of
Freeview
reception
, only the
800MHz range
need be considered. The other two ranges will not cause Freeview problems.
Protecting Freeview receivers against overload
As we have seen already -
Freeview signals: too much of a good thing is bad for you
- Freeview boxes are designed to protect themselves against signal overloads. When they do this they close down and people often incorrectly
diagnose
the problem as being "
no signal
" when there is too much.
The problem that has to be solved as the 4G services launch, is that the new mobile broadband signals can cause overloads onto the frequencies that are being used for Freeview.

One particular problem is that a very common type of Freeview signal decoder, a
superheterodyne receivers
are sensitive to signals being present nine channels (72MHz) away.
In addition to overloads, 4G may also cause Signal-
Interference
Noise Ratio degradation, where reception breaks down because the
receiver
can no longer decode the digital information in the transmission.
Knowing who will win the 4G auction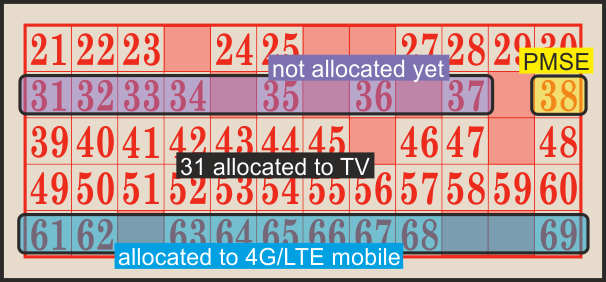 Until the
4G auction
takes place, no one will know which company has the right to use the 800MHz channels for mobile devices. The following companies have qualified to
bid
:
Everything Everywhere Limited (UK)
HKT (UK) Company Limited (a subsidiary of PCCW Limited)
Hutchison 3G UK Limited
MLL Telecom Ltd
Niche Spectrum Ventures Limited (a subsidiary of BT Group plc)
Telefonica UK Limited
Vodafone Limited
Viewing high power television and using low power mobiles
Using the
'Sitefinder' Mobile Phone Base Station Database
you can compare the locations of existing mobile phone "masts" with those used for
Freeview Transmitters
. Here is an example from Brighton and Hove, where a medium-sized single
mast
(
Whitehawk Hill
) can cover a whole city, but where hundreds of mobile phone base-stations cover a many smaller-by-comparison areas.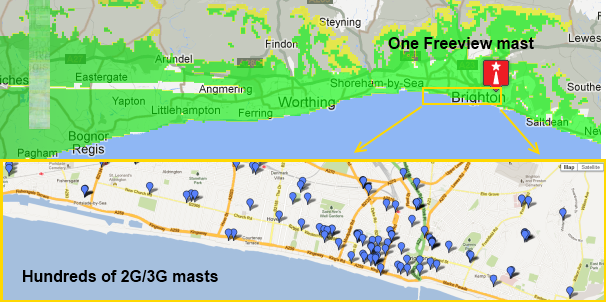 This illustrates two points. Firstly, that Freeview broadcasts are high powered and one-to-many - mobile devices are low
power
and peer-to-peer. The mast your TV signal comes from may be miles, sometimes tens or miles away, for your mobile perhaps only meters away.
The second point is that if an existing 2G/3G mobile supplier wins a 800MHz 4G slot, they will wish to use their existing "phone mast" locations (especially the 900MHz ones) as this would be most economical for them. Until the action winners emerge, and then plan their
network
, only
idle
speculation about possible interference can be made.
Using the TV frequencies for 4G masts and phones
Research (see
here
) shows that a 4G mast in relative close proximity, or a mobile 4G handset closer than a meter to an unfiltered Freeview box will cause overloading on many tested devices. The following diagram shows the relationship between the 4G use and the old TV channel designations.
Those
Freeview transmitters
that use channels above
C52
are most likely to have receivers that get overloaded by the use of 4G signals in the 800MHz area. FDD is
Frequency-division duplexing
- the transmitter and receiver operate at different carrier frequencies.
Interpreting the aerial and mast locations
Once the proposed mast locations for 4G services are known, it will then be possible to predict which homes will need to fit the special filters in areas
where Freeview uses the higher channel numbers (the C52 to C60 range)
.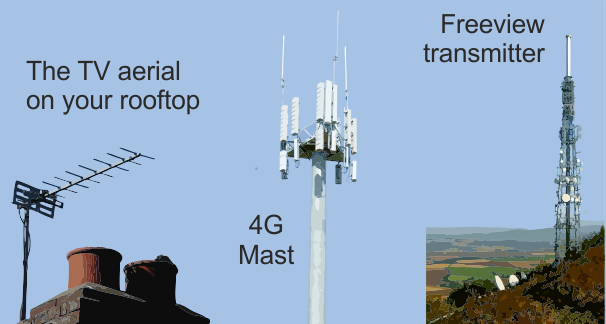 If you then have a rooftop
aerial
without a signal
amplifier
, to get an overload you will need the 4G mast to be in the line-of-sight between your Freeview transmitter and the aerial, or possibly "directly behind" the aerial.
If you then have a rooftop aerial and an amplifier, or perhaps have lower-grade cables, you are likely to need to protect from a 4G overload if the phone mast is close to your rooftop aerial.
Finding transmitters that use the higher range frequencies
Some powerful transmitters and many relays use the high frequencies:
Sudbury
,
Oxford
,
Belmont
,
Winter Hill
,
Tacolneston
,
Pontop Pike
,
Mendip
,
Emley Moor
,
Clermont Carn
,
Truskmore
and
Maghera
.
Click below to find out the transmitters in with high
frequency
allocations:
Protecting Freeview boxes and sets, cables, amplifiers from 4G devices
Again in areas where Freeview uses the higher channel numbers (C52 and above) you may have to protect your Freeview devices from signals from a 4G handset (such as mobile phone, tablet, or USB "dongle").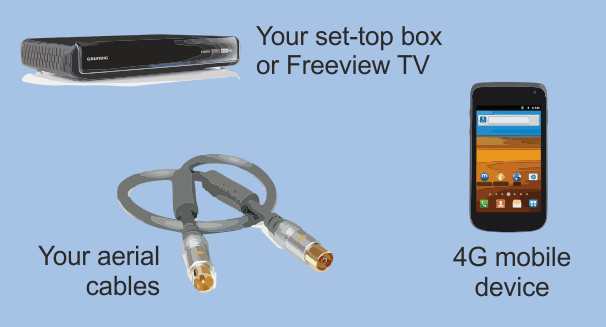 This may, once again, require the fitting of a special filter, or the upgrading of the "fly leads" used to connect your aerial to the set top box or TV. This may be a particular problem if you have used an indoor aerial or signal amplifier.
Comments
Sunday, 28 April 2013

Tony: This is odd as the at800 website does not indicate "Pilot 2" as having not gone ahead:

at800 South East London 4G tests

Is there not a communal aerial system that you can use?


I write as a technical bod rather than an expert in RF signals.

However, being high up there are fewer obstructions, if any, between you and any 800MHz 4G test base stations. Thus the signal is more likely to get to you than at, or near, ground level.

My point, therefore, is that whilst one particular "area" may be a bit outside of where they would expect signals to be an issue, the higher you go, the less clutter (objects) and therefore the greater the chance of signals being available (as the ground clutter acts to block or reduce signals).

So when defining "area", I wonder if they take into account exceptional dwellings, that are at quite a height.

All that said, the TV signal will be very strong. I assume that you can see the Crystal Palace transmitting tower from where the aerial is sited. For this there will be absolutely no requirement for any amplification.

Dave Lindsay's 5,724 posts

Tony: The services you mention as having interference problems are on C26 and C28, which are not frequencies suggested to be most at risk from 4G signal interference. It is possibly worth looking for more usual causes, say an RF modulator on a VCR or Sky box set around C27. Also if you have an HDMI cable or fly leads linking various pieces of equipment, try repositioning them in relation to the receiver to rule out any interaction between them.

KMJ,Derby's 1,811 posts
Friday, 3 May 2013
C
Cecilia Jones
12:38 AM
Neston

We have not been able to receive any BBC and other channels since 10th April. We have tried retuning our TalkTalk youview box several times. We do not have any other equipment linked to the receiver. TalkTalk have been unable to identify the problem so far.

Cecilia Jones's 1 post
Cecilia's:
map
C's Freeview map
terrain
C's terrain plot
waves
C's frequency data
C's Freeview Detailed Coverage

Cecilia Jones: If either you are using a communal aerial system or two aerials combined on different transmitters, you may have difficulty.

Communal aerial systems may need adjustment to allow through the new frequencies for PSB1 (BBC standard definition) and COM5 (Pick TV etc).

On your road there are a number of houses with an aerial on Winter Hill (North West) and one on Moel-y-Parc (Wales). This combination may now not be feasible owing to the new lower frequencies of PSB1 and COM5 from Winter Hill.

Dave Lindsay's 5,724 posts

Cecilia Jones: You appear not to be in a good signal area owing to the fact that the signal path is low to the ground for two miles because of the slope upwards. It is also obstructed by the ground in at least two places. There are lots of trees on the slope as well as buildings such as the High School.

The other clue are the large aerials on Winter Hill in your locality. There is something on the pole that your aerial is mounted on; a mast-head amp perhaps?

Do you have another receiver such as that in-built into the TV that you can try?

Dave Lindsay's 5,724 posts

Cecilia Jones: In addition to that said, if your problem is being caused as a result of the frequency change on April 10th which now requires your aerial system to receive lower frequencies then you can test this out if your You-View box has a manual tuning facility.

If it has then go into the tuning menu / manual tune and enter Ch50 (Winter Hills BBC) into the box but do NOT press search or scan, because if the signal is there its level should be seen on the indicator bar, make a note of the level being indicated (if) then change the channel entered to Ch59 (Winter Hills ITV1) likewise noting its level, if the BBC's level is found to be considerably lower than ITV's then the problem is indeed caused by a deficiency in the aerial system, as the signal from the BBC will be sitting under the level required for your You-View box to resolve a picture.

By the way, if the aerial is exclusively yours and the difference in levels between the ITV and BBC aren't that terribly much, then in many cases the problem can be resolved by using a booster.

jb38's 7,179 posts

Cecilia Jones: Just noticed that I had cut off the bottom of my reply when I pasted it into the reply box.

The booster referred to being on page 603 of the Argos catalogue, and either (25) the SLX variable type 534/4235 or (24) the Philex 534 /6130 or if your TV is also Freeview capable then the twin output type 534 / 6147 one output for TV and the other for the You-View box.

Of course these items "only" coming into the equation dependant on the signal levels seen indicated and especially the quality of the signal, because if its observed to be fluctuating to any great degree (diving to zero) then boosters will not help in this situation.

jb38's 7,179 posts
Saturday, 18 May 2013

Hello,
The strangest thing - I have experienced absolutely no signal interference for the past few weeks. It stopped as abruptly as it began.
After experiencing months of misery of few or no channels, we are now back to the way we were - the weather conditions or my aerial apparently having nothing to do with the problems I was experiencing.
I am convinced the problem is external interference some how. I had students living next door to me for the duration of the problem (6 months) and they have now moved out - could their new gadgets have been affecting my signal somehow? If so, what can I do if this happens again?

Jo Dee's 6 posts

Jo Dee: I would use a AM (MW or LW) radio powered from batteries. Tune it away from a station and listen for any noise.

If the interference starts at a particular time then have it on at the start (and end) time and see if the start and end of the noise on the radio coincides with the TV signal breaking up, that way you know you are listening to the cause.

AM radios have a ferrite rod in which act as the antenna. They are most sensitive in the axis perpendicular to their length. Hence, if you hold the radio with it facing you, when the sound is the loudest you know that it is coming from in front of, behind, above, or below you (or somewhere on that axis). Spin round to where it is at its quietest and the source of the noise must be from either end of the radio.

Dave Lindsay's 5,724 posts

Jo Dee: Apart from the advice given by Dave Lindsay, as far as your question about whether their gadgets could interference or not, then yes that's very possible! because Freeview is vulnerable to interference from a variety of sources including modern electronic devices, and although the interference caused by them is not by any means far ranging and rapidly dies off by the metre, being next door virtually means that you are permanently within range.

jb38's 7,179 posts
Select more comments
Your comment please