How do I know if the 4G broadband will overload my Freeview?

Brian Butterworth published on UK Free TV
Back in June 2011, we looked at how Ofcom moves to protect Freeview interference from 4G mobile .

Since then, the television Digital Switchover has been finished and 4th generation (4G) mobile broadband services - also known as Long Term Evoluition (LTE) have launched all over the world, including a service from Everything Everywhere (EE) in the UK.

To understand why and how these 4G broadband services will cause problems during 2013, you need to take into consideration a number of technical factors.


Understanding the radio spectrum
The
Radio spectrum
is the name given to the frequencies of the electromagnetic spectrum that can be usefully used to transmit radio, television and data services.
The top bar on the diagram below (or
download
) shows a selection of the services used in the UK, with old-fashioned long-wave radio, then medium-wave radio, though FM radio, the digital
DAB
radio services up to those used for television broadcasting. (See
here
for a
really
complex chart).

The highest frequencies on the diagram, the "ultra high frequencies" (or UHF) band is shown enlarged as the lower purple bar. In this range we can see TV "
channels
C21
to
C60
" (blue), second- and third- generation mobile phones (
2G
orange, 3G pink) and the location for the 4G services.
It is important to note that some of the 2G capacity in the "1800MHz" range has already been converted to 4G operation by Everything Everywhere (EE). The other two yellow boxes show the "
800MHz
" (to the left) "2.6GHz" (on the right).
For the purpose of
Freeview
reception
, only the
800MHz range
need be considered. The other two ranges will not cause Freeview problems.
Protecting Freeview receivers against overload
As we have seen already -
Freeview signals: too much of a good thing is bad for you
- Freeview boxes are designed to protect themselves against signal overloads. When they do this they close down and people often incorrectly
diagnose
the problem as being "
no signal
" when there is too much.
The problem that has to be solved as the 4G services launch, is that the new mobile broadband signals can cause overloads onto the frequencies that are being used for Freeview.

One particular problem is that a very common type of Freeview signal decoder, a
superheterodyne receivers
are sensitive to signals being present nine channels (72MHz) away.
In addition to overloads, 4G may also cause Signal-
Interference
Noise Ratio degradation, where reception breaks down because the
receiver
can no longer decode the digital information in the transmission.
Knowing who will win the 4G auction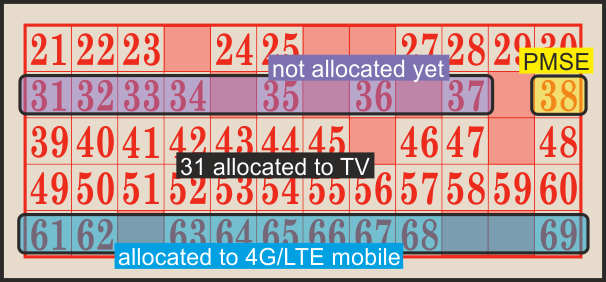 Until the
4G auction
takes place, no one will know which company has the right to use the 800MHz channels for mobile devices. The following companies have qualified to
bid
:
Everything Everywhere Limited (UK)
HKT (UK) Company Limited (a subsidiary of PCCW Limited)
Hutchison 3G UK Limited
MLL Telecom Ltd
Niche Spectrum Ventures Limited (a subsidiary of BT Group plc)
Telefonica UK Limited
Vodafone Limited
Viewing high power television and using low power mobiles
Using the
'Sitefinder' Mobile Phone Base Station Database
you can compare the locations of existing mobile phone "masts" with those used for
Freeview Transmitters
. Here is an example from Brighton and Hove, where a medium-sized single
mast
(
Whitehawk Hill
) can cover a whole city, but where hundreds of mobile phone base-stations cover a many smaller-by-comparison areas.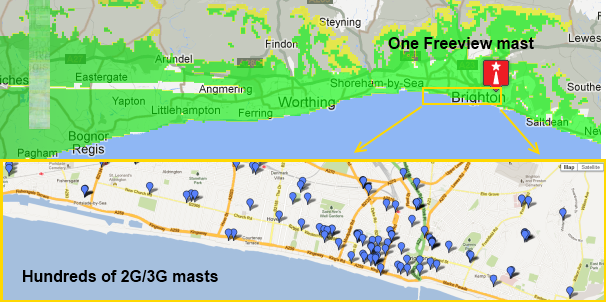 This illustrates two points. Firstly, that Freeview broadcasts are high powered and one-to-many - mobile devices are low
power
and peer-to-peer. The mast your TV signal comes from may be miles, sometimes tens or miles away, for your mobile perhaps only meters away.
The second point is that if an existing 2G/3G mobile supplier wins a 800MHz 4G slot, they will wish to use their existing "phone mast" locations (especially the 900MHz ones) as this would be most economical for them. Until the action winners emerge, and then plan their
network
, only
idle
speculation about possible interference can be made.
Using the TV frequencies for 4G masts and phones
Research (see
here
) shows that a 4G mast in relative close proximity, or a mobile 4G handset closer than a meter to an unfiltered Freeview box will cause overloading on many tested devices. The following diagram shows the relationship between the 4G use and the old TV channel designations.
Those
Freeview transmitters
that use channels above
C52
are most likely to have receivers that get overloaded by the use of 4G signals in the 800MHz area. FDD is
Frequency-division duplexing
- the transmitter and receiver operate at different carrier frequencies.
Interpreting the aerial and mast locations
Once the proposed mast locations for 4G services are known, it will then be possible to predict which homes will need to fit the special filters in areas
where Freeview uses the higher channel numbers (the C52 to C60 range)
.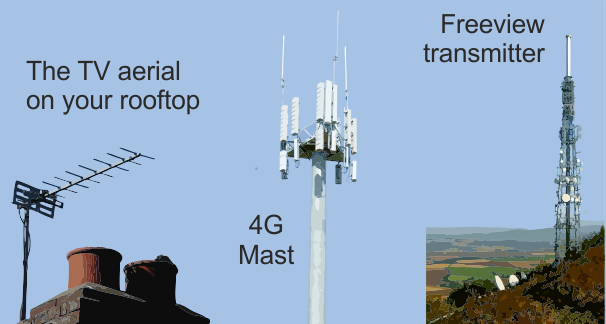 If you then have a rooftop
aerial
without a signal
amplifier
, to get an overload you will need the 4G mast to be in the line-of-sight between your Freeview transmitter and the aerial, or possibly "directly behind" the aerial.
If you then have a rooftop aerial and an amplifier, or perhaps have lower-grade cables, you are likely to need to protect from a 4G overload if the phone mast is close to your rooftop aerial.
Finding transmitters that use the higher range frequencies
Some powerful transmitters and many relays use the high frequencies:
Sudbury
,
Oxford
,
Belmont
,
Winter Hill
,
Tacolneston
,
Pontop Pike
,
Mendip
,
Emley Moor
,
Clermont Carn
,
Truskmore
and
Maghera
.
Click below to find out the transmitters in with high
frequency
allocations:
Protecting Freeview boxes and sets, cables, amplifiers from 4G devices
Again in areas where Freeview uses the higher channel numbers (C52 and above) you may have to protect your Freeview devices from signals from a 4G handset (such as mobile phone, tablet, or USB "dongle").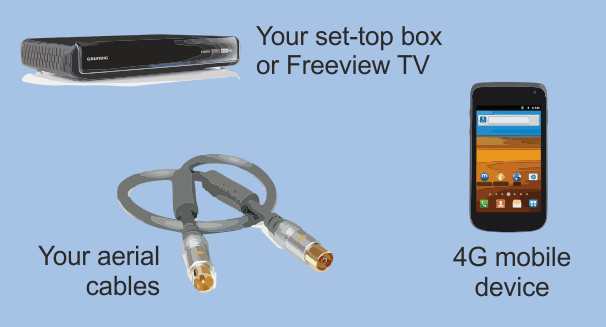 This may, once again, require the fitting of a special filter, or the upgrading of the "fly leads" used to connect your aerial to the set top box or TV. This may be a particular problem if you have used an indoor aerial or signal amplifier.
Comments
Friday, 22 March 2013

ian from notts: People who experience interference will be supplied with one filter only:

The Problem with 4G LTE 800 and Freeview | at800

Additional filters will be at viewers' own expense. Where a single aerial is used for multiple sets, it may be possible (and best practice) to fit one filter before the powered or unpowered splitter/amplifier.

Dave Lindsay's 5,724 posts
Tuesday, 26 March 2013
I
ian from notts
7:48 AM
Nottingham

Dave Lindsey- cheers for the extra info mate

ian from notts's 253 posts
ian's:
map
I's Freeview map
terrain
I's terrain plot
waves
I's frequency data
I's Freeview Detailed Coverage
Friday, 29 March 2013

I appreciate that an awful lot of activity is taking place, i.e., 4G and all that sort of rot, but can anyone explain why, recently when attempting to automatically set up channels on new TVs found that Channel 62 (which apparently takes in all of the BBC channels) has completely ignored Winter Hill and instead given me crummy or nil reception from Yorkshire (ID302d). Right now the only way I can be in possession of all available channels is to manually search. Not that much of a problem but I'm still curious. My postcode is WN4 9LG.

Charlie's 12 posts
Charlie's:
map
C's Freeview map
terrain
C's terrain plot
waves
C's frequency data
C's Freeview Detailed Coverage

Charlie: Some of the more recent tuners give an option to select your first choice of region for storage in the LCN (normal) positions in the EPG, with any alternatives placed in the 800s. Older receivers frequently put the first set of services found at the head of the EPG, in your location this is BBC from Emley Moor, with any subsequent options (BBC from Winter Hill) being placed in the 800s. Manual tuning, when available, gives the viewer the option of selecting which muxes they wish to store and depending on the design of the tuner if more than one region is chosen,will place either the first or sometimes the last option selected in the LCN positions and the alternatives in another vacant location in the channel list, usually the 800s - this you find out for yourself when carrying out a manual tune. Thinking back to analogue days you would still have found the Emley Moor signals first, but they would have been either ignored or stored on spare buttons, Winter Hill signals then being chosen for buttons 1 to 5.

KMJ,Derby's 1,811 posts

We feed several TV receivers from a single Freeview aerial via amplified spitters. At various times each receiver may be tuned to a different channel. If 4G interference results in a Freesat installation being required how will multi-channel reception continue to be provided?

Ted's 4 posts

Ted: Each satellite receiver requires an individual feed from the dish other wise everything is just the same as with Freeview.

But though it cant be taken as a foregone conclusion that a person is going to be affected by 4G as there is a great deal of quite unnecessary panicking going on about this issue, as its totally dependant on where a person resides in relation to the 4G mast as well as the channels used by the Freeview transmitters that cover their area.

jb38's 7,179 posts
Saturday, 30 March 2013

If is any consolation to those who will lose their TV signal, the companies that intend to run 4G are likely to be running at a considerable loss for a considerable period of time.
The business case for 4G is so weak and the advantages to the users so restricted we may see the companies happy to hand back the license. After all, if 4G users do not want to watch TV on a mobile, a 4G phone has little to offer.

NJ's 19 posts

KMJ Derby: Thank you for your very detailed reply, but with respect, I can't say that I fully understand it - mainly because it appears from your explanation that, for my area, the true BBC source is Emley Moor. I had no idea where Emley Moor is situated but on checking I find it is near Leeds. Now, this Yorkshire-located source for BBC is probably the culprit for my poor to non-existent reception. However, when opting for manual channel selection the situation is well and truly corrected, and everything in expected channel number order, by achieving Winter Hill's output for everything, including BBC programmes, and this being confirmed by checking the signal information. I don't know whether I'm just slow on the uptake here or what . . . Kind Regards

Charlie's 12 posts
Monday, 1 April 2013

who will be paying for these filters and other costs to protect the freeview equipment from 4g interference on the higher end frequencies C55 to C62, the ones used by Winter Hill?

Andrew Johnson's 1 post
Wednesday, 3 April 2013

From looking at the map, it looks like I will loose my Freeview.
I also have hundreds of pounds worth of Z-Wave Home automation products that operate on 868 Mhz. Am I to assume that this will become useless soon?
PS, my postcode is M34 6PD

Ian T's 1 post
Ian's:
map
I's Freeview map
terrain
I's terrain plot
waves
I's frequency data
I's Freeview Detailed Coverage
Select more comments
Your comment please