On the tenth day of Christmas Auntie brought to me ... five more HD channels

Brian Butterworth
published on
UK Free TV
It would seem the BBC are going to have five HD channels for many UK homes in plenty of time for Christmas.

Here is the evidence. First, YouView is listing the channels from 7am/7pm on 10 December 2013.




And if you look into space, you can see the channels lined on satellite too.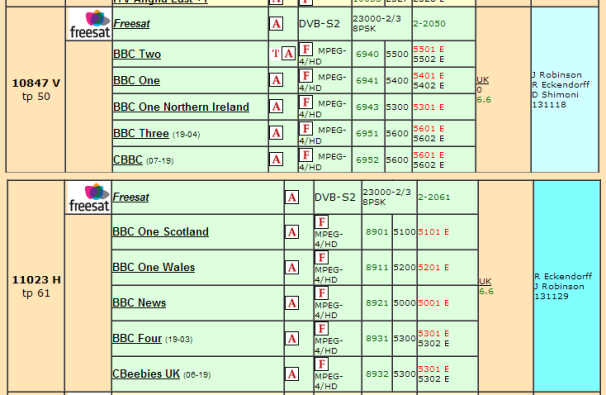 Remember that for Freeview HD viewers, you need to use the Crystal Palace (London), Belmont (Lincolnshire), Black Hill (Central Scotland), Emley Moor (West and South Yorkshire) and Winter Hill (Greater Manchester) transmitters to get BBC FOUR HD, CBeebies HD and BBC News HD.

UPDATE 9/12/13

The channel numbers are:



Sky HD subscribers will get the HD channels on the "usual" channel numbers: CBBCHD on 613 , CBeebies HD on 614 , BBC Three HD on 115 and BBC Four HD 116. (Virgin will get CBBCHD on 710, CBeebies HD on 711, BBC Three HD on 163, BBC Four HD 164 and BBC News HD 604).

See BBC - Blogs - About the BBC - CBBC HD, CBeebies HD, BBC Three HD, BBC Four HD & BBC News HD launch Tuesday 10 December 2013 for more.
Comments
Thursday, 13 February 2014

Anthony: I think you must be looking at out-of-date information.

The process of digitial switchover cleared channels 31 to 35, and 37. These channels are now//will be used exclusively by the quasi-national HD multiplexes. Winter Hill does broadcast COM7 on C31. In future, Winter Hill could possibly use other Group A channels and so it is advisable, if installing an aerial, to ensure it's suitable for reception of these channels so that it doesn't have to be replaced again.

A yagi aerial's gain drops off on lower channels. A "wideband" yagi aerial is much more of a compromise because it's gain curve is effectively "stretched" across a much broader range of frequencies. Thus, a "high gain" wideband aerial isn't "high gain" on Group A channels. This can be seen in these example gain curves:

Gain (curves), Again

Dave Lindsay's 5,724 posts

Dave Lindsay: wideband high gain aerials correctly aligned and installed corresponding to the transmitter polarisation of the main or relay transmitter you are trying to receive should be fine;the further away from the transmitter you are, even with a good line of sight, the signal can still be weak on that transmitter aerial group, in winter hill's case c/d group. Digital TV is fickle and everything can make all the difference as to whether you get good reception poor reception or in worst case no reception. As a rule of thumb the further away you are the better the aerial you need, and that's not hairy fairy myth that's truth. A 52 element wideband high gain aerial horizontally polarised on winter hill with a masthead amplifier to boost reception will probably pull all the freeview channels in incl all 10 hd channels on 37 and 54 and will probably help, this is what I am gonna work on.

Anthony's 70 posts
Select more comments
Your comment please