A bakers dozen of changes: Freeview channel number changes from 3 September 2014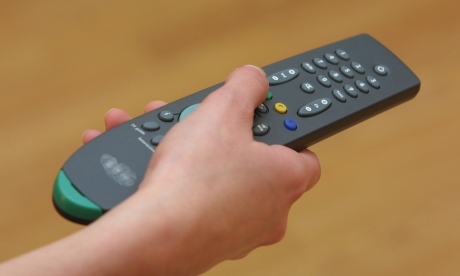 Brian Butterworth
published on
UK Free TV
These changes have been long coming, and have even been subjected to formal review on behalf of Sky.

From the afternoon of Wednesday 3rd September 2014, Freeview viewers will find that 13 channels will have new numbers.




Depending on the sophistication of (which means "how long you have had") your Freeview equipment, the channels will either change number automatically, or require a retune.

If you have Freeview+ box - the ones the can record programmes - you should find that the channel number changes will not cause any scheduled recordings to change.

You may need to do a "first time installation" to ensure the channel numbers are correct. See My Freeview box has no EPG ... or the channel line up is wrong if you don't know what to do. Another option is the list of retune instruction leaflets and manuals on the Freeview Retune - list of manuals page.

The new channel numbers do provide better logic on the whole, however BBC News HD is in the HD section, whereas CBBC HD and CBeebies HD are not.

Sadly the Freeview channel number system is unable to match Freesat HD and Sky EPGs which both provide the ability to find HD channels in place of the standard definition channels.
All free TV channels
I have recently updated the ever-popular
All free TV channels
page.
As well as ensuring that all the channel numbers are up-to-date (there has been a small number of changes to some Sky Guide numbers) I have split the table to have three new sections.
The first, as shown below, lists all of the High Definition channels first.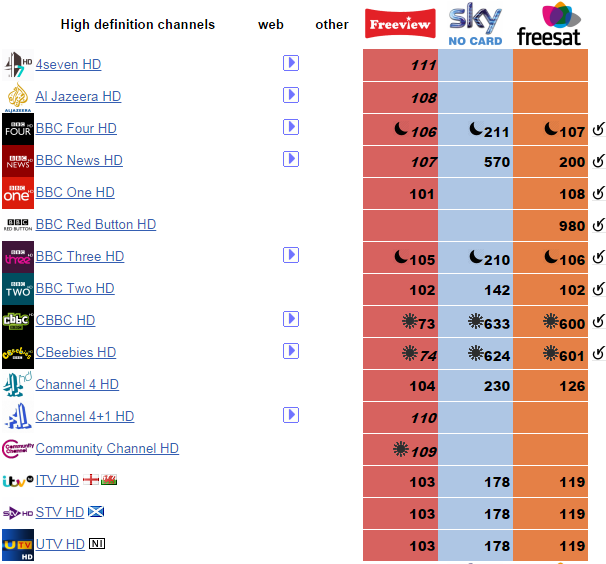 A third section now splits the Local TV channels from the "Main TV channels" section, and there is a "Where Local TV broadcast" section for channels that are provided alongside
local TV on Freeview
.
Good luck with your retune.
Comments
Monday, 1 September 2014

Are they going tom sort the mess that 1 to 99 is?

David's 306 posts

surely Text and MHEG services will be from 200 to 299

Nathan's 2 posts

@Nathan: Try doing a refresh.. You might have got the "old version".

Briantist's 38,908 posts

@David: The short answer is "no".

Please remember that the DTT (digital terrestrial television) system that is marketed under the name "Freeview" is a "free market", not the "closed system" operated by - for example - Sky.

The EPG allocations are therefore governed by rules - you can see them here : http://www.digitaluk.co.u….pdf




This means that the number of the channel can't be changed as it a distinct benefit to the broadcaster who is allocated it.

There can be no "high handed" changes to the channel numbers. Once allocated it stays allocated.

This means that channels that joined Freeview early on - when it wasn't yet the success it is today - are rewarded with low numbers.

I'm guessing that you're not a shopping channel guy, and would like to expel QVC from 16. However they see it as they made the investment and wish to keep it.

Briantist's 38,908 posts

As Briantist has explained, it does seem inconsistent that Children's TV HD stations are put in the Children's section rather than the HD section, whereas News HD stations are not put in the News section rather than the New section.

The one thing that the Freeview EPG planners are consistently good at is being inconsistent.

For those feeling nostalgic for simpler times, here is a link to the original Freeview lineup.

Freeview - A SIMPLE WAY TO GET DIGITAL TV

Who would have guessed that ITV News and Sky Sports News would disappear and be replaced by a pro-Russian Federation news station and Anglophone and Arab language news services from a station based in Qatar?

Corin's 91 posts

"whereas News HD stations are not put in the News section rather than the New section."

Of course that should have been

"whereas News HD stations are put in the HD section rather than the News section."

Corin's 91 posts
Tuesday, 2 September 2014

@Corin: Here's my UK Free TV line up from then

ukfree.tv - How I get free TV


Briantist's 38,908 posts

@Corin: I'm not quite sure you could claim that ITV News was directly replaced by RT and Sky Sports News by Al Jazeera, but your point is a good one.

I'm hopeful, let say, that having viewpoints other than the BBC and BSkyB domestic news services is good for the future, but perhaps Douglas Adams' viewpoint is more human:

"the poor Babel fish, by effectively removing all barriers to communication between different races and cultures, has caused more and bloodier wars than anything else in the history of creation"

However, it is interesting to see that, apart from BSkyB taking the "named" channels away from Freeview (so we have "Pick") almost all of the channels at the start of Freeview are on-air, dispite some name changes (ie "Yesterday").

Briantist's 38,908 posts
Wednesday, 3 September 2014

On Sky channel 4 hd is on 227 and BBC1HD on 141.

trevorjharris's 367 posts

is there atime table for this major freeview retune?

derek hirons's 2 posts
Select more comments
Your comment please