A bakers dozen of changes: Freeview channel number changes from 3 September 2014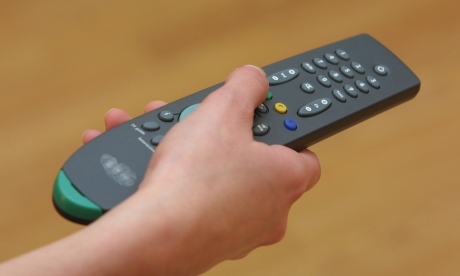 Brian Butterworth
published on
UK Free TV
These changes have been long coming, and have even been subjected to formal review on behalf of Sky.

From the afternoon of Wednesday 3rd September 2014, Freeview viewers will find that 13 channels will have new numbers.




Depending on the sophistication of (which means "how long you have had") your Freeview equipment, the channels will either change number automatically, or require a retune.

If you have Freeview+ box - the ones the can record programmes - you should find that the channel number changes will not cause any scheduled recordings to change.

You may need to do a "first time installation" to ensure the channel numbers are correct. See My Freeview box has no EPG ... or the channel line up is wrong if you don't know what to do. Another option is the list of retune instruction leaflets and manuals on the Freeview Retune - list of manuals page.

The new channel numbers do provide better logic on the whole, however BBC News HD is in the HD section, whereas CBBC HD and CBeebies HD are not.

Sadly the Freeview channel number system is unable to match Freesat HD and Sky EPGs which both provide the ability to find HD channels in place of the standard definition channels.
All free TV channels
I have recently updated the ever-popular
All free TV channels
page.
As well as ensuring that all the channel numbers are up-to-date (there has been a small number of changes to some Sky Guide numbers) I have split the table to have three new sections.
The first, as shown below, lists all of the High Definition channels first.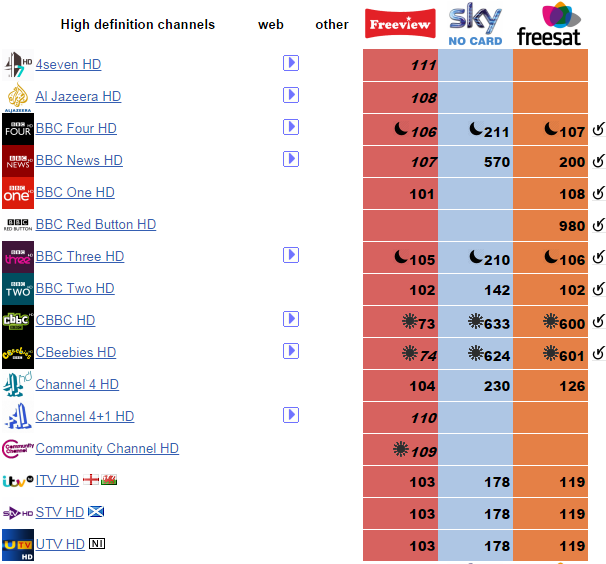 A third section now splits the Local TV channels from the "Main TV channels" section, and there is a "Where Local TV broadcast" section for channels that are provided alongside
local TV on Freeview
.
Good luck with your retune.
Comments
Thursday, 4 September 2014

Jellyroll: I have lost the HD Services on my freeview HD box after the retune, I get the error message service not running, any ideas?

Bob H's 2 posts

Bob H: Further the EPG shows all the channels, did a full install/reset and it is still the same. It is a Technika STDBHDV2010

Bob H's 2 posts

Bob H: I have a similar problem. Since trying to retune I have got the message no signal on my Panasonic DVD player, luckily I have not retuned my TV so can watch but am not able to record.
Carol

Carol Shirley's 1 post

I've tried again several times this morning to retune in order to pick up the missing ITV, channel 4 & 5 channels but still to no avail. When I do a manual search for that cluster of channels (C24) it finds zero services. IF I am ever able to get them back I will think twice about retuning again if everything is fine!

Karen's 6 posts

Karen , I have the same problem , lost ITV 1 , C4 ect & I am on the Sudbury Suffolk transmitter, so the fault must be widespread

Colin Evans's 9 posts

Something for people to note. I have found that it helps the retune on some older equipment if one first clears the currently tuned channels. On my Humax PVR-9200T I went to "Edit Channels" selected "All" and pressed delete and save. Then I did a reinstallation. I got all the channels in all the right places.

My YouView box from Talktalk updated itself without me having to do anything.

Charles Stuart's 159 posts

Have you heard if the Bonanza-Bonanza Channel will be returning to Freeview,I really thought it was excellent and would expand to show many more great past shows.
Joseph. Glasgow.

Joseph Dodds's 3 posts

Yes Colin it must be as I am on the Lancaster transmitter which is part of Winter Hill. It's annoying because I watch more programs on the missing channels-but at least I do have BBC. Hope whatever the issue is they correct it soon because there are some good programs coming up!

Charles: The first thing I do if I have a problem retuning is to retune my TV with the aerial unplugged to clear the old ones out then retune again with the aerial in. But this time that has failed to help, in fact had trouble even clearing them with that method which is most odd.

Karen's 6 posts

I have retuned my box. Now, where for example I found BBC news on channel 80, I see a blank screen and after a while a message telling me it is on a new channel
I did not retune till the day after the change, and wish I had not bothered. Immediately before I retuned, BBC News was still on ch 80. This procedure seems merely to have made things less convenient.

nick's 404 posts

Karen : There isn't really any issue "if" a manufacturers reset is carried out on a TV or box prior to retuning, the reset referred to also being known as "First time installation" / "Default setting" or some similar sounding name, as as the unplugging the aerial procedure is not on some devices, always sufficient to delete everything stored in a tuners memory.

jb38's 7,179 posts
Select more comments
Your comment please