A bakers dozen of changes: Freeview channel number changes from 3 September 2014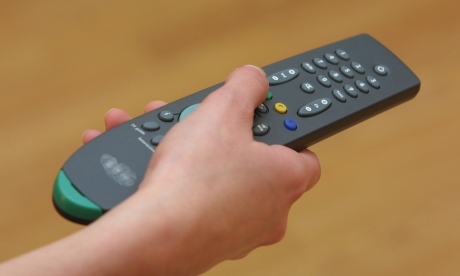 Brian Butterworth
published on
UK Free TV
These changes have been long coming, and have even been subjected to formal review on behalf of Sky.

From the afternoon of Wednesday 3rd September 2014, Freeview viewers will find that 13 channels will have new numbers.




Depending on the sophistication of (which means "how long you have had") your Freeview equipment, the channels will either change number automatically, or require a retune.

If you have Freeview+ box - the ones the can record programmes - you should find that the channel number changes will not cause any scheduled recordings to change.

You may need to do a "first time installation" to ensure the channel numbers are correct. See My Freeview box has no EPG ... or the channel line up is wrong if you don't know what to do. Another option is the list of retune instruction leaflets and manuals on the Freeview Retune - list of manuals page.

The new channel numbers do provide better logic on the whole, however BBC News HD is in the HD section, whereas CBBC HD and CBeebies HD are not.

Sadly the Freeview channel number system is unable to match Freesat HD and Sky EPGs which both provide the ability to find HD channels in place of the standard definition channels.
All free TV channels
I have recently updated the ever-popular
All free TV channels
page.
As well as ensuring that all the channel numbers are up-to-date (there has been a small number of changes to some Sky Guide numbers) I have split the table to have three new sections.
The first, as shown below, lists all of the High Definition channels first.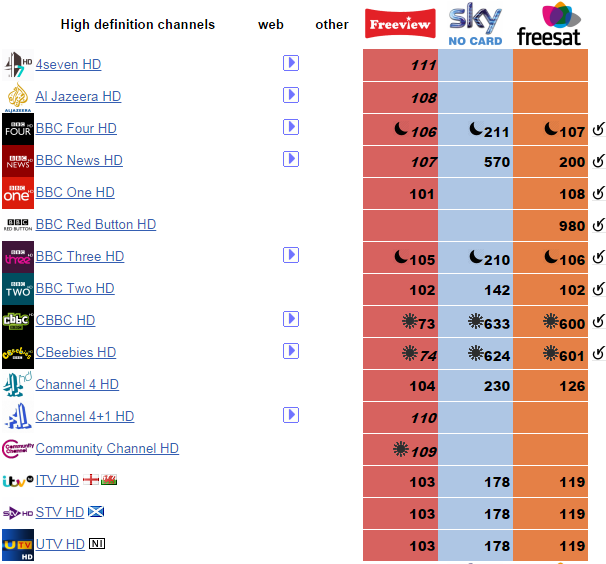 A third section now splits the
Local TV
channels from the "Main TV channels" section, and there is a "Where Local TV broadcast" section for channels that are provided alongside
local TV on Freeview
.
Good luck with your retune.
Comments
Saturday, 6 September 2014
K
kevin clarkson
10:42 AM
Preston

jb38:

kevin clarkson's 3 posts
K
kevin clarkson
10:54 AM
Preston

I have just retuned my TV as requested 3rd Sept all other channels ok but channel 3 is ITV wales & channel 4 comes up as s4/c wales again. I retuned auto and manual several times but it still comes up the same.can you help my tel mast should be winter hill

kevin clarkson's 3 posts
K
kevin clarkson
10:57 AM
Preston

Forgot to mention I have a Humax set box

kevin clarkson's 3 posts
M
mike jones
11:50 AM
Reading

Kevin,

Your problem is unfortunately not uncommon

When you perform an automatic re-tune the receiver will find the first good signal for each multiplex. In your case in has found the Welsh service for the PSB2 multiplex that carries ITV & C4 amongst other tv channels.

What you need to do is to manually retune the affected multiplex. If you select manual retune and enter channel C59 (the channel carrying the PSB multplex from WinterHill) it should solve the problem. Any problems with other channels look at the multiplexes and the tv stations carried by your transmitter and manually retune them.



mike jones's 1 post

I'm in central Bristol and take a usable signal from Mendip.

For the past few weeks I have had random freezes on all channels with my Digitrex TV... a freeze, followed by a black screen and then a flash of green over most of the screen. Some times it would restart but I usually had to switch the mains as the power buttons would not work.

Standard retuning has not fixed the problem.

I have just managed to achieve an 'installation' retune following a blank tune without aerial connected. (4th. attempt.) This procedure usually froze at channel 56 but has gone right through while I've been resarching this so I have my fingers crossed. Its still ok after half an hour.

The freeze effect also happened on my Proline digibox (I've not done an 'installion' procedure on this yet).

Both devices froze completely... navigation not possible until power cycled.

Neither device misbehaves when repowered with the aerial is unplugged so I suspect that some interfering signal is coming down the (4 storey, low loss) feeder.

Is a cure possible? A bigger aerial, band pass filter or a notch filter?

Advice would be greatly appreciated.



John Everingham's 3 posts

John Everingham:

Problem still with me! Hey Ho!

John Everingham's 3 posts
R Curry
3:29 PM
Portrush

I receive my signal from Limavady. I re tuned as expected and have lost several channels, all on the C49 Arqb group. The only big disappointment is no ITV4 for the motorsport.

R Curry's 1 post

Ian Fitter, if they are on high ground then could be Emley Moor.

Iain Davies's 38 posts

Iain Davies: except Emley Moor is three times the distance that Winter Hill is from them, including some large lumps of rock called the Pennines ;)

Ian Fitter's 13 posts

I don't mind the advance notice of channel changes to come on September 3rd, but why is the notice still there on the 6th, three days after the event?. How long will it persist ?. It ruins any recordings I preset.

Mike's 10 posts
Select more comments
Your comment please