What is the Inversion Effect and why does it effect my Freeview TV reception?

Brian Butterworth published on UK Free TV
Under normal circumstances, the signals from each television transmitter can only be received by those homes and businesses that have aerials that have a direct line-of-sight to the transmitter.

(The Inversion Effect is also known as "Tropospheric Ducting")




The part of the signal from the transmitter that is directed upwards simply escapes into space and are lost.

When there is high atmospheric pressure (Met Office - Surface pressure charts) as the sun heats up the ground the warm air gets trapped underneath the colder air higher up. At the point where the warm air gets trapped under the cold air this creates a layer that is, in effect, a mirror for the television signals.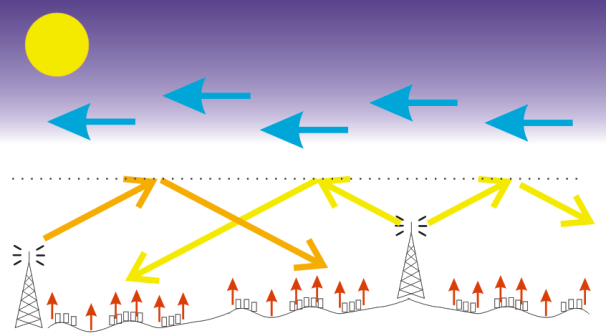 This means that signals that would otherwise be impossible to receive can suddenly effect your television reception.

The digital television signal uses a format called COFDM (coded orthogonal frequency division multiplexing) and this incorporates the ability to ignore reflected digital signals.

However, analogue television signals did not co-operate with each other and the picture quality is reduced. The very weak digital signals that were used before digital switchover for Freeview were badly effected by interference from reflected signals from adjacent analogue transmissions.

I recommend you look at the Tropospheric Ducting Forecast for VHF and UHF Radio and TV page for a current forecast - yellow, orange, red, and pink indicate that conditions are perfect for the effects listed above.
Links to current pressure data
Tropospheric Ducting Forecast for VHF and UHF Radio and TV

Met Office - Surface pressure charts

Comments
Wednesday, 24 December 2014

Having observed the many comments on several parts of this website, I am suspicious that many parts of the country are being affected by atmospheric effects that are making reception of Freeview difficult, if not impossible. Many are saying they have lost either certain channels of whole muxes. In my own case in Trowbridge I have a new log-periodic aerial and a new LG TV set yet we have recently suffered loss of some signals, most notably Com7 on Channel 33 from Mendip. (As always, I have checked the whole system and with neighbours and those that have HD sets also report losses and problems!)

So I'm wondering whether the transmissions for DTV are less robust that were the 'old' analogue signals. A thought for discussion, hopefully of a somewhat technical nature please?

Happy Christmas to everyone.

MikeP's 3,056 posts
Monday, 30 March 2015

I receive my freeview signal from Huntshaw Cross in Devon. For the past few weeks there appears to be a problem of some kind on BBC and ITV channels about 8.45pm until about 9.15pm. The picture breaks up and the sound becomes intermittent. I have no machines which run during this time and for the rest of the time the picture and sound are both good. Can you throw any light on this please.

Mick Bennett's 1 post

Mick Bennett: Unless there is a weather machine being used around your parts, it cannot be the inversion effect! On the other hand, although you might not be aware of anything coming on for that half an hour, it might be something you hadn't thought of, or from another house etc.

Search for 'single source interference' on this site, and that will bring up ideas on what it is, how to find the source, etc. One tip is to change your aerial lead for something with better shielding - you can get some very decent ones from ATV for four quid plus VAT and postage Online Satellite/TV/FM/DAB Cable, Leads and Connectors sales. , and they will make up ones for you bespoke.

MikeB's 2,579 posts
Tuesday, 31 March 2015

Mick Bennett: Interference from a nearby appliance sounds the likely cause. Did the time of the interference change when the clocks changed? (i.e. was it 20:45 GMT on Saturday and 20:45 BST (19:45 GMT) on Sunday)

Dave Lindsay's 5,724 posts
Sunday, 5 July 2015

I am having trouble getting most of my Freeview channels. I live in a block of six flats and have checked the ariel which seems to be ok. I have re-booted and sometimes get the BBC and ITV channels back for a short while then the message 'THE RECEIVER IS NOT RECEIVING A SIGNAL OR THE SIGNAL IS TOO WEAK' Can you tell me if there is anything else I can do to resolve this problem?

Mrs. L. Dyos's 1 post

Mrs. L. Dyos: A location/postcode would help...

MikeB's 2,579 posts
Wednesday, 20 April 2016

For the last 2 weeks the Freeview channels have been breaking up into little blocks and both of my t.v's have been affected. An engineer can find no cause within the house or the aerial etc, i have put filters in but they have made no difference, According to the engineer he has heard of the same problem for 3 or 4 other people in the area.

Isabel Tolley's 5 posts
Thursday, 21 April 2016

Isabel Tolley:

We need a full post code to know where you are in relation to your transmitter and to see if there are any interuption/blockages between you and it.

The fact that others in the area have apparently been affected in the same way suggests it is nothing to do with your equipment. Do *not* try retuning.


MikeP's 3,056 posts
MikeP's:
map
M's Freeview map
terrain
M's terrain plot
waves
M's frequency data
M's Freeview Detailed Coverage
Wednesday, 4 May 2016

Since end of March, my Samsung UE32es6800 will lose sound, but only if I am watching a HD channel, BBC 1, BBC 2, ITV, Channel 4 etc. (channel number 101, 102, 103, 104)
Switching up and down a channel will get sound back or switching between HD and SD.

I have been logging the sound failures.
They can occur at any time after switching on to a HD channel. I have had sound go 3 times within one program or it can wait all evening then stop just the once.
The only commonality is it only effects HD channels and this started end of March and has been occurring on a daily basis. I'm beginning to get somewhat annoyed with the continual interruptions and hope someone sorts this issue soon.

On 'one' occassion:
Sat 30th April Channel 102 10pm - lost sound and vision symultaneously - this as yet has not been repeated.

Where: Newton Abbot, Devon.
TV was purchased in February 2013, so just three years old.
Aerial on roof using a signal booster. No additional boxsets, no additional hdmi cables to other sound outputting devices etc. Using it's own in built sound.

The Newton Abbot (Devon, England) mast is a public service broadcasting (PSB) transmitter, this is quite close to my home - within a couple of miles, but I think - not sure - does not supply the HD channels.
The big local mast is 'Beacon Hill'.

Sadly this issue seems to effect quite a lot of people:

The mysterious sound problem silencing Freeview HD - a516digital




Anje Yelf's 3 posts

Update on Samsung TV losing sound on only HD channels.
My TV software update says I'm using version ending 2006.0
Samsung are aware of issue and my TV ue32es6800 is one of those effected.
Something to do with broadcasters changing things and now a new update for TV is expected within the next couple of weeks - so end of May 'ish.
The new software version will end with 2008.0.
So wait a while and try to get update to software as it is supposed to fix this ongoing issue.

Anje Yelf's 3 posts
Select more comments
Your comment please