BBC One (SD)
Aims to speak to everyone in the UK through programming that celebrates the richness and diversity of life in new and surprising ways.
Main TV standard-definiton channels
How to Watch: BBC One (SD)
Below is a list of all the television and radio channels that you can watch in the UK using one of the free services: DAB (for radio), Freeview, Sky No Card - Sky without a viewing card (Freesat from Sky (or fSfS)) and Freesat.. Where a channel can be watched for free, the channel number is listed below. In addition, if you can watch (or listen) immediately online, press the button in the "web" column.

As some channels are exclusive to one service alone, you may need to get receive more than one service to get all the channels you want. The coverage for Freeview differs too - those channels not provided by the public service "Freeview Light" transmitters the current coverage shown thus

(54%)

, taken from Connected Nations Report 2017: Data analysis' Key: wb_sunny daytime; watch_later nighttime; account_box funded from the TV License; flags show Freeview channel limits.
Main TV standard-definiton channels
Regional content
: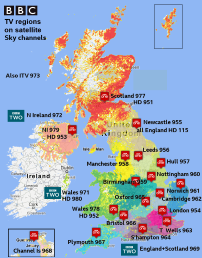 BBC nations and regions TV network - 14 English regions plus Wales, Scotland and Northern Ireland - for regional news. See
BBC nations and regions - overview map - interactive maps
. .
media.info
: For full details of broadcaster contacts, see the
media.info BBC One (SD) page
.
Official site
: See the
BBC One (SD) website
.
From Wikipedia
: The channel's annual budget for 2011/12 is 1,166.6 million.3 Along with the BBC's other domestic television stations, and many European broadcasters and some in Asia, it is funded principally by the television licence fee, and therefore shows uninterrupted programming with no commercial advertising at any time. It is currently the most watched television channel in the United Kingdom, ahead of its traditional rival for ratings leadership, ITV1. This system used a vertically-scanned image of 30 lines just enough resolution for a close-up of one person, and with a bandwidth low enough to use existing radio transmitters. - en.wikipedia.org
read more about BBC One (SD) on wikipedia
(summary by
Clipped
).
Freeview multiplex
: BBC One (SD) is on
multiplex PSB1
in
.
About BBC One (SD)
Free channel of the day: BBC One

Brian Butterworth published on UK Free TV
How is the free channel paid for?
The £1,402m BBC One budget is funded by the £3,596m Television Licence Fee, and represents 39% of all BBC spending - that's about £1.11 per week per person.
Is the channel live, pre-recorded, new content or repeats?
BBC One has live presentation, and both national and regional are broadcast live. In addition the daily The One Show (7pm) is live, as are sporting events. All other programmes are pre-recorded and are almost always commissioned by the BBC and having their first showing.
What's the channel's unique selling point?
The
channel
is customized for viewers in Scotland,
Wales
and Northern
Ireland
, as to a lesser extent in the English regions, and has the most extensive television regional news service in the UK.
The programme schedule highlights
Weekdays has national news from 6am-9am, 1pm, 6pm and 10pm and regional news at 1:30pm and 6:30pm. There's a daily soap, Doctors at 1:45pm, and EastEnders (Mon/Fri 8pm, Tue/Thurs 7:30pm) and Holby City (Wed 8pm).
The rest of the schedule is mixed, with factual (Mon 7:30pm, 8:30pm) and entertainment and factual/entertainment mix shows (such as Motorway Cops). Thursday night has politics from 10:35pm onwards, Friday night being entertainment only.
The bits to avoid
The morning schedule of Cash In The Attic, 11:30am and Bargain Hunt, 12:15pm are formalistic.
This channel carries a subtitles service for the deaf, hard of hearing and quiet environments.
Comments
Tuesday, 19 June 2012

I live near canterbury and ever since the 'switchover' I have to re-tune my tv everytime I turn it on if I want any BBC channels. All other channels are fine but not BBC ones including the kids channels. Any advice available? Thanks

Biddleybop's 1 post
Friday, 22 June 2012

Hi, my dad can get all channels apart from bbc1. He lives in Southampton and has a new ariel. Every other BBC channel is fine

Emma's 1 post
Thursday, 5 July 2012

hi i have retuned but cant get local news and the bbc1 and 2 and 3 and 4 pixilating not a good reception at all. i have tryed doing the retune which is no differant. any suggestions

julie's 1 post
julie's:
map
J's Freeview map
terrain
J's terrain plot
waves
J's frequency data
J's Freeview Detailed Coverage

julie: Is there a BBC1 in the 800s of the channel list that works correctly (and gives BBC East)? If so this indicates that your box has picked up the signal from Crystal Palace and then stores the channels in the channel list on a first come first served basis, with the result that C/P, which is not strong enough to work correctly due to the aerial pointing to Sudbury, gives you your BBC channels. To correct the situation clear the channel list, then commence a channel scan with the aerial unplugged. When the scan is past C30,about a quarter of the way along, plug in the aerial so that the scan picks up the Sudbury signals.

KMJ,Derby's 4 posts
Wednesday, 29 August 2012
T
Terry Vale
1:20 PM
Bicester

I live near Bicester Oxfordshire, there is a drop out of signal now & then , i need to retune my Freeview box so it will pick up the Oxford transmitter, but i do not know what frequencies are used i will retune manualy so it will not pick up transmitters out side my area.
any help appricated

Terry Vale's 1 post
Terry's:
map
T's Freeview map
terrain
T's terrain plot
waves
T's frequency data
T's Freeview Detailed Coverage
Friday, 28 September 2012

Hi all, I hope someone can give me a fix(for the tv).
I live about 15 miles north of Lincoln and although I didn't like it I put up with my local news comming from Yorkshire. A few days ago a black box appeared on my tv instructing me to re-tune. Being the good little boy I am I re-tuned. When I next caught my local news it was broadcast from the Newcastle area. Again nothing wrong with Newcastle I love Jordies but I would like news local to where I live.
I have tried to find out what my problem is and I have come to your site in the hope that someone will help.
Maybe my arial is lined up wrong or maybe I can manually re-tune the local stations. I don't know what my options are so any help would be appreciated.

Geoff's 4 posts

Geoff: I'm a Yorkshireman and I like my local news coming from Yorkshire...

It's quite normal for other transmitters to be picked up and it is also common for receivers to "decide" to go with the "wrong" ones - wrong being not the ones that the aerial was installed for.

In some cases receivers simply tune to the first channels found during the scan, so if your desired transmitter isn't the first one to be found then it will go with the wrong one.

Tyne Tees has recently completed switchover and so its digital signals are now as strong as the former analogue. Bilsdale near Northallerton can be received in many parts of Yorkshire (and parts of Lincolnshire!).

The question is, are you receiving Yorkshire TV from Emley Moor or Belmont?

If you're receiving from Emley Moor, then just unplug the aerial for the first 30% of the scan to miss out Bilsdale and get Emley.

However, if you're receiving from Belmont, then that is more tricky because its channels are interleaved with those of Bilsdale and so you will have to restort to manually tuning if available.

I am somewhat doubtful that you will be receiving from Belmont because its BBC is on C22 whereas Bilsdale's is on C26. So if your set tunes to the first, then it would have gone with the right one regardless.

Also, despite being relatively close, due to the terrain there appear to be some gaps in Lincolnshire where Belmont isn't so good. These being to the west of the A15 up to a few miles north of Lincoln up to Scampton as well as around Kirton Lindsey.


BBC Look North from Belmont is from Hull with Peter Levy and serves East Yorkshire and Lincolnshire. I'm not sure whether Calendar still does opt-outs for Belmont (I know it did at one time, but cut-backs may have played their part).

Dave Lindsay's 5,724 posts

Wow Dave that was some explanation expertly done thank you.
Earlier I looked at doing a manual search on bbc 1and it said it was on c26 so it would appear that it is picking up Emley moor and that is where we were getting our transmissions from previously. If I am correct in what you are saying I should unplug the ariel lead for the first 30% of the scan and that will cut out the Bilsdale transmitter, then push it back in and that should get all the remaining channels.
I live about 5 miles south of kirton Lindsey, west of the A15 so it all fits in with your explanation, though it does probably mean I will never be able to get the local news to where I live. Ah well at least Yorkshire is closer!
Thank you again for your response Dave it was very good of you kind regards Geoff

Geoff's 4 posts

Geoff: C26 is BBC (North East) from Bilsdale.

The automatic tuning scan runs channels 21 to 69.

Emley Moor's channels are 47, 44, 41(HD), 51, 52, 48

Thus, if you start the scan unplugged and plug in at 30%, you should be plugging in around the mid-30s.

I think you could be at Hemswell. I looked on Streetview and all the aerials appear to be on Emley Moor, whereas Hemswell Cliff's are on Belmont. The difficulty is the higher ground at Hemswell Cliff. It is unfortunate really because Lincolnshire is such a flat place which is ideal for the propagation of TV signals.

Keep your eyes peeled for east-facing aerials which means that they are pointing at Belmont.

You could always try a manual tune (if your receiver allows) to see if you can pick up anything from Belmont off the back of your aerial. For Belmont, BBC channels are on C22 and ITV, C4 etc on C25.

Dave Lindsay's 5,724 posts

Did I get that mixed up!
It is c26. I believe I can do a manual scan I will try tomorrow on the channels you suggest as I am recording at the moment.
I do live in Harpswell and as you say it is under the "cliff" which is to the east of us so Belmont may be out of the question but I will have a look and see.
Thank you again for your help Dave
Kind regards Geoff

Geoff's 4 posts
Select more comments
Your comment please