ITV 1 (SD)
The heart of popular culture.
Main TV standard-definiton channels
How to Watch: ITV 1 (SD)
Below is a list of all the television and radio channels that you can watch in the UK using one of the free services: DAB (for radio), Freeview, Sky No Card - Sky without a viewing card (Freesat from Sky (or fSfS)) and Freesat.. Where a channel can be watched for free, the channel number is listed below. In addition, if you can watch (or listen) immediately online, press the button in the "web" column.

As some channels are exclusive to one service alone, you may need to get receive more than one service to get all the channels you want. The coverage for Freeview differs too - those channels not provided by the public service "Freeview Light" transmitters the current coverage shown thus

(54%)

, taken from Connected Nations Report 2017: Data analysis' Key: wb_sunny daytime; watch_later nighttime; account_box funded from the TV License; flags show Freeview channel limits.
Main TV standard-definiton channels
Regional content
: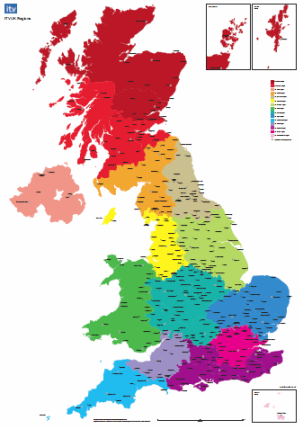 Channel 3 network for adverts and regional news. See
ITV, UTV and STV regions - overview map - interactive maps
. .
media.info
: For full details of broadcaster contacts, see the
media.info ITV 1 (SD) page
.
Official site
: See the
ITV 1 (SD) website
.
From Wikipedia
: The ITV1 brand was introduced by Carlton and Granada in 2001, alongside the regional identities of their eleven regional companies. However in line with other terrestrial channels, ITV1's audience share has fallen in the era of multi-channel television. ITV existed in a region-heavy form from its inception to the 2000s, although the switch was gradual. - en.wikipedia.org
read more about ITV 1 (SD) on wikipedia
(summary by
Clipped
).
Freeview multiplex
: ITV 1 (SD) is on
multiplex PSB2
in
.
Comments
Tuesday, 21 June 2011

b.Lording: Its really quite impossible to say without making checks on the transmitters involved, this not being possible without knowledge of your location.

jb38's 7,179 posts
Thursday, 14 July 2011

I was just watching Meridian Tonight on ITV Meridian and saw they are now showing a DOG in the bottom left corner.
Switched to ITV1 London and they also now have a DOG on London Tonight.

I guess they think that they we are too thick to no which channel we are on without the DOGs.
Can the ITV1 owners please tattoo on their forehead "I work for ITV", so we will know who they are.

How long until they show them on all programs?

Mark A.'s 373 posts
Mark's:
map
M's Freeview map
terrain
M's terrain plot
waves
M's frequency data
M's Freeview Detailed Coverage
Sunday, 17 July 2011

Mark A.: I guess that's a rhetorical question...

Briantist's 38,899 posts
Saturday, 23 July 2011

sudbury transmitter post digital conversion. Itv 1 and others not working. this is the first tme to receive digital chanels. are the power levels increased on all muxs ?

peter's 1 post

sdbury transmitter digital upgrade
this is the first time for us to receive digital programmes. However several channels are missing, noteably itv 1. Have all muxs power levels been increased?

peter's 1 post
Wednesday, 27 July 2011

peter: Please see the Sudbury transmitter group switchover "ends". | ukfree.tv - independent free digital TV advice page.

Briantist's 38,899 posts
Wednesday, 7 September 2011

I live in Harrogate and love watching Yorkshire TV, I believe our aerial is pointing to Emily Moor and we have a mast head amplifier on it. Before 7th September analogue reception was fine Now after switchover wirh a settop box Calendar etc. BBC1, BBC2 is 100% signal strength but ITV is around 30% and keeps breaking up. If I understand it correctly, the BBC channels are being transmitted at 184,000 watts but Yorkshire channels at only 10,000 watts. No wonder we are struggling to get a good signal. Good you explain to me why it is being broadcast at a fraction of BBC?

Dave Swift's 1 post

Dave Swift: Because switchover is a two-step process and the rest of the channels follow in two weeks time.

Briantist's 38,899 posts
Sunday, 25 September 2011

station-crystal palace/freeview c22/RG40 2LF/ I get very poor reception on itv1 e.g.rugby world cup at present.pic freezes for a second or so on regular basis but audio o.k. .Philips tell me nothing to do with my HD rxr/hd recorder.All down to low signal.Can you please turn up the power a tad???before the quarter finals.

evans's 2 posts
evans's:
map
E's Freeview map
terrain
E's terrain plot
waves
E's frequency data
E's Freeview Detailed Coverage
Thursday, 29 September 2011

evans: Your reception will improve - on 4th April 2012.

Briantist's 38,899 posts
Select more comments
Your comment please