Freeview reception - all about aerials

Brian Butterworth published on UK Free TV
Updated 8th January 2014.


Your ability of receive all the Freeview transmissions depends on the suitability of aerial
the design style,
the "group", and
its physical location.
Standard type - Yagi aerial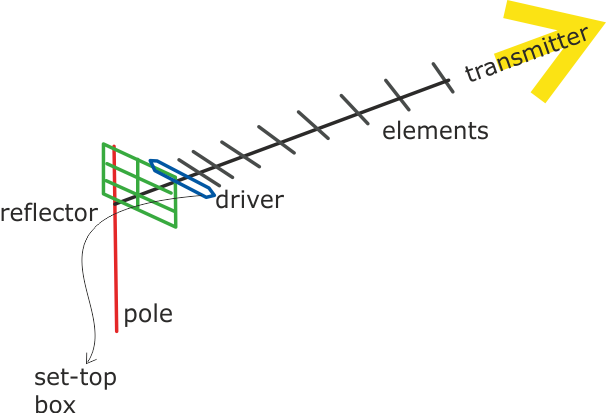 The
standard
type of TV aerial is known as the Yagi aerial. It is mounted on a pole, and consists of a rod with a reflector (shown green) at the back and many spiky elements (in grey) at the front. The connecting
cable
connects to the element nearest the reflector, known as the driver (shown in blue).
These Yagi aerials are directional and so pick up signals best from a
transmitter
that the rod points towards. The more elements the aerial has, the better it picks up a
signal
and becomes more directional.
A standard-type aerial is all that is required for
digital
TV
reception
in most places. These antennae have between 10 and 18 elements and a single reflector. These are recommended for new installations for good digital television reception, but will more often than not function perfectly in good reception areas.
Typically these aerials are designed to receive only some transmission frequencies - see "groups" below.
High Gain aerials

These aerials are designed for poor digital reception areas, and have two reflectors. For maximum signal strength, some digital high
gain
aerials have up to 100 elements. Since the
switchover
to digital-only transmissions back in October 2012, most UK households now have good
quality
digital TV signals.
A more expensive aerial is only required where the signal strength is low, but can often provide the whole Freeview reception where it might otherwise be impossible.
The CAI (that represents aerial installers) has four standards for digital TV aerials. The highest standard "1" is for homes on the fringes of coverage areas, intermediate standard "2" is suitable for use within the coverage area; minimum standard "3" is for good coverage conditions.
These aerials can be either
wideband
, or receive only selected frequencies - see "groups" below.
Grid

You may haved used a 'Grid aerial' for
analogue
reception, but as they are generally unsuitable for Freeview reception, they have now generally been replaced by the Yagi type. However in some places a Grid aerial installation may work for Freeview: otherwise replace with a standard Yagi aerial.
Indoor
Indoor aerials
are generally not suitable for Freeview reception. In areas of good signal strength it is often possible to receive some transmissions. Even where an aerial works, people often find that may get interruptions to their viewing (or recording).
Loft mounted
Loft
mounted arrivals are not generally recommended for Freeview reception, as the
roof
tiles and plumbing will degrade the signal. Some compensation for this loss of signal can be made by using
satellite
-grade cable to connect the set top box to the aerial.
Positioning
The best position for a TV aerial is mounted outdoors, as high from the ground as possible, pointing directly at the transmitter. The signal can be blocked by hills and tall buildings. It should be positioned away from any other aerials.
Horizontal or vertical?
The transmitter will either use vertical
mode
which requires the elements of your aerial to be up-down, or horizontal mode which requires them to be level with the ground.
Groups
Both analogue and digital television is transmitted the same group of transmission frequencies (known as
channel
21 through to 60). A coloured marking on the aerial shows the group.

To create the best possible analogue
picture
, TV transmissions from adjacent transmitters have been designated to several different groups of frequencies. By using an aerial that receives only the
channels
in the correct group, the analogue picture can be kept free from
interference
.
To receive Freeview transmissions from the same transmitter it has been sometimes necessary to use frequencies that are not part of the transmitter's normal group. When this has occurred, the aerial will need to be replaced with a "wideband" aerial (also known as group W) - one that covers every group.
As
Ofcom
is planning to move the TV frequencies again - perhaps as soon as 2018 - it may be wise to use a wideband aerial if you can to ensure you can keep viewing Freeview for many years to come.
Comments
Friday, 5 April 2013
Saturday, 6 April 2013

Rick
Thursday 4 April 2013 7:31AM Nottingham
Hi
In the last two months my tv picture has started to glitch/break up, more noticeable in the evenings! I had a wide-band aerial fitted at the digital takeover, and it has been flawless up until a couple of months ago!
Yesterday i decided to replace the aerial with a Triax unix 52 and new ct100 cable...and it has made no difference!!
I live in Radcliffe on Trent Nottingham, the aerial is pointing at the waltham transmitter.
Any help/advice would be most appreciated,
Thank you
Rick

Rick's 3 posts
Rick's:
map
R's Freeview map
terrain
R's terrain plot
waves
R's frequency data
R's Freeview Detailed Coverage
Wednesday, 10 April 2013

JB38: thanks for your reply. You may have gathered from my first post that I know nothing about tv transmission and reception which is not provided in this website. I'm not sure I made it clear in my first post that a) the booster is specific to the "Second" tv. That is, it is fitted between the aerial socket in the back room and the tv (on the tv side of the splitter). It therefore does not affect the Main tv (does it?). and b) I don't need the booster to receive COM5, only to "connect to it" when doing an auto or manual re-tune. Given that, I don't really understand how by-passing the splitter and connecting the aerial only to the main TV will help. Nor do I understand your reference to an "internal power supply".

Lionel Higman's 3 posts

Lionel Higman: On re-reading your posting I see what you are referring to, but the point that puzzles me is, if its almost guaranteed that you will lose COM5 if the booster is not connected then how are you arranging this? are you accessing the splitter in the loft and temporarily removing its aerial input and connecting it directly onto the feed that's used for the secondary TV referred to? because if you are then that's inclined to point to a possible fault where the coax is connected into the aerial, the quickest way to check if this is likely to apply or not being to remove the splitters aerial input plug followed by unscrewing the coax plugs outer knurled ring so that its interior can be extracted from the body of the plug, then push the end (and only the end) of the coax into the splitters aerial input socket and carry out a reception check, in other words only the middle of the coax is being used which makes the entire cable including the braiding receive signals rather than just from where its connected into the aerial.

Of course another way you can check without unscrewing the coax plug is simply by connecting a short length (about 4 feet or so but not critical) of wire into the splitters aerial input sockets middle cup, because with the signal level that you should be receiving at your location, that is excluding such as tree's blocking the signal, then a piece of wire should result in a picture being seen.

By the way, TV or boxes receivers have wide variations in their tuners sensitivity, this being why one TV is capable of receiving a channel that another cannot.

jb38's 7,179 posts
Thursday, 11 April 2013

Lionel Higman: The above made reply was based on having read you original posting again, but though I now understand (ref: latest posting) that the booster referred to is only used between the aerial socket and the third TV, but maybe you could clarify on a point when referring to the six way splitter, is this a powered device? because all said was on the assumption that it is hence my reference to an internal power supply, and of course should it a powered type then these always provide an element of amplification to the signal as well as providing a range of outlet points.

However the test referred to for detecting a possible defect where the coax joins the aerial still applies irrespective of whether the splitter is powered or not, although a powered type gives better isolation between each of the devices being used.

Further advice dependant on the outcome of the test.

jb38's 7,179 posts

jb38: Thanks for the furthr responses. It is not a powered splitter (i.e. there is no cable from it to any electrical source). It is a Vision product. It is rectangular. The input port is at the centre of one long side with an out port on either side of it. The other 4 out ports are on the opposie long side of the rectangle. Between the input port and the left hand out port there is s line with the words DC pass under it. As far as I can tell (the output cables are a bit of a tangle and taped together) the main tv cableruns from the out port to the left of the input port.
I have not run the test yet, this will have to wait until the weekend.

Lionel Higman's 3 posts

Lionel Higman: I was beginning to suspect that might be the case, because what you reported didn't actually tally up with what would be expected if an exceptionally strong signal had been applying, in fact quite the opposite as these type of splitters reduce the signal level.

But if the result of the test carried out at the weekend proves negative, that is the signal does not increase with only the middle of the coax being used, then the way to get around the problem is by either using a higher powered (but variable) booster before the splitter input, or alternatively changing the splitter to a six (or less) output powered version, as that would then guarantee that all outlet points would be receiving exactly the same level of boosted signal, the latter being a more common way of arranging things.

Further advice dependant on the outcome of the test.



jb38's 7,179 posts
Friday, 12 April 2013

Lionel - splitters etc. can be powered from your TV/box through the coax cable used for the signal - indeed "DC Pass" confirms that the port indicated either needs this DC power, or is set up to pass it onwards.

If ypou google its brand and model number you should find out. Meanwhile, what if any change when you disconnect that section?

Steve P's 1,173 posts
Steve's:
map
S's Freeview map
terrain
S's terrain plot
waves
S's frequency data
S's Freeview Detailed Coverage

Lionel Higman: Just to add to that said by Steve P, when you look up at your aerial do you see any small boxes attached to the mast pole near to the aerial? or does the coax go straight into the aerial?, because if you did see anything mounted on the pole then that could be a mast head amplifier, this meaning that the previous occupier of the property had its power supply / signal separator sitting near to one of the aerial outlet positions, but which was taken away when they departed.

That said though, I would hardly have thought that any form of amp was necessary anywhere in the Horncastle area, as friends of mine frequently (in better weather) spend a few days at a touring caravan site in the area and have always reported it being one of the few places where reception is never a problem.

Worth checking though!

jb38's 7,179 posts

Lionel Higman: Further to.. should it be suspected that you do have a mast head aerial amplifier, or even built into the aerial e.g: amplified log, then this could quickly be verified or not "if" your main TV (dependant on brand model) has an aerial power facility which you could temporarily activate for test purposes, the model number if given, revealing if this is possible or not.

By the way, log aerials (should you have one) do not have a reflector on one end as well as them being identified by having a long arrow shaped appearance when viewed from the underside.

jb38's 7,179 posts
Select more comments
Your comment please