Freeview reception - all about aerials

Brian Butterworth published on UK Free TV
Updated 8th January 2014.


Your ability of receive all the Freeview transmissions depends on the suitability of aerial
the design style,
the "group", and
its physical location.
Standard type - Yagi aerial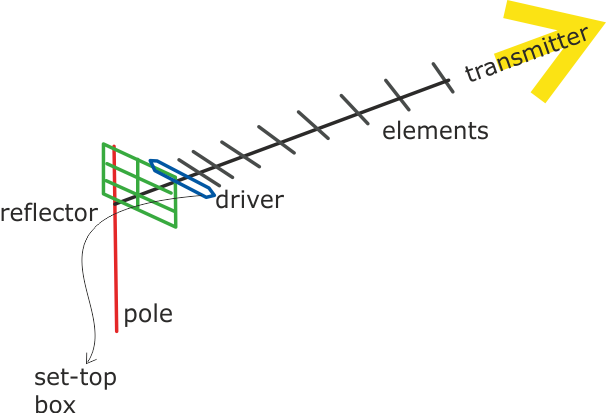 The
standard
type of TV aerial is known as the Yagi aerial. It is mounted on a pole, and consists of a rod with a reflector (shown green) at the back and many spiky elements (in grey) at the front. The connecting
cable
connects to the element nearest the reflector, known as the driver (shown in blue).
These Yagi aerials are directional and so
pick
up signals best from a
transmitter
that the rod points towards. The more elements the aerial has, the better it picks up a
signal
and becomes more directional.
A standard-type aerial is all that is required for
digital
TV
reception
in most places. These antennae have between 10 and 18 elements and a single reflector. These are recommended for new installations for good digital television reception, but will more often than not function perfectly in good reception areas.
Typically these aerials are designed to receive only some transmission frequencies - see "groups" below.
High Gain aerials

These aerials are designed for poor digital reception areas, and have two reflectors. For maximum signal strength, some digital high
gain
aerials have up to 100 elements. Since the
switchover
to digital-only transmissions back in October 2012, most UK households now have good
quality
digital TV signals.
A more expensive aerial is only required where the signal strength is low, but can often provide the whole Freeview reception where it might otherwise be impossible.
The CAI (that represents aerial installers) has four standards for digital TV aerials. The highest standard "1" is for homes on the fringes of coverage areas, intermediate standard "2" is suitable for use within the coverage area; minimum standard "3" is for good coverage conditions.
These aerials can be either
wideband
, or receive only selected frequencies - see "groups" below.
Grid

You may haved used a 'Grid aerial' for
analogue
reception, but as they are generally unsuitable for Freeview reception, they have now generally been replaced by the Yagi type. However in some places a Grid aerial installation may work for Freeview: otherwise replace with a standard Yagi aerial.
Indoor
Indoor aerials
are generally not suitable for Freeview reception. In areas of good signal strength it is often possible to receive some transmissions. Even where an aerial works, people often find that may get interruptions to their viewing (or recording).
Loft mounted
Loft
mounted arrivals are not generally recommended for Freeview reception, as the
roof
tiles and plumbing will degrade the signal. Some compensation for this loss of signal can be made by using
satellite
-grade cable to connect the set top box to the aerial.
Positioning
The best position for a TV aerial is mounted outdoors, as high from the ground as possible, pointing directly at the transmitter. The signal can be blocked by hills and tall buildings. It should be positioned away from any other aerials.
Horizontal or vertical?
The transmitter will either use vertical
mode
which requires the elements of your aerial to be up-down, or horizontal mode which requires them to be level with the ground.
Groups
Both analogue and digital television is transmitted the same group of transmission frequencies (known as
channel
21 through to 60). A coloured marking on the aerial shows the group.

To create the best possible analogue
picture
, TV transmissions from adjacent transmitters have been designated to several different groups of frequencies. By using an aerial that receives only the
channels
in the correct group, the analogue picture can be kept free from
interference
.
To receive Freeview transmissions from the same transmitter it has been sometimes necessary to use frequencies that are not part of the transmitter's normal group. When this has occurred, the aerial will need to be replaced with a "wideband" aerial (also known as group W) - one that covers every group.
As
Ofcom
is planning to move the TV frequencies again - perhaps as soon as 2018 - it may be wise to use a wideband aerial if you can to ensure you can keep viewing Freeview for many years to come.
Comments
Sunday, 24 November 2013

Mike:
There is no difference between a UHF aerial for analogue or digital signal reception! The only difference between the signals is the form of modulation used to carry the picture and sound information, but that does *not* affect the way UHF signals propogate through the atmosphere nor how they are received by the aerial. It os only the type of electronics design used in the TV set, or PVR, that changes.

Even the BBC state that there is no such thing as a 'digital' aerial and DigitalUK concur. So any good UHF aerial that it designed for reception of the channel group used by you local transmitter is all you need.

Generally, if you need an aerial that covers more than one channel group it is better to use a log-periodic design rather than a modified yagi often called a 'wide band' as they are poor at both ends of the spectrum and give lesser performance.

I have a PDF issued by the BBC Reception team about use of aerials for TV reception and it specifically states there is no difference between a 'standard' analogue TV aerial and a 'digital' one! I can provide that if you wisah to see it. Or search for "factsheet-tvaerials" at BBC's reception website.

I am a retired TV engineer and training manager having spent over 50 years dealing with radio and TV questions.

MikeP's 3,056 posts
Wednesday, 27 November 2013

To Mike P:- Thankyou for that. I don't have a reception problem. I am lucky that on two aerials I can get BBC East Midlands, BBC Midlands Today. BBC Yorkshire, and BBC East. Same with ITV. My old aerial on my bungalow is aimed at Belmont which it amazingly sees from the East Midlands ( Corby ). I am so lucky. However, at last I have my question answered, so thanks again.

Mike's 10 posts
Friday, 29 November 2013

if im in ch455hy pointing at winter hill what type of arial do i need iv got freeview talk talk box

kevin's 1 post
kevin's:
map
K's Freeview map
terrain
K's terrain plot
waves
K's frequency data
K's Freeview Detailed Coverage

kevin: Assuming that there are no local obstructions then you would appear to have clear line-of-sight to Winter Hill 26 miles away.

With that in mind a log periodic should be your aerial. These are naturally wideband, and so will be suitable now and in the future, if Winter Hill uses Group A or Group B) channels. Indeed, the new HD multiplex is on a Group A channel (C31) and even though it is lower power, you may well be able to get it at your location.

See here for more information:

Winter Hill Transmitter

If you already have an aerial, which may be Group C/D, then give it a try. All channels except the new HD multiplex are within Group C/D, and you "might" find that it works and therefore doesn't need replacement.

Dave Lindsay's 5,724 posts
Tuesday, 3 December 2013

Hi, I'm in Stafford and believe using the 'Wrekin' transmitter at the moment, trying to sort aerials in the house, there are closer transmitters ie 'Sutton Coldfield' where do we go? any advice on the type of aerial to use? Thank you Paul

Paul's 1 post

Paul: If it's a yagi type then Group K it must be for both transmitters.

The Wrekin

Sutton Coldfield Transmitter

A wideband isn't necessary for both these transmitters. At present The Wrekin uses Group A and Group B channels (which covers Group K).

Sutton Coldfield broadcasts the six main multiplexes only on Group B channels. It will carry the two new quasi-national HD multiplexes on C33 and C35, so just within and just below Group B. However, it is doubtful that they will be available to you, them being on much lower power.

In the future the channels used are only ever going to move downwards, in order to make room for mobile services. It is for this reason that, for Sutton Coldfield, the Group A base should be covered.

The Wrekin is lower powered than Sutton Coldfield. If there are aerials on it when it is closer then you must ask why. Both broadcast the same BBC and ITV variants so there is no difference there. It's doubtful that you will get the new HD muxes from Sutton Coldfield so from a channel choice point of view there is probably nothing.

Even still, with a Group K aerial you could always try Sutton Coldfield or turn it to face The Wrekin if the Sutton Coldfield HD mux on C33 (which comes on air on 10 December) isn't available.

What's wrong with the current Wrekin aerial? If it's still a Group A one then it might not be good enough for the COM channels which are in Group B.

Dave Lindsay's 5,724 posts
Friday, 13 December 2013

Re: my previous posts about reception from Whitehawk / Newhaven. Recently installed the suggested log36 on rooftop and carefully adjusted for best TV signal strength on various and was initially pleased with the results having stable reception of 123 channels on youview box and 236 (some may have been duplicates) on the TV. Then mist settled in over the region last night and we lost many channel groupings, 38, 48, 56, 53 to name just a few. So bang went Yesterday and Quest as well as channel 5 and a whole raft of other channels.. I suspect this is down to signal quality - as the strength was seen as good on all channels.

I resorted to a retune after plugging in a philex signal booster and manged to get some of the above back and stable (99 channels found on the youview box) but not grouping 38. With the prospect of many foggy nights to come I'm wondering if there's anything else I can do.

An amplifier was mentioned during my last visit here but which would be the best to go for?

Thanks all, Frank

Frank Finley's 10 posts

[ I suspect this is down to signal quality - as the strength was seen as good on all channels. ]
Should have mentioned: "initially" - when adjusting aerial for best overall signal strength. The youview box doesn't appear to offer a guide to signal strength or quality (!!!) but will try direct connection to TV tonight.

From the start, signal quality has fluctuated between poor and good on my 'weaker' channel groupings (as measured on the TV ) - almost certainly the one's that went missing last night

Cheers, Frank

Frank Finley's 10 posts

Frank: I wouldn't do anything hasty. The inversion effect has been playing havock with reception across a large swathe of the country from Sussex and Kent in the south upwards as far as Yorkshire, if complaints of poor or non-existant reception on this website are anything to go by.

I would certainly see how often it happens and not try changing the aerial the first time it happens. It may be that it doesn't happen that often and that using Rowridge may be worse. If you haven't allowed a long enough period to see how it goes then you won't know.

If it does appear that Whitehawk isn't good enough then I suggest that you turn the aerial anti-clockwise to face Rowridge (keeping it in its vertical orientation). From there tune in the PSBs from Newhaven (seeing how they are with the aerial pointing a little off-beam) and the COMs from Rowridge.

Dave Lindsay's 5,724 posts

Thanks, Dave. I'm happy to take your advice. I'm up from 99 to 122 channels right now on the YView box and have "Yesterday" and "Quest" back so already things are getting back on track. Inversion Effect: stay away!!
All the best
Frank

Frank Finley's 10 posts
Select more comments
Your comment please