Freeview reception - all about aerials

Brian Butterworth published on UK Free TV
Updated 8th January 2014.


Your ability of receive all the Freeview transmissions depends on the suitability of aerial
the design style,
the "group", and
its physical location.
Standard type - Yagi aerial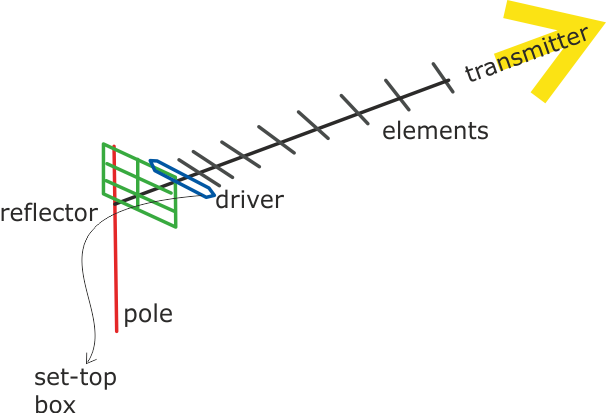 The
standard
type of TV aerial is known as the Yagi aerial. It is mounted on a pole, and consists of a rod with a reflector (shown green) at the back and many spiky elements (in grey) at the front. The connecting
cable
connects to the element nearest the reflector, known as the driver (shown in blue).
These Yagi aerials are directional and so pick up signals best from a
transmitter
that the rod points towards. The more elements the aerial has, the better it picks up a
signal
and becomes more directional.
A standard-type aerial is all that is required for
digital
TV
reception
in most places. These antennae have between 10 and 18 elements and a single reflector. These are recommended for new installations for good digital television reception, but will more often than not function perfectly in good reception areas.
Typically these aerials are designed to receive only some transmission frequencies - see "groups" below.
High Gain aerials

These aerials are designed for poor digital reception areas, and have two reflectors. For maximum signal strength, some digital high
gain
aerials have up to 100 elements. Since the
switchover
to digital-only transmissions back in October 2012, most UK households now have good
quality
digital TV signals.
A more expensive aerial is only required where the signal strength is low, but can often provide the whole Freeview reception where it might otherwise be impossible.
The CAI (that represents aerial installers) has four standards for digital TV aerials. The highest standard "1" is for homes on the fringes of coverage areas, intermediate standard "2" is suitable for use within the coverage area; minimum standard "3" is for good coverage conditions.
These aerials can be either
wideband
, or receive only selected frequencies - see "groups" below.
Grid

You may haved used a 'Grid aerial' for
analogue
reception, but as they are generally unsuitable for Freeview reception, they have now generally been replaced by the Yagi type. However in some places a Grid aerial installation may work for Freeview: otherwise replace with a standard Yagi aerial.
Indoor
Indoor aerials
are generally not suitable for Freeview reception. In areas of good signal strength it is often possible to receive some transmissions. Even where an aerial works, people often find that may get interruptions to their viewing (or recording).
Loft mounted
Loft
mounted arrivals are not generally recommended for Freeview reception, as the
roof
tiles and plumbing will degrade the signal. Some compensation for this loss of signal can be made by using
satellite
-grade cable to connect the set top box to the aerial.
Positioning
The best position for a TV aerial is mounted outdoors, as high from the ground as possible, pointing directly at the transmitter. The signal can be blocked by hills and tall buildings. It should be positioned away from any other aerials.
Horizontal or vertical?
The transmitter will either use vertical
mode
which requires the elements of your aerial to be up-down, or horizontal mode which requires them to be level with the ground.
Groups
Both analogue and digital television is transmitted the same group of transmission frequencies (known as
channel
21 through to 60). A coloured marking on the aerial shows the group.

To create the best possible analogue
picture
, TV transmissions from adjacent transmitters have been designated to several different groups of frequencies. By using an aerial that receives only the
channels
in the correct group, the analogue picture can be kept free from
interference
.
To receive Freeview transmissions from the same transmitter it has been sometimes necessary to use frequencies that are not part of the transmitter's normal group. When this has occurred, the aerial will need to be replaced with a "wideband" aerial (also known as group W) - one that covers every group.
As
Ofcom
is planning to move the TV frequencies again - perhaps as soon as 2018 - it may be wise to use a wideband aerial if you can to ensure you can keep viewing Freeview for many years to come.
Comments
Monday, 6 February 2012

tony: Thanks for the update / report of your test, Now I am armed with the knowledge of your location I find your reception possibilities as indicated on the trade view predictor rather interesting, insomuch that at present five of the Crystal Palace muxes are shown as being variable and the sixth poor (ITV1), and even from April onwards when improvements do take place two of the muxes (SDN & ArqA) are indicated as being variable on a permanent basis.

Although I fully appreciate that variations to predictions given will always apply due to local conditions and as such cannot really be catered for, but anything indicating as being permanently variable means expect glitches in reception.

However on the other hand Sandy is presently indicated as being good across all muxes, albeit I have doubts about SDN presently on Ch31 on low power, but unlike Crystal Palace reception from Sandy doesn't show any deterioration whatsoever of the signal expected right into 2014.

Have you tried to pick up Sandy? it being located 30 miles @ 329 degrees whereas Crystal Palace is 24 miles @ 196 degrees, which is a pity as at 47 degrees from the reverse of your aerial it wouldn't really be a fair test if you did try tuning in Sandy via a manual tune, Sandy's channels being 27 - 24 - 31 - 52 - 48. (HD obviously being left out)

jb38's 7,179 posts

Rob: Yes, try the signal strength test and give an update on results, although as far as the neighbours chimney is concerned that shouldn't really have had that dastardly effect on the signal unless a metal liner has been fitted into it, like is used for example by multi-fuel burners or a gas fire conversion in an old fireplace, couldn't you have fitted a horizontal offset arm clamped to the mounting you were using? or even just used a gutter fixing, as in many instances gutter mounts don't result in that much of a signal difference to that of when on a chimney, and in a number of cases are even found to be superior signal strength wise.

But to reiterate as regards to your TV, I think that its safe to discount any possibility of it being faulty, and you have to remember another factor that could be playing a large part in contributing to your problem, that being if the signal you receive passes over or even near to trees, then when they get wet and blow about during bad weather this can have quite an effect on the signal you receive, this being especially so from low powered transmitters.

jb38's 7,179 posts

Rob: I also meant to add, that similar to what I mentioned to Tony in the previous thread you could have tried a test by manually tuning in Winter Hills ArqB on Mux Ch55, that being the equivalent of Pendle's Ch24, although unfortunately Winter hill is located at a position very close to one of the two dead spots of your aerial,these being at right angles either side to where it faces.

That said though and although its unlikely, but you could still try it just in case the signal is being reflected from somewhere, as that can happen with signals from high powered transmitters.

I cant remember off hand the tuning menu facilities on that set, but as soon as you enter Ch55 in the box you might see its strength being shown on the scale, this is without searching or scanning although if it was a good strength then scan it, but remember whatever it stores will be allocated to positions up in the EPG's 800 range, so look for ITV4 or yesterday up there.

jb38's 7,179 posts
Wednesday, 8 February 2012

This morning Hannington transmitter started the new digital service.
I have a second TV with Freeview which is served from the chimney ariel and has a booster fitted.
Prior to the changeover this morning I got ALL freeview channels okay.
I have fully reinstalled and now I get most of freeview channels BUT PARTICULARLY NOT BBC1 and BBC2.
Surely I should get these if nothing else.

David Godfrey's 1 post

I too am on the Hannington transmitter with a good signal strength and have re-tuned 3 digital televisions this morning and cannot get BBC1 or BBC2. The advice on digitaluk.co.uk is of no use, even their manual re-tune advice does not match what my menus show. Prior to the switchover we had all channels with a good picture. Can you advise as to why this is please?

M Loveridge's 1 post

M Loveridge: Please do this My Freeview box has no EPG, is blank on FIVE, ITV3, ITV4, ITV2+1, has no sound or the channel line up is wrong | ukfree.tv - independent free digital TV advice and you may need to read Freeview signals: too much of a good thing is bad for you | ukfree.tv - independent free digital TV advice .

Briantist's 38,908 posts

David Godfrey: Please try My Freeview box has no EPG, is blank on FIVE, ITV3, ITV4, ITV2+1, has no sound or the channel line up is wrong | ukfree.tv - independent free digital TV advice but you may need to remove your booster now.

Briantist's 38,908 posts

It is possible they are having troubles!
Try later or ask locally for others experiences.
Or that the new signals are too strong! Remove the booster.

Steve P's 1,173 posts

Steve P: Yes, they are having trouble, I have had confirmation of this from Arqiva.

However, I have also been told that the problem is now cleared and BBCA is working correctly.

Briantist's 38,908 posts

I can confirm that the Hannington problem appears to be resolved and I can receive the BBC channels again.

David Yates's 1 post
Select more comments
Your comment please